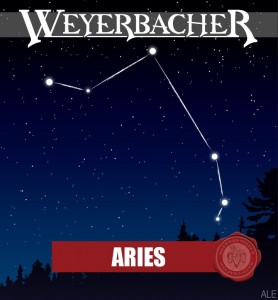 Weyerbacher Brewing Company in Easton just released Aries, the newest small batch beer in their Brewer's Select series.  This one is interesting – and awesome.
 Aries is a blend of two existing Weyerbacher beers, Old Heathen Imperial Stout and their Imperial Pumpkin Ale.  The brewery was already hand-blending these two together back in August when we were at the brewery's tasting room, so it was a natural move to put it right into bottles.  Instead of a traditional black & tan, these are called black & orange beers.  For another local twist, we've been drinking Brew Works Devious mixed with Insidious for a few years now and it's really tasty.
Aries clocks in at 8% ABV and is available at the brewery and at select stores and restaurants throughout the Lehigh Valley.