You're goddamn right it's that time again.  Back again for yet another year, we'll be bringing you picks daily of what's going down at Musikfest, as well as recaps from the best shows each and every day.  The blog's been dead for a bit, but other writing gigs got in the way.  Expect some new content starting this week and hopefully continuing at a regular clip during and after the Fest. That said, there's a lot of new stuff and changes at this year's Musikfest, so let's get right down to it.
If you've been here before for our Musikfest coverage, some of the information has changed some of it has not. If you haven't been here before, or been to Musikfest at all (seriously? Amatuer.), check out the below info for some no-nonsense advice on how to enjoy and get the most out of your festing activities. Also remember to check back every morning for music suggestions and every afternoon/evening for photos and show reviews of the day before. Without further ado:
Getting There
This is the worst part of Musikfest. If you're looking to park extremely close to the festival, good luck, unless you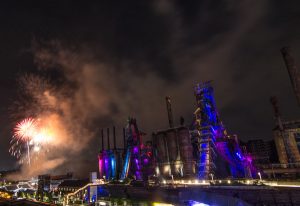 want to shell out $25 per day to park at Moravian. There's two off-site lots (at Martin Tower and 240 Emery St off of Route 412) that allow you to park and take a shuttle (for $4 to the festival. Trying to park on the street is next to impossible and will most likely result in a parking ticket (the fines for which are conveniently raised for the week). You can also park over at the Sands Casino lot or parking deck and head over to the Artsquest area or try your luck parking at an exorbitantly-priced private lot around the festival area.
Musikfest is divided into two sides, North and South. You'll either need to walk your drunk ass a good distance between the two or take the north/south shuttle bus (which is a $3). All of your shuttle bus info including hours and such can be found here.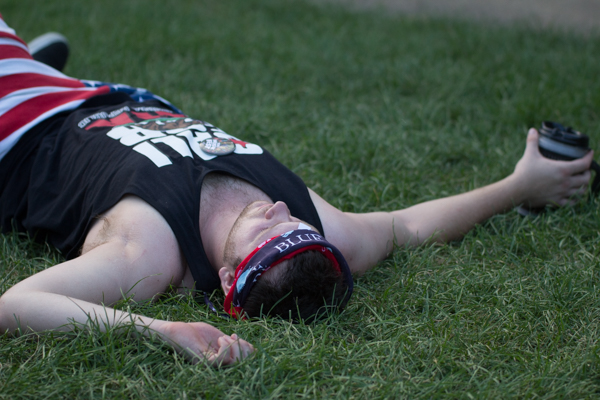 Drinking
Drinking is one of the biggest parts of Musikfest for many, so we've got you covered on how and where to do it. First step: Buy a mug. Sure, you can buy individual beers, but they're smaller and if you plan on doing any real drinking at Musikfest you'll want a mug. If you like bells and whistles, get the mug that blinks for because when you're six mugs deep and dancing your ass off you'll be left wondering why you made such a poor life decision in not paying extra for it.
The Musikfest tents generally have lower quality beer than the craft beer many have come to know and love. It's unfortunately a fact of life. There's some better options depending on the tent, but the best options are found at non-Musikfest venues. So, where to go? If you're intent on hitting up a Musikfest tent the best one to go to is Liederplatz (on the North side, off of Main Street). It always has the shortest lines and allows you to get in and out quickly. Below are a list of other, non-Musikfest venues to stop for a big variety in beer selections or cheaper refills:
Southside:
Bonn Brewing: These guys just celebrated their first anniversary and have become the gem of south Bethlehem.  An extremely nice crew of people working for them, solid beers, a friendly atmosphere, and just an all-around nice place to get a drink. Pop by and see what they're filling if you haven't had the pleasure of visiting yet.
Southside 313 Bar & Grille: They've got a limited selection of craft beers that will satisfy if you're hard up for a mug fill, but you're better off heading to Social Still or Bonn for better options if you're in this neighborhood.
The Bookstore Speakeasy: These guys have been mum on social media about mug fills, but if you want to dip in for a cocktail or craft beer with a decidedly non-fest vibe, it's a good place to take a load off.
Steel Pub: They usually have some Victory, Dogfish, and random stuff on draft inside. They also usually have a truck or two serving beer outside for ~$6 a mug with craft beer, but unfortunately like everyone else, they've been a bit lax on information this year.
Social Still – Social Still has massively stepped up their game since last year.  In addition to house-made spirits for the non-beer lovers, they installed extra tap lines and are serving up a lot of seriously good stuff including Funk, Two Rivers, Sole, and Pizza Boy.  Mug fills are not available, but it's a great spot to grab a pint or cocktail.
Levitt Pavilion and Musikfest Café – right on site at Artsquest, the Musikfest Café usually has a bigger variety of beer than the tents do, including ciders and local beers. The Mack café at the Levitt Pavilion also has craft beer options, with Victory on draft.
Futher off fest grounds:
Molly's – Molly's up on 4th Street usually has a pretty great tap list, especially in the back bar, where most of the serious craft beer resides.  Mug fills are available.
Sotto Santi – This Fourth St. pizza joint has all the macros you want, as well as some craft beer offerings.  The pizza will help soak up the booze, too.  Mug fills are available.
Tally Ho Tavern – I haven't been in the Ho in ages, so I can't honestly speak to what's going on there right now, but from the looks of their Untappd page they've got things like Troegs Crimson Pistil, Funk Tumbleweed, and some other craft offerings on, so all can't be that bad. Not the worst place you could hit if you find yourself this far away from the fest and need a fill.
North Side: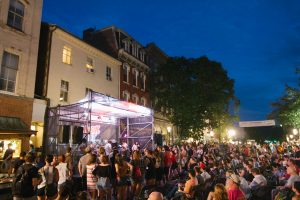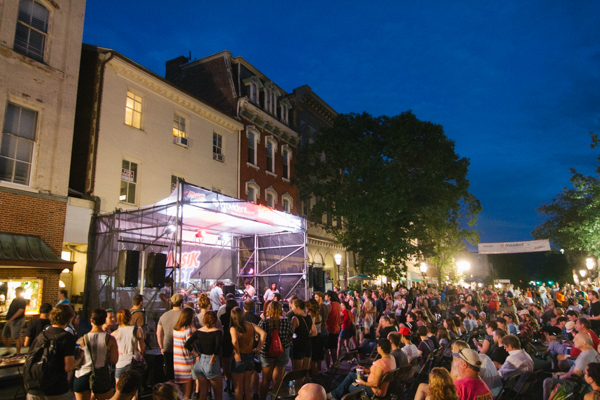 The Brew Works – by far the best place to get beer during Musikfest on the NorthSide. They have a wide variety of beers at decent prices. It gets busy during Musikfest, but no worse than the beer tents. Their prices are fair and there's a little of something for everyone.
Colony Meadery – Looking for something that's not beer or Barefoot wine? Mead slushies.  These guys put out an awesome slushie machine each year and sell delicious, thirst-quenching slushies.  They're a little on the pricey side (mead in general is an expensive commodity), but if we get an insane heat wave like we did last year, you'll be wanting triples of these.
Cachette – these guys usually rock some pretty pedestrian offerings, but if you're into Goose Island and the like, swing on by.
Edge – these guys surprised us last year with a killer menu.  This year they're teasing highly sought after Sole Artisan Ales, as well as Funk, Avery, and Oskar Blues beers.
The Brick – Brick has been low-key killing it for a while with their craft offerings, with, again, the excellent Sole Artisan Ales on tap, as well as well as other fantastic brews like Troegs Nimble Giant, Victory Summer Love, Troegs Crimson Pistil, and Hijinx brews.
Wooden Match – The Wooden Match always has a great selection of craft brews on draft inside, including 40 drafts. They usually have trucks stationed outside, but the beer inside is usually better quality. This year they're charging $8 per mug.
Hardball Cider – this crew is hoping to open up by Musikfest of Main Street, in the former Malto Pazzo spot near Brew Works.  Definitely stop by and give them a try and support this new local cidery.
Corked – Located on Main Street, they have decent selection ranging from the mundane to the fairly solid.  Their prices (at least for regular drafts) seem to have gotten more in check with reality so that will probably mean better priced mug fills this year as well.
Hotel Bethlehem: They serve generic beer and Guinness for mug refills, usually a dollar cheaper than the Musikfest tents.
Rosanna's: They're always doing cheap mug refills of the Miller/Coors variety at this Italian joint located a block away from the main action at Broad and New Streets.
Penn Pizza: Just down from Rosanna's on New Street is Penn Pizza who also does refills of Coors/Miller for a discounted price.
Old Brewery Tavern –  Not sure exactly what's on here since it's been quite a while since the last stop, but they usually have some OK craft offerings.  On our last Musikfest stop though a mug fill of a rudimentary Goose Island IPA was far more expensive than it should've been, however.
Joe's Tavern: This place gets mobbed during Musikfest, and used to be the bane of my existence, but I've actually warmed up to it a bit.  They've got better beer offerings now, but smoking is still allowed and crowds still jam in the place like mad.  Mug fills are available.
Ripper's: Probably divier than Joe's is now. it's a dingy bar with lots of pretty motorcycles parked outside to look at, Rippers does cheap mug refills of swill-ish beer.
McCarthy's – While they're not hitting any homeruns with the selection here, they do offer something different: some European brews, as well as some Euro-inspired stuff, like Hijinx's Irish Red Ale.  Mug fills available.
Sun Inn – Conveniently located across from Brew Works and on Main Street, the Sun Inn has transformed into a full restaurant, and this year is serving food, wine, sangria, punch, and $5 beer fills with some OK craft brew options and pounders of the crap brews.
Apollo Grill – Last I checked they were rocking some pretty classic craft offerings like Sam Adams Summer, Troegs Hopback Amber, and Dogfish 90 Min. Don't expect Heady Topper, but it's better than Coors Light.
Eating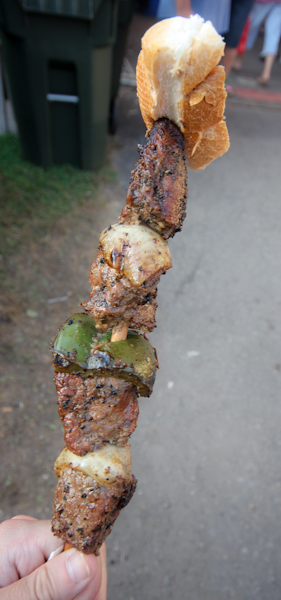 There's so much shit to eat at Musikfest it's almost a daunting task to decide what to have. Over the years we've spent an ungodly amount of money and time trying the best and the worst. Here's where and what you should shove down your gullet to soak up all that beer:
Aw Shucks – Easily the greatest corn-on-the-cob you'll ever have. They bathe it in butter, roll it in parmesan, and top it with some mild spice that makes it irresistible. This stuff is also easy to walk around with and eat at the same time. Grab it on the way to an act and be ready to sit and digest when you get there. Beware, it's addictive. Like crack. Located at Americaplatz, Handwerkplatz, and Plaza Tropical.
Bee's Knees – holy shit they're back. The purveyors of everything cheesy and good in the world, these expensive-but-totally-worth-it grilled cheeses. Prepare your loins. Located at Volksplatz.
Crossroads – As if these guys didn't have a crazy enough 12 months or so with shutting down and reopening under new management, they're adding the insanity of Musikfest to the mix.  That said, come and get yer cheesesteaks.  Located at Festplatz.
FryDay Concessions – I don't know what an 'alligator basket' is but I'm getting one.  Located at Experienceplatz and Sands Steel Stage.
Hogar Crea – Oh dear shish kebabs. They could stop wars. They could end world hunger. They could make Donald Trump be less of a raging lunatic asshole. Yes, they're that magical. By far our favorite Fest food, they feature big, delicious beef chunks that are cooked over huge, smoky pits that you can smell a whole platz away. Intermittently interrupting the giant stick of meat are onions and peppers cooked over those same pits. Just a tiny bit of char on the edges mixes oh so well with the sweet, tender veggies. Located at Handwerkplatz by the Aw Shucks tent.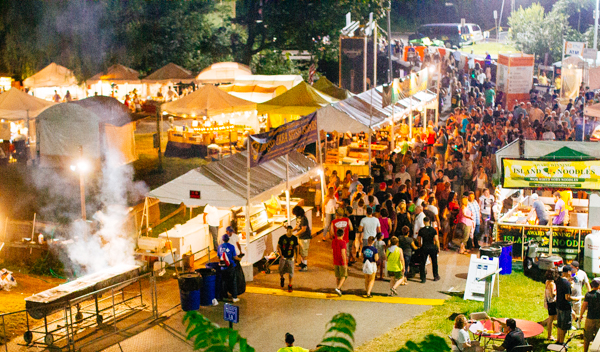 Humpty's Dumplings – maybe one of the most intriguing new additions to the list.  Jalapeno Bacon Mac n Cheese Dumplings, Roasted Pork Dumplings, Broccoli Cheddar Dumplings, Apple Pie Dumplings, need I go on? Located at Plaza Tropical.  (Still mourning the loss of Holy Infancy, so this will have to do).
Pies to Die for Cafe – This sounds, well, better than Chickn in a Cone. Blueberry, Apple, or Cherry Pie in a cone? Sold. Located at Handwerkplatz.
Take-A-Taco: Quite possibly the area's favorite festival food. They show up all over the place…Mayfair, MFest, Allentown Fair, etc. And their tacos are damn good. We hear there may be something more…regular in the works.  The taco bowls are great too. Just get anything and you'll be happier than an owl on a Musikfest poster. Located on Main Street and at Festplatz.
There are, of course, tons of other options available throughout Musikfest. Check them all out here and by all means, tell us in the comments, on Facebook, or on Twitter what kind of good eats you've had throughout the festival.
Other Notes:
Musikfest is partnering with Historic Bethlehem to present "Musikfest Memorabilia" which includes some cool stuff like old posters, programs, mugs, etc. Located at the Goundie House on Main Street.
Our year-long pedestrian nightmare is over.  The bridge that connects Festplatz to Handwerkplatzhas been replaced and will be open for Musikfest. For seasoned veterans this is a favorite way to shortcut through the fest and made for quite a shitty time last year.  Luckily we're saved.
Yuengling Lagerplatz is new, and somehow getting wedged into the area underneath the Hill-to-Hill bridge.  It
features intimate performances by bands who will be playing the bigger stages, giving fans a cool chance to get close as well as providing a fun atmosphere with a beer garden, lawn games, and more.  I'll be interested to see how this works out at this location.
Experienceplatz is also a new invention.  All of the kid-friendly stuff is moving off of Sand Island to the Handwerkplatz area, giving room to the massive Architects of Air inflatable walkthrough that will most likely be dominating the entire area.  As with the buskers and street performance additions in past years, Artsquest has been moving Musikfest into move of a festival atmosphere than strictly a music and drinking event, and for all the better.
Music:
Last but not least. We'll be updating every day throughout the week with our picks for each day, as well as our usual reviews and recaps throughout the festival. See something cool? Post it on our Facebook page or share it with us on Twitter.