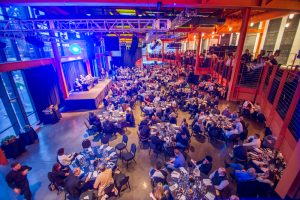 The Meeting of the Malts, an event hosted by the Brewers of Pennsylvania, is coming back for its 7th iteration Thursday, August 23rd at the Artsquest Center at Steelstacks.  Conceived in 2014, the event has traveled to Pottstown and Pittsburgh but has generally centered in the Lehigh Valley, and has become one of the premiere beer events in the state.  In what has evolved into a whirlwind of events throughout the evening, the symposium includes a panel discussion, four-course dinner, silent auction, and beer festival. 
This year's panel again includes owners of some of the most well-regarded breweries in the business, including Tom Kehoe of Philadelphia's Yards Brewing Company, Bill Covaleski of Philadelphia's Victory Brewing Company, Wendy Yuengling of Pottsville's D. G. Yuengling & Son, Mike Stevens, president and co-founder of Founders Brewing Company in Michigan, and Joey Redner, founder of Tampa's Cigar City brewing.  Previous panelists Dick Yuengling, of D. G. Yuengling & Son, and Jim Koch, co-founder and chairman of Boston Beer Company (makers of Samuel Adams) will also be on hand to provide the evening's opening remarks.
The event is always packed to capacity, and panelists offer interesting commentary on their thoughts about the direction of the craft brewing industry, varying from blunt to humorous.  While the event is always packed with owners, brewers, and representatives, it's also open to the public for attendance, giving those interested in the industry and inside look and access to nearly unlimited amounts of knowledge gleaned from professionals in attendance.  The evening kicks off at 6pm with an hour-long panel discussion, followed by a four course dinner with each course featuring a paired beer from a guest panel brewery.  Afterwards attendees can sample brews for an hour and a half from 23 craft breweries from across the state until 11pm.  I've attended this event nearly every year it's been in the Lehigh Valley and it's by far one of the best things a craft beer lover can attend.  Tickets are $85 and includes the panel discussion, dinner, and festival.  Tickets for the festival only can be purchased for $35, and both are available here. 
The Brewers of Pennsylvania is a 501c6 trade association that brings together leaders of Pa.-based breweries in order to promote and protect the brewing industry in the state. The Brewers of Pennsylvania, a strong and influential organization, serves the consuming public of Pa. by encouraging brand diversity in the market. BOP members employ an estimated 10,000 employees earning $296 million in wages and generating $1.1 billion in direct economic benefits to communities throughout the state.