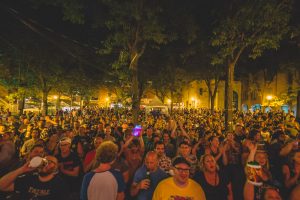 Oh hell yes.  It's that time.  The time that Bethlehem effectively becomes Bourbon Street, the roads are blocked off, the music and the beer flow, and guts are busted by unending amounts of corn cobs.  And yes, I'm back again, writing about it all.  This year we've got a full line-up of daily picks complete with photos from previous years, sample songs, and – new this year – Spotify playlists with every band for each day (that's on the streaming platform).  The recaps will actually be back this year, unlike my broken promises and unfulfilled dreams of yesteryear.  Like every guide, some of our coverage has stayed the same, some has changed.  This is Musikfest's 35th year, and fittingly they've added a whole bunch of offerings and new jawn to check out.  We offer no-bullshit advice on what to do, where to drink, what to eat, how to get there, and how to get the most out of Musikfest.  Check back every morning for recaps of the day before and picks for each day, and make sure to follow along with us on Instagram and Twitter for the best coverage.  Without further ado:
Getting There

Getting to Musikfest has become significantly less of a pain in the ass over the years.  That said, if you're looking for street parking, you're gonna have a bad time.  It's almost always parked up, and if you happen to park somewhere you're not supposed to, the parking violations are conveniently tripled for the biggest tourism event in town.  There are paid lots run mostly by property owners just trying to make a buck (although there are some that benefit non-profits), and are usually exorbitantly expensive.  Your best bet is to park at one of the ancillary lots, either at the Lehigh Valley Industrial Park on 412 or the new lot in Center Valley.  It's $4 per person, $2 for kids, and also allows you to use the North/South transfer bus all day long, which is a pretty great deal.  If you're only coming one day, or just have lots of money to burn, you can park right in the middle of the festivities for $25 per day.  The South Side is a little easier, with parking at the Sands, a new parking deck towards the Fahy bridge, and generally more available street parking.  Since the festival is divided into two sides, north and south, you'll either need to take the transfer bus to get between halves or walk your drunk ass over the bridge which, from furthest ends of the fest, totals about 1.5 miles. For full parking info head over to the official site here.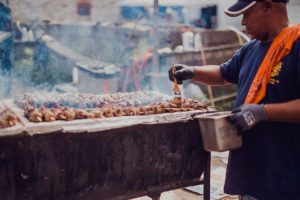 Eating
The amount of things you can stuff yourself silly with is almost too much to handle.  There's a lot of return favorites this year, as well as some newcomers who seem like they'll fit in just right.  Let's get down to it:
Aw Shucks – One of the most popular items at Musikfest, you may think a corn with some butter, spice, and cheese wouldn't be anything special. And you'd be wrong.  Great for walking, these tasty cobs are only a few tickets and are vital to the fest experience.
Bee's Knees – I think this is their third year back, and I'm glad. While a pricy grilled cheese may make you go all "fucking millenials," they're still just straight delicious. They've got "The Hulk" back on the menu, a sourdough grilled cheese with Havarti, baby greens, and pesto. It was a favorite in years past. They've also got a new number called 'La Cocina' that has bacon, avocado, cheddar, jalapenos, ranch, sriracha, and a fried egg, so you can bet your ass that's going in my mouth. Located at Volksplatz.
Caribbean Islands Cuisine – This sounds like a better alternative to the other noodle stands, which still draw inexplicable lines. A fusion of Asian and Caribbean food, they've got jerk chicken with soba noodles, Caribbean empanadas, and Caribbean postickers. I'm in. Located at Volksplatz.
Hogar Crea – one of my all-time favorites.  I've often joked that they bath these shish kabobs in unicorn blood, but whatever it is, the marinade is amazing.  I want someone to fireman carry me to the top of the Steelstacks and spear-throw me into a giant vat of it.  Big beef chunks, charred peppers and onions, and unicorn blood.  You can't go wrong.
Humpty's Dumplings – These guys were aaaaaaamazing last year. Dumplings stuffed with the likes of Asian pork, cheesesteak, and even cheesecake, they were such a hit they kept running out. They've expanded to two locations this year, so hopefully that problem is rectified, but you still might want to get there early on just in case. Trust me, they're worth it. Located at Plaza Tropical and the Sands Steel Stage (for paid shows).
Take a Taco – An old favorite.  Walking tacos of beef, chicken, or tuna variety, fajitas, nachos, quesadillas, and more.  If you're a Valley person, you know.  If you're not, eat a taco and become one. Located at Festplatz and Main Street.

The Flying V – New to the Musikfest scene, these guys have been making a name for themselves in the local craft brewery circuit, setting up shop and dishing out some of the filthiest poutine you've ever had. They've got regular poutine, they've got peameal bacon poutine, and yes, they have red wine-braised short rib poutine. Dear god. Located at Festplatz.
Van Pelt Hot Dog Company – these guys aren't listed as a new vendor for the year, but I've never seen them at Musikfest before. The posted up their fest menu on their Facebook page and they've got Chicago dogs, a bahn mi dog, and a "Philly Philly" dog with chipped steak, whiz, and onions. Count me the fuck in.Located at Volksplatz.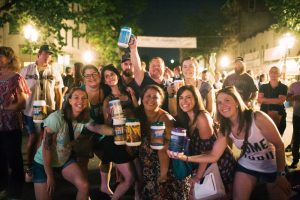 Drinking
Despite the copious amounts of free music and delicious food, drinking remains the most popular thing to do at this soiree.  First: get thee a mug if you're not already equipped.  They cost a few bucks but allow you to carry around more beer and buy more beer at a lesser price.  Win-win.
Musikfest sells beer at their tents, mostly Yuengling and other domestic drafts.  The selection isn't great, but keep in mind that the beer and food sales help pay for all of the bands you're seeing.  They have the usual Lager, Light Lager, Lord Chesterfield, Oktoberfest (what in the hell?), Black & Tan, and the new Golden Pilsner, which is actually quite tasty.  That said, if you're a snobby asshole like me, you're going to want some good craft beer, and we know where to find it. 
South Side:
Bonn Brewing – These guys make some of the best beer in the area, and really is the place to drink on the South Side.  They're located just off the path of the south side stages and will be offering fills of some of their beers, but why not just stop and have a pint?
Social Still – Unfortunately these guys aren't offering mug refills, but they do have a relatively solid list of PA beer for in-house consumption as well as great cocktails utilizing their spirits made on-premise.
Steel Pub – The Steel Pub, located just off of the Steelstacks campus, offers a nice respite from the crowds.  They always have their own live music going on throughout the week and offer the usual selection of domestic pours as well as some craft offerings on the lawn out front.
Molly's – A great local spot to stop pre or post-fest, Molly's offers mug fills of lots of craft beers in the main bar and in the back bar/bottle shop including Funk, Bell's Sierra Nevada, and Oskar Blues offerings.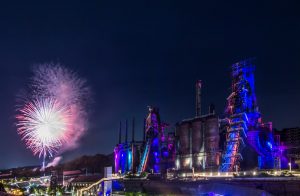 Sotto Santi – A little off the beaten path from the fest, but Sotto's offers mug fills for cheap on the domestic stuff but also stocks some craft beer as well.
Lehigh Pizza – A nice place to grab a slice and a $4.50 19oz can of Dale's Pale Ale while heading from North to South or vice versa.  They've also got a lot of other stuff in stock, like $1.50 24oz cans of the venerable Genny Cream Ale.
North Side
First, let's discuss a nice new addition to the north: a craft cocktail bar. Lit with string lights, it offers a cool little area to enjoy drinks like whiskey miles, peach mules, peach gin and tonics, bourbon bashes, big apples, Beach Bum sangria, and sweet strawberry lemonade sangria. Even better? They all utilize local ingredients from Social Still, Eight Oaks Distillery, Xplorer Spirits, and Franklin Hill Vineyards. Want to get really sauced? There's a private tasting on August 6th where you get 4oz tastings of all eight drinks for $30, which also comes with a mug.  The bar and lounge area is set up in Plaza Tropical.
Fegley's Bethlehem Brew Works – One of my go-to spots, they've always got a stocked line-up of their flagship beers as well as some seasonal offerings for reasonable prices.  They set up a quick to-go station in the front with a few offerings but you can pony up to the bar for others as well. Protip: the downstairs bar is usually pretty dead and the air conditioning is fantastic.
Wooden Match – The Wooden Match is pretty much the only other stop besides Brew Works that you'll need.  We list the others just for options, but the Match's selection is fantastic.  With a ton of beers on tap inside and beer trucks and the Two Roads Airstream parked up outside, you've got more choices than you'll ever need. They'll be pouring a bunch of IPAs, Belgians, sours, wheats, and summery beers for your enjoyment.
The Sun Inn – the Inn has become a nice little stop off of Main Street or Leiderplatz and is heavy on the PA brews.  Yards, Victory, and Troegs are usually served up here and they've got a beautiful outdoor patio to get away from the crazy for a few minutes.
Hotel Bethlehem – Hotel B has mug refills with a few better options than the usual tents at a reasonable price, a quick pit stop right off of Main Street.
The Brick – Always stocked with one of the best beer lists but a bit removed from the festival grounds. They've got tons of really awesome craft offerings and come in at an affordable price.  If you don't mind the short walk, it's worth it.
Hardball Cider – Located on Main Street right in the heart of the festival, Hardball serves from an outside station as well as in their taproom, and has a variety of ciders made in the Lehigh Valley available for mug fills, tastings, and pours at the bar.
Corked – Corked usually reps a decent tap list of craft brews, but has historically gotten on the pricey side for some of them.
Old Brewery Tavern – The OBT is offering $4.50 cans of Dale's Pale Ale as well as other domestic and craft drafts, but beware, a mug of Goose Island IPA there cost me far, far too much last year. 
Joe's Tavern – The dive bar that got a makeover, Joe's is a favorite local spot that offers not only the typical swill, but has expanded into offering veritable good craft beer.  Stop in and check out the new facade and fancy front door.
Ripper's – One of the last remaining true dives of dives, it gets packed with motorcycles outside and patrons of all walks inside.  Cheap beer and crazy times.

McCarthy's Red Stag – McCarthy's has a load of traditional, imported beers from across the pond as well as craft beers from across the country and the Lehigh Valley's own Hijinx will have their Fergus Irish Red Ale on tap.
The Rest
Besides the music, drinking, and food, there's also a lot of other things to check out at Musikfest, and there's some new additions.  This year L.L. Bean is hosting kayaking and paddleboarding Experienceplatz near Sand Island, which is actually pretty awesome. No word on the cost, but the 60 minute course is running from August 8-12 from 12pm to 7pm. The Architects of Air are back with their insanely huge blow up ballons that you can walk inside of. Last year was the first year for these, and if you're contemplating whether it's worth however many tickets they charge you, the answer is yes. Not only are there spots inside where you can cool down, it's just a pretty damn awesome experience. 
That's it for this year! Stop back throughout the week to see band picks, recaps, photos, and reviews, and as always, follow along throughout the fest on Facebook, Instagram, and Twitter.