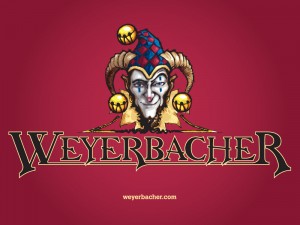 In a recent post, COO Josh Lampe detailed some of the brewing achievements that Weyerbacher has achieved recently with their IPA series and the release of their Line Street Pilsner.  He also detailed some of the future releases that we can expect from Weyerbacher, and there's some interesting things coming down the road.
This month the brewery will be releasing two beers which were previously fairly limited.  The first, Tarte Nouveau with Blood Orange, was only available at the brewery last year in 750ml bottles.  The regular Tarte Nouveau has seen widespread distribution as a year round beer for Weyerbacher, and this fruit-infused version will now be packaged in 12oz six packs and available to a much wider distribution.
The second beer, Last Chance IPA with Apricot, was available only on draft at select bars last year.  If you blinked, you missed it, as we did.  Apparently Weyerbacher was so happy with the reception for it that they decided to make this fruit-infused version of another year round beer again, this time in 12oz six-packs as well.
They're releasing a hefeweizen as the next version of their brewer's select series (now called Jester's Choice) in June, and they'll be celebrating their 21st birthday in June as well.  If you know Weyerbacher, then you know that they always brew a big-ass beer for their anniversary series. This year is no different – apparently it will be a bourbon barrel aged chocolate bacon beer.  And what goes better with warm weather than pumpkin beer?  Yes, in July they'll be rolling out their autumn seasonal, Imperial Pumpkin, but this year they're cutting production on it, which is probably a smart choice since they were literally giving away old stock as late as March this year.
Following on the heels of other craft beer trends, Weyerbacher is ramping up their game elsewhere.  Last Chance IPA is getting a recipe change and new packaging.  Weyerbacher is apparently installing a canning line, and will be canning Merry Monks, much like Victory Brewing's recent move to start canning their Golden Monkey.  They're also creating a sessionable version of Merry Monks, most likely something along the lines of a Belgian Pale Ale.  And probably the tastiest tease Mr. Lampe made – Weyerbacher will be hopping on the multiple adjunct stout craze and will be putting out a Mexican chocolate version of their stellar Sunday Morning Stout, much in the vein of the hugely popular (and delicious) Hunahpu and Mexican Cake beers.
Things are looking good in the Easton brewing scene.