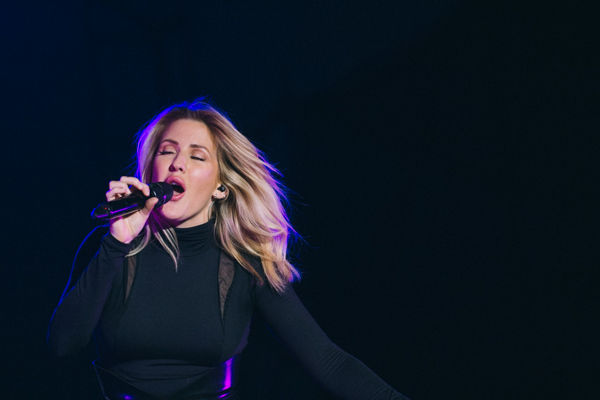 Review by Justin Burkhardt
Ellie Goulding took the Sands Event Center stage on Wednesday, which for the night was outside in the SteelStacks parking lot. During the middle of her set, she told those in the crowd recording and taking pictures to put their phones away and just enjoy the moment. I hope many heeded her advice, because this one truly one of the best performances the Lehigh Valley has ever seen.
I've been attending concerts in the Lehigh Valley since I was a child. My first concert (if you don't count the 1991 Teenage Mutant Ninja Turtles "Coming Out of Their Shell" tour at Stabler Arena) was MC Hammer in 1992 at the Allentown Fair. Since then I've seen concerts from the likes of Bob Dylan, Tom Petty, John Mayer, The Roots, Alicia Keys; and let me tell you that Ellie Goulding's show may have been the best concert I've seen in the Lehigh Valley. From the way the venue was set up, to the opening act, to her entire set; everything worked so well.
Simply put, Ellie Goulding is a natural musical talent. Her instrumental background includes playing the clarinet, piano, guitar, and drums (the two latter she played during the night). She can also dance and holds her own on stage. Ellie can also transition from a dance hit to a folksy-rock type of song and not miss a single beat. Her signature voice also sounds just as good, if not better live. When you combine her voice, which is a raspy/smoky one with a soft edge, you've got one of the best talents in pop music today.
During the 22 song, 90-minute set, Ellie mixed in her hits with current songs from her latest album Delirium, which was released in November. Ellie was backed by a four-piece band (2 guitars, drums, & keyboard) and three backup singers. She also had a talented group of four male dancers who joined her throughout the night including the beginning of the concert which was the "Intro" from Delirium. She followed that up with "Aftertaste" and "Holding on for Life". On "Goodness Gracious" (one of my favorites) and "Something in the Way You Move" Ellie took to her drum set and showed off her skills there. Next was the high energy song "Outside" and it had fans in the crowd jumping. She then transitioned into the song "Devotion", where she broke out her acoustic guitar showing off her multi-instrumental prowess.
Her first costume change of the night saw her come to the stage in a black light outfit that had an 80's Tron feel. She danced and performed "Keep on Dancin" and "Don't Need Nobody" while in the outfit. Ellie went backstage for another costume change and returned in a stunning white dress and she performed her song "Explosions" (Also one of my favorites). The power of her voice was truly felt during the necessary parts of this song. She mentioned towards the end of the show she wasn't feeling 100% during the night, which you would have never known given how strong she sounded all night.
Ellie followed that up with a stripped down version of one of her biggest hits, "Lights", which sounds just as good acoustic. Ellie introduced her song "Army" by telling the crowd it was about her best friend, and it's one of those songs you can just feel how important that relationship is to her every time she performs it. She performed one last song, "Lost and Found", in her white dress before leaving the stage for her final costume change of the night (by my count that would make 4 outfits on the evening)
She came out in a skirt and leather jacket while playing the electric guitar and performed a harder rock sounding version of "Figure 8". Her latest hit, "On My Mind" was next and her talented dancers made their biggest impact during the song, incorporating glittery baseball bats into their routine.  Three new songs from Delirium followed: "Codes," "Don't Panic," and "We Can't Move To This," which had Ellie showing off her dance moves.
Ms. Goulding ended the concert with a string of four of her biggest hits. First was "I Need Your Love," followed by "Burn." After seeing her most of her recent Coachella set on YouTube, "Burn" was one of the songs I was most looking forward to seeing live. It did not disappoint as she took to the guitar again and her dancers had some pretty sick choreography, including remaining completely still in awkward positions while she played a bit of the guitar.
Ellie left the stage and returned for her encore which started with her hit, "Anything Can Happen." She ended her incredible set with "Love Me Like You Do," her electropop power ballad, which had the entire crowd singing along.
Opening act Bebe Rexha was a perfect choice. I first saw Bebe in 2011 while she was in the electronic duo Black Cards with Fall Out Boy's Pete Wentz. My friends Manny and Omar Dominick were touring musicians for Travie McCoy's solo project at the time and Black Cards were one of his opening acts at the concert that I was invited to. I knew Rexha was a talent then and it's nice to see her continue to blossom into the star she deserves to be.
Rexha performed the hits you're known for hearing her sing, such as G-Eazy's "Me, Myself, and I" and David Guetta's "Hey Mama." She also performed the song "The Monster," which she co-wrote for Eminem and Rihanna. Rexha has yet to release her solo debut album (she released an EP in 2015) but when she finally does release it, a venue in the area would be very wise to bring her back for a show. Rexha is well on her way to pop stardom.
My only "if I had one complaint about the show" comment would be that it wasn't nearly long enough, but that's a sign that it was a great concert. Ellie packed in 22 songs in her 90 minute set, and I still wanted more. Also I must give props to both the Sands Event Center and ArtsQuest for putting the outside show together so quickly. I'll be the first to admit that I was skeptical when I first heard about the change, but it was executed seamlessly by both organizations. Bravo! I hope the two do something like this again in the future, because I did actually prefer this set up to the usual Musikfest set-up. I also hope Ellie makes a stop in the Lehigh Valley again soon, so more people get a chance to experience her live.