Going into this year's Musikfest many festers were fraught with uncertainty, myself included.  How would the Southside arrangement work out?  Would it be a pain in the ass getting back and forth?  Would the cops really try to cite me for walking across the bridge with a mug full of beer?
Turns out most of those problems weren't problems at all.  Musikfest this year, I think, lost some of its charm by moving shows onto the Southside.  Let's talk about the SteelStacks venue itself.  The pavilion is very nice.  It's a great stage and you get a good view from most any angle.  The thing I didn't enjoy was the lack of energy at some of the shows.  Americaplatz, when at city hall, sometimes lacked energy but this year was an even poorer showing.  There were two main free venues here, the Town Hall (just a small stage with patio-style seating) and Americaplatz, the big pavilion. It took until the last song of the Trouble City All Starts (local reggae band) for people to start dancing at the Town Square.  When bands played at other venues there were crowds that were much more into the music.  The best example was March Fourth Marching Band.  On Saturday night at Volksplatz there were people packed in and having a hell of a lot more fun than people were on Sunday at Americaplatz.
Then there's the issue of the acoustic bleed-over between venues.  The Morning Call and several commenters harped on this issue, however I think it was a bit overstated.  If you were standing and actually listening to the music at Americaplatz there wasn't much of a problem.  The Town Square was noticeably worse.  If you went further away towards the PBS building it was definitely bad because the acoustics were bouncing off all of the walls back there.  I can't comment on the Steel Stage because I didn't make it to any shows there this year, however I think people feeling that this was unbearably annoying are just looking for something to complain about.  It was a minor problem and I'm sure next year it will be much better.
A bummer for me at the Southside venue is there just wasn't much to witness besides bands.  There were no crafters, there wasn't much in the way of really unique food, and it just seemed boring if you weren't actively watching a show.  It seems that on the north side there's much more to look at and experience, even if it is that giant group of gothy teens. 
Then there's the getting back-and-forth part of between north and south.  I incorrectly predicted that the buses were going to be over-filled and ridiculous.  It seemed just the opposite…I didn't see many riders of the buses at all throughout the festival.  From what I gathered from our Twitter readers, most decided to stay on one side of the festival or the other.  I traveled by bus once, car once, and walked once.  The walk wasn't terrible.  The bus took a little while longer than by car, but the nice (unadvertised) thing is that you can park in the Sands lots and walk a short distance to SteelStacks.  If you want to go to north side you can take the bus for $2 and not run the risk of a parking ticket or have to park in $5+ parking lots.  Getting back and forth really wasn't an issue at all if you really wanted to do it.
Ah, yes.  The food.  The food was great as always this year.  I was surprised to see that there was deep fried Koolaid this year.  This just came out in June or so and we're usually a few years behind the "disgusting fair food" curve, if we even get the new stuff at all.  The Koolaid wasn't as life changing as I thought it'd be, but it was interesting.  They were like little bright red Munchkins with a powdered sugar/Koolaid powder mix sprinkled on top.  The Hogar Crea stand was, as always, amazing.  I was slightly dismayed to find my shish kabob a little tough though.  Aw Shucks was damn delicious as usual, as was the annual Take-A-Taco.  I think the winner this year might have been Theo's.  The gyros just hit the damn spot and their (premade) baklava certainly quelled my sweet tooth.  I didn't get to hit a few places I wanted to because of the flooding (see below), but my cholesterol is thanking me.
The beer this year was pretty great, no thanks to Artsquest.  I'm quite surprised more people either didn't notice or take issue with the hiking of mug refills from $5 (10 tickets) in 2010 to $7 (14 tickets) this year.  Not only did the price rise but they're still serving the same shitty beer.  With the new law that allowed bars all over to do mug refills, many were taking advantage.  $3 Miller Lite refills were being poured at the Hotel Bethlehem when the same beer was pouring a block down at Artsquest for $7.  The brand new Wooden Match was doing refills of great craft beer (Bell's Two Hearted, Victory Prima Pils, Victory Lager, Victory Headwaters, Brooklyn Brown, Blanche de Bruxxelles, Flying Dog Old Scratch) for only $5, a complete steal.  Brew Works was doing mug fills of flagships for $6 and their seasonals for $7.  This year they had a table set up in the front of Brew Works with Zomerbier and Blueberry Belch.  There was definitely no shortage of good suds to go around (or crappy beer if that's your gig) this year.
The music was fantastic.  There were so many great bands (as evidenced by our huge "bands to check out" list on the 2011 guide) to choose from that if anyone said the bands sucked you could, without question, call them an idiot.  This year none of the headliners particularly tickled my interest.  I still maintain that they could get much better, relevant music in those venues.  I'm not talking U2 style concerts, but more along the lines of Adele, Mumford & Sons, Death Cab For Cutie, etc.  I do have to say that Maroon 5 and Train are both relevant within the past two years, which is a big thing I always harp on.  It's progress, but there's always room for improvement.  My top two shows of the festival were easily: #1 Here Come the Mummies and #2 March Fourth Marching Band.  
Here Come the Mummies were hilarious but also just astounding musicians.  I didn't know this before, but apparently there's rumored to be a few Grammy-winning musicians in the band that keep their identities hidden so as not to interfere with their other recording contracts.  Their funny lyrics and funk style made for easily the most fun I've ever had at Musikfest while sober.  Bonus?  They're coming to the Artsquest Café in October.  My tickets are already purchased.
March Fourth Marching Band was also great.  As mentioned previously, I caught them both at Volksplatz and at Americaplatz the day after.  The best way I can describe them?  It's like all the hot and/or indie band geeks raided a burlesque/Rocky Horror costume wardrobe and decided to get together and play funk.  Not only is there literally 20 of them in the band, they've got people just walking around on stilts mingling and dancing with the crowd (and at one point attempting crowd surfing, which didn't work well).  It was a seriously good time and I really, really hope to see them get booked at the Artsquest Café as well.
The Freak Owls turned out just as good as I thought they'd be.  Very mellow, interesting indie music with violin and guitar.  A friend picked up their album so they will definitely get some further listening.  Mamarazzi was disappointing.  I figured them to be more rap but most of their show that I watched had no lyrics.  I got bored quick and went to find something more interesting.  Mree/Marie was good and mellow, mixing in some of her own music with covers to the likes of Elvis.  The Red Elvises put on a good, alcohol-fueled show as always and the Sandlot Heroes played a good set with some damn good covers (Foster the People cover?  Great shit).  Weirdest/most hilarious occurrence of this year?  Ukee Washingtonof CBS 3 in Philly playing the cowbell for Philadelphia Funk Authority.
Now, on to the Great Fest Flood of 2011.  It just so happened that I was one of the people stupid/drunk enough (read: hardcore about Musikfest enough) to be out wandering the grounds during the epic rain/thunder/lightning battle that was raging above Musikfest.  At one point walking near Handwerkplatz lightning struck what must have been a tree maybe 100 yards or so from where everyone was walking.  It was extremely loud and if I hadn't had a few mugs I might've screamed like a girl.  In fact, one girl stood there and screamed for a good 7 seconds after it struck.  It was decided to head down to Volksplatz to see Start Making Sense, the Talking Heads cover band.  At this point it was getting pretty damn wet there and the entire floor of the tent was an inch or two of water.  About halfway through the set they shut the show down and evacuated, much to the chagrin of fans and drunks alike.  Apparently the BPD had to come in to force people out as they were refusing to leave.
Then the shit hit the fan.  Although I was off at Tally Ho drinking on higher grounds, pictures and eyewitnesses show about 3 feet of water coming over the banks and destroying much of Handwerkplatz and Volksplatz.  Tons and tons of things were destroyed including lots of hand-made art from vendors as well as cooking equipment from many places (including all of the barrel grills from our beloved Hogar Crea).  It was a huge loss for not only Musikfest, but for all of the vendors and crafters involved.  What ensued was a plea for money from Artsquest, claiming a $750,000 loss.  This pissed a lot of people off, especially those who already scoff at Musikfest.  Rather than rehash, I'll just link to Tony Rhodin's opinion piece in the Express Times yesterday.  It accurately portrays how I personally feel about the entire situation and makes a lot of good points.  So far the comments are mostly civil and constructive as well.  The only additional point I have to make is one alluded to earlier:  How much of that loss is because people filled up their beers at other places than Artsquest tents?  Apparently there was Hop Devil at SteelStacks, however the north side locations were lacking anything other than Yuengling and Bucsch/Miller/Coors offerings.  Even then, it's significantly more expensive than surrounding areas.  For an event that makes a million (maybe millions?) on beer sales every year, you'd think they'd learn to compete.  Upping your prices for the same shitty offerings while surrounding businesses continue to cut in isn't going to work to increase your revenue.  And because of this, I wonder just how much of that $750,000 is due to lost beer sales and lost revenue due to splitting up the festival.
So where does Musikfest go from here?  I'm guessing they'll get the money they're looking for.  They have a lot of big backers now both in the corporate sense and in the wealthy people sense.  The split festival just made everything not feel the same.  Down at SteelStacks I felt removed from Musikfest proper.  On the north side I was bummed when there was a band at Americaplatz I couldn't very easily walk down to.  For the paid shows I believe they just need to go general admission.  There were lots of complaints on MCall's Festblog about people going out of their seats and to the front.  General admission would easily solve this problem.  Going forward I believe the festival will eventually have to merge somehow.  Whether that means taking everything from north side and doing something like taking Liederplatz and putting it at City Hall, shutting down the Fahy so people can walk across, and moving Handwerkplatz and other venues to the Steel Ice area, etc. I do not know.  I think it would be a tight squeeze to move everything in a more southside-friendly manner, but the split is bothersome.  In a twitter conversation several people mentioned they either have no interest in the southern venues or won't go to them because they don't' want to pay for a bus, walk, or drive.  I did notice that crowds were thinner this year…both on weekdays and on weekends.  The Brew Works wasn't JAMMED as usual and The Wooden Match wasn't unbearable either.  Whether it's because of weather (crowds were even light on nicer days) or because of the festival split, I just don't know.
I think they also need to step up the beer game as I mentioned.  If they had better drinks for the same prices I know several people who would've opted to drink in the Artsquest tents (myself included).  $7 for a Brew Works beer or $7 for a Miller Lite?  No contest there.  They could take it a step further and take the prices back down to last year's – $5/mug.  There should be some partnership here, either with The Brew Works, (more) Victory, or Weyerbacher to serve their beer at this festival.  To say you're a community organization and snub local breweries is counterintuitive.  
Going forward I think there needs to and will be some definite reworking done by Artsquest.  Don't get me wrong, I love Musikfest.  I'm also critical of it because that's what this blog is for: voicing my opinion on matters.  You can feel free to agree or disagree with them.  In fact, I encourage it and would love to see some intelligent conversation in the comments why or why you don't agree with certain or all of the points in this article.  
P.S. Can we get a smartphone app next year?  Please?  I'll even pay $1 for it.

Hogar Crea shish kabob stand

Take-a-Taco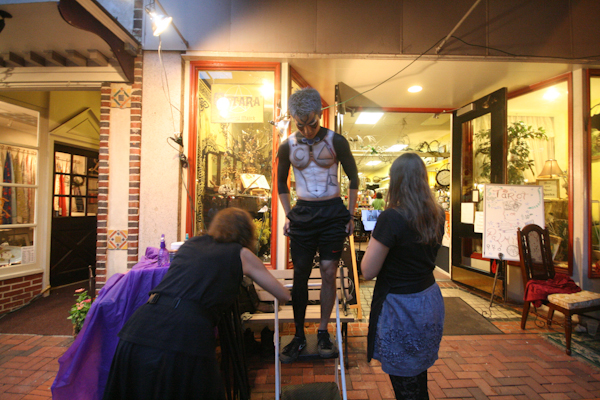 Body painting outside of Ostara on Main Street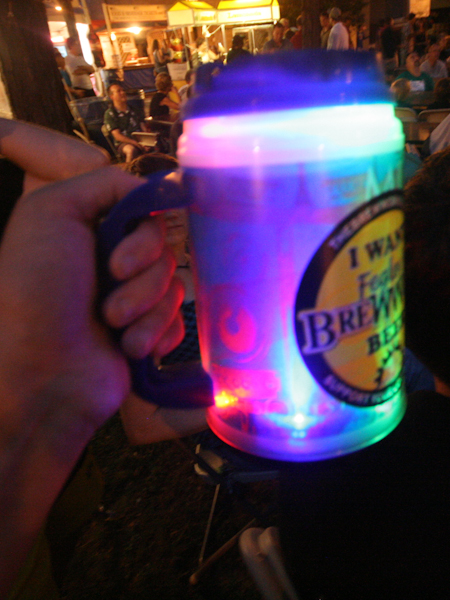 Requisite blinking mug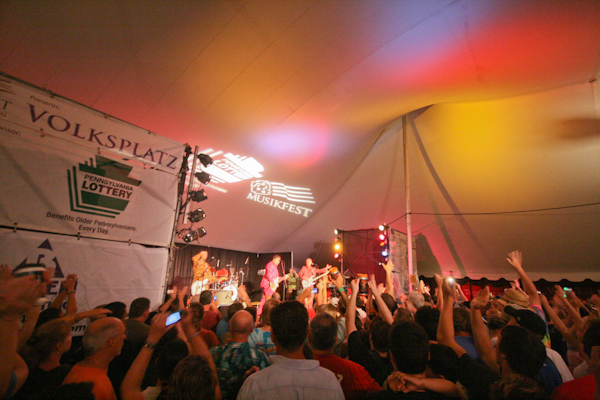 The Red Elvises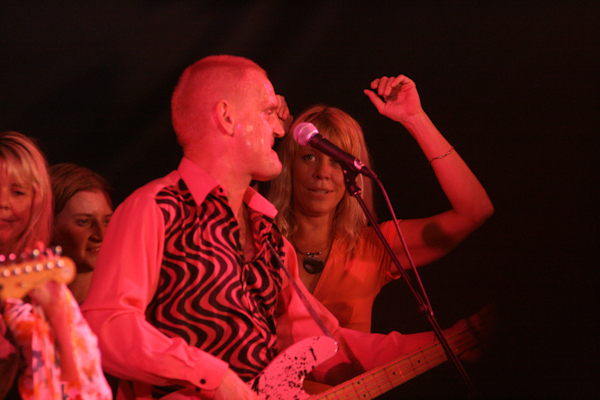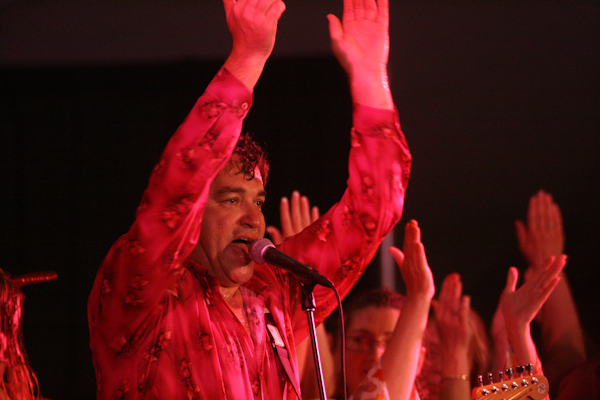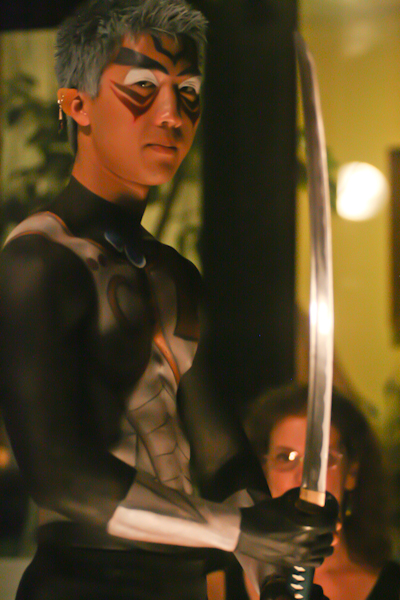 The finished body painting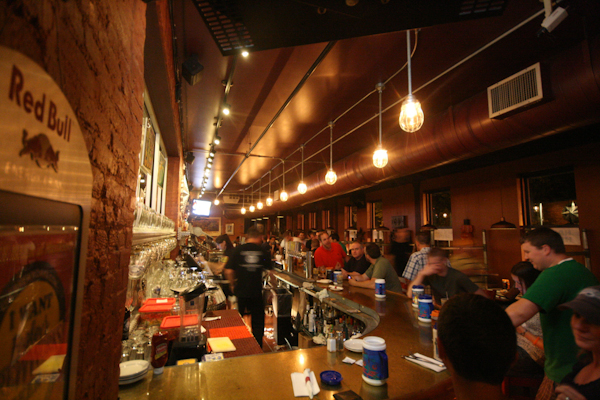 The Brew Works on an oddly quiet Saturday evening during fest

Shish kabob, awwww yeah

Jerk chicken on a stick

For some reason there was kids (and an adult) running around as chickens

Strawberry sundae from Bethlehem Dairy

Aw Shucks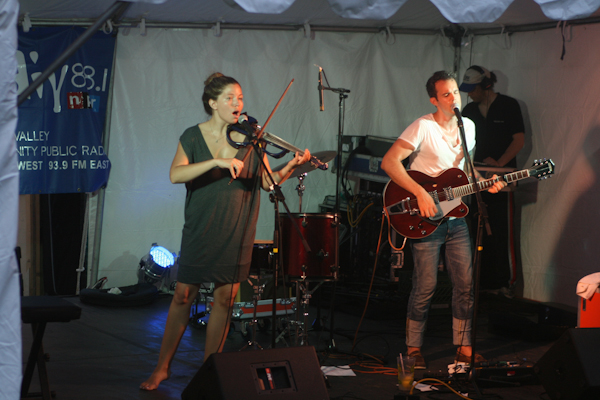 The Freak Owls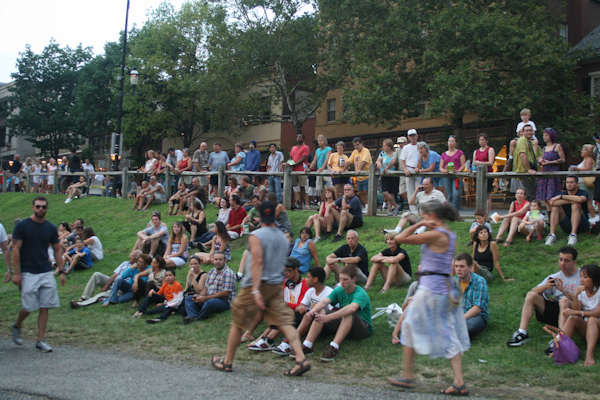 Crowd for the Freak Owls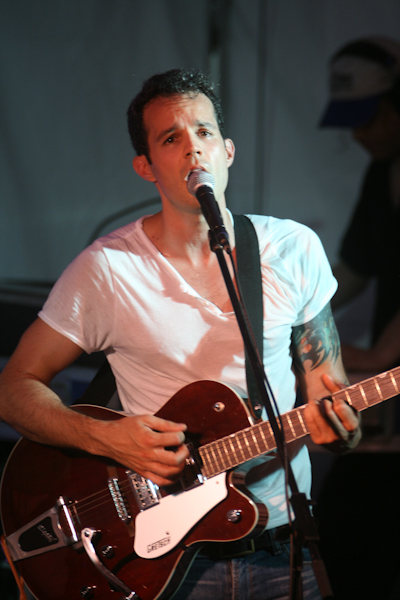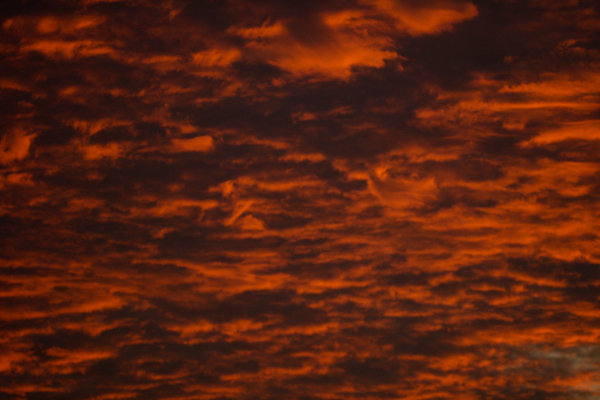 Sunset over Musikfest

Crowd for Here Come the Mummies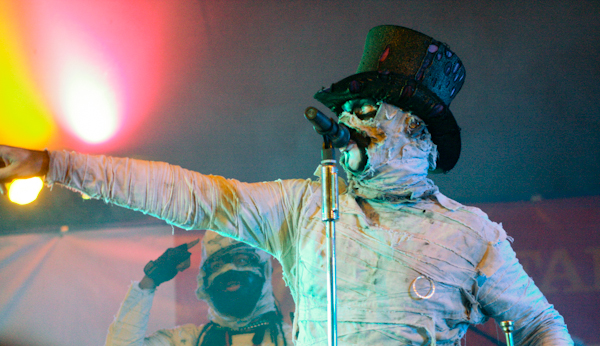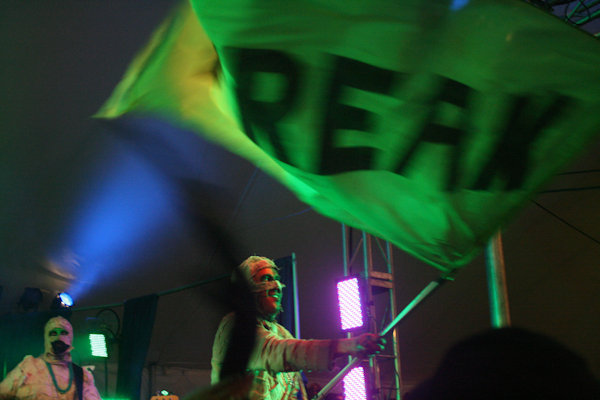 Waving the freak flag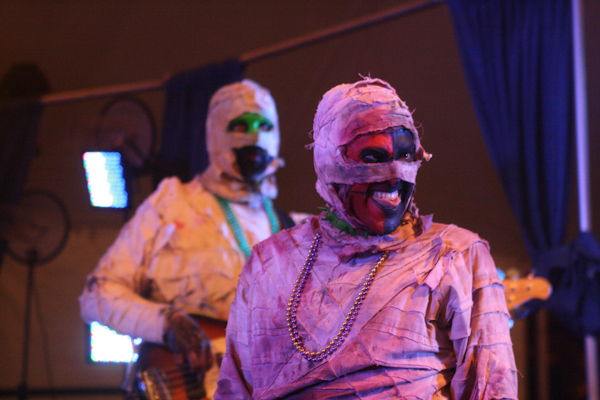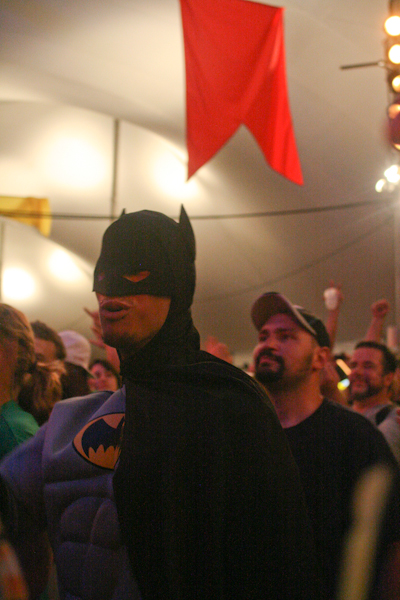 Even Batman showed up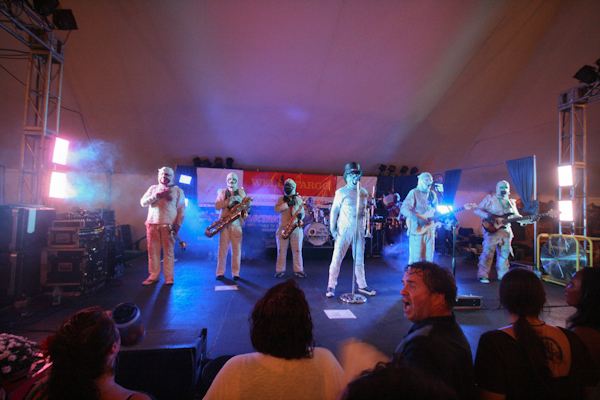 The Master of Disguise also showed up.

Yeah, that's a cowbell dick belt.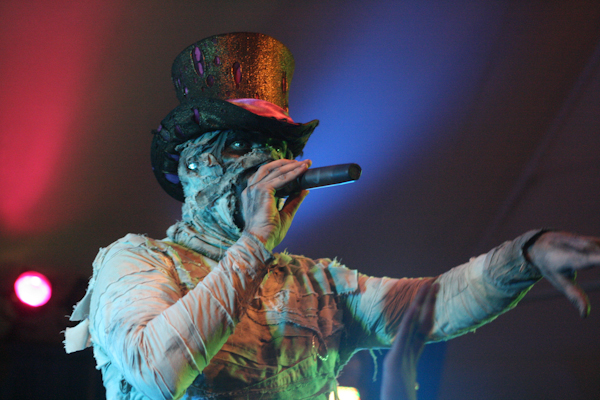 "Libido Knievel"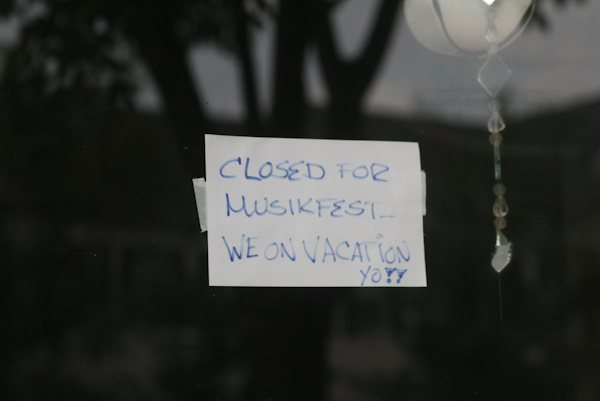 On the door to the Other Fish, yo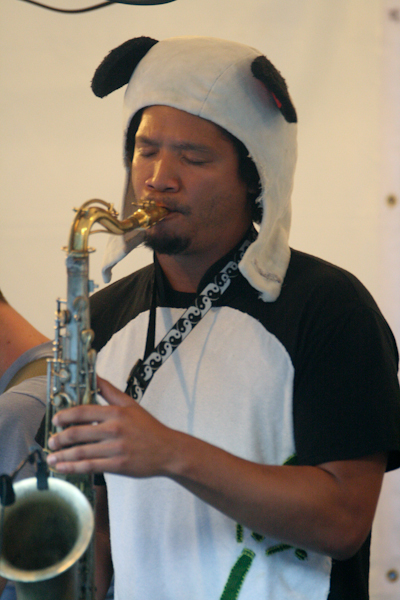 Pandasax?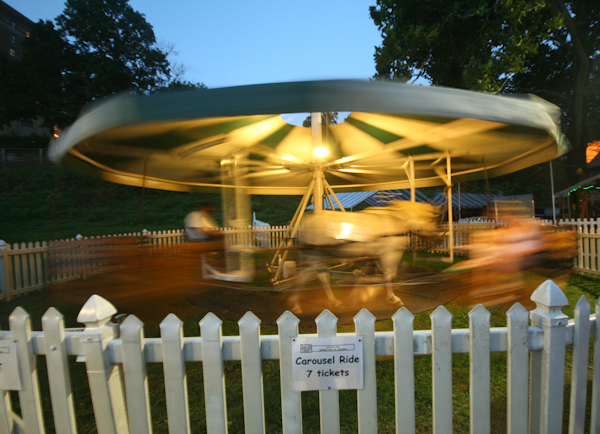 A new one this year, a horse-driven carousel

Mree/Marie

The new Americaplatz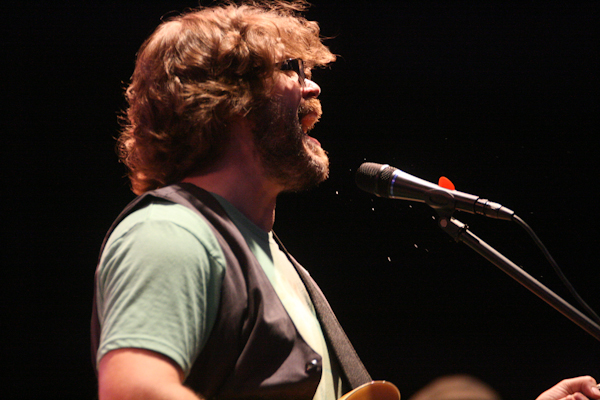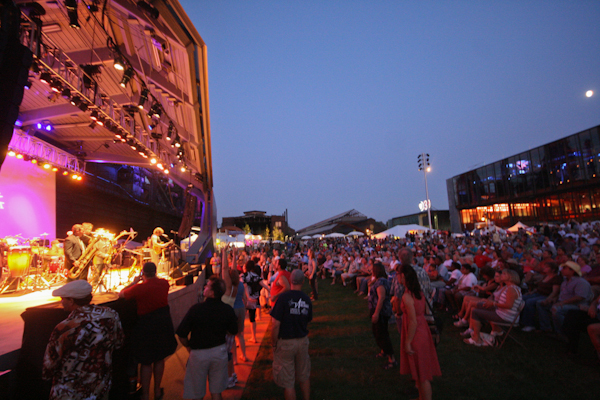 A turtle backpack!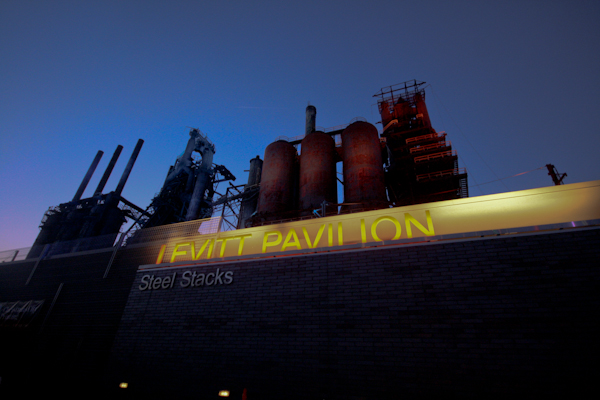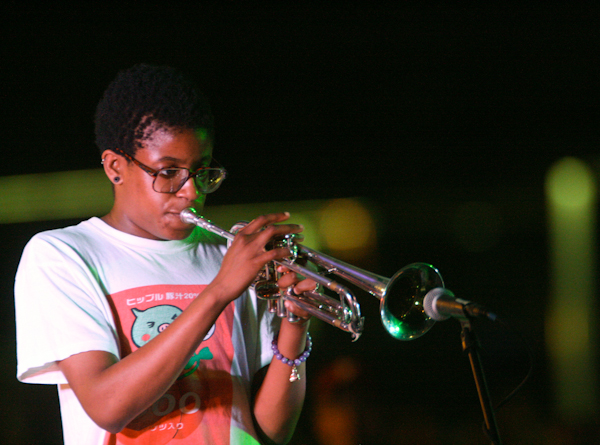 Trouble City All Stars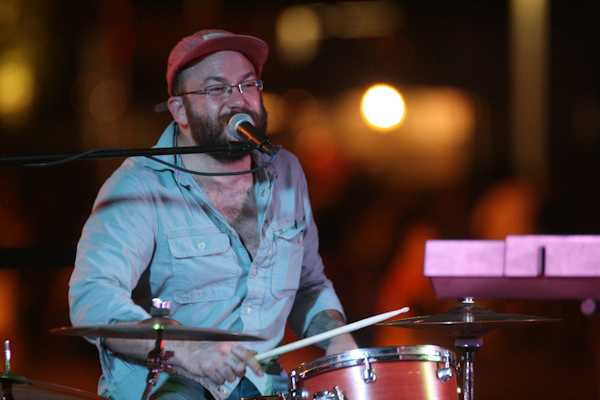 More Trouble City All Stars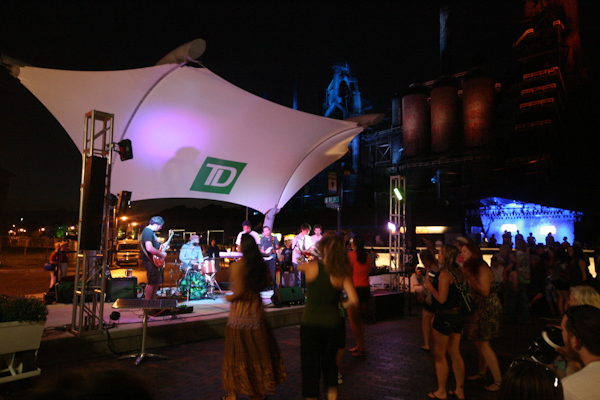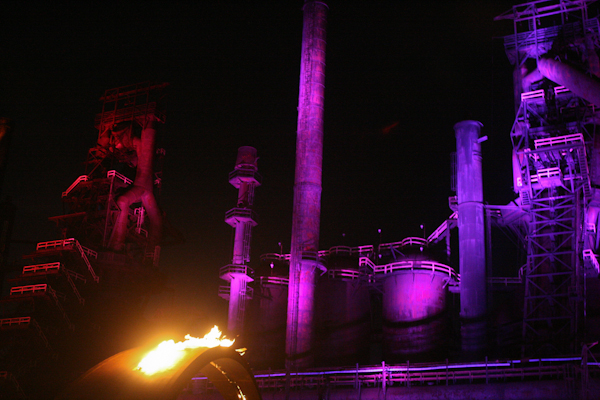 The Bridge with SteelStacks

Cool wall outside of the PBS building

Street performer at Main Street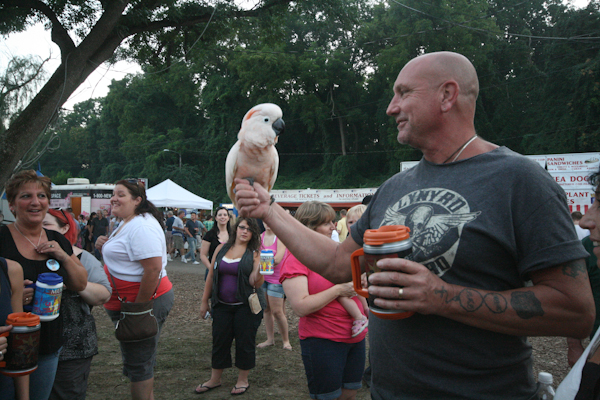 This is a man with a parrot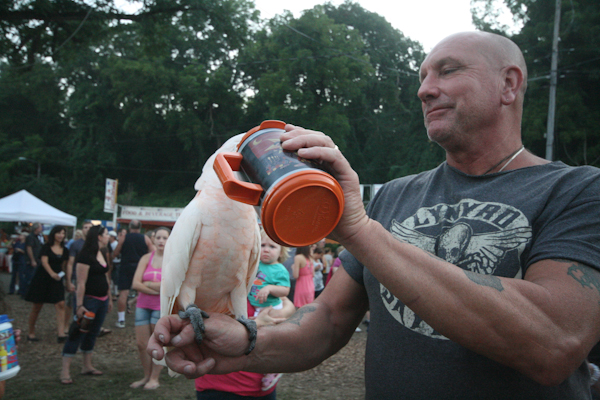 This is the parrot drinking beer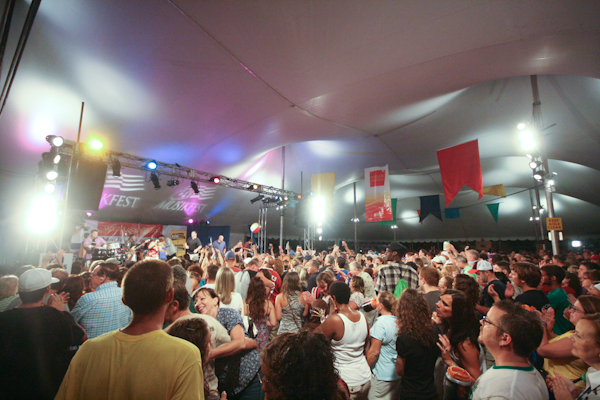 Philly Funk Authority playing during the flood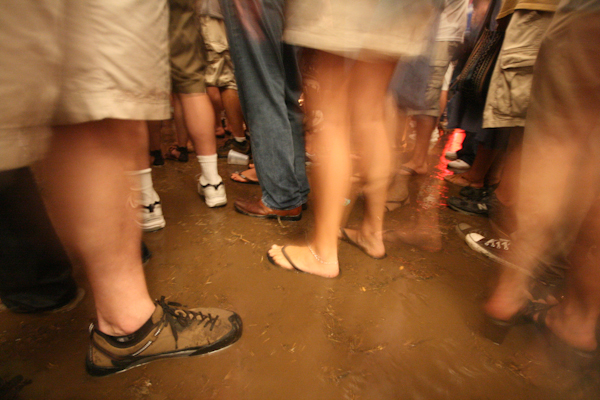 Waters rising at Volksplatz

It was quite wet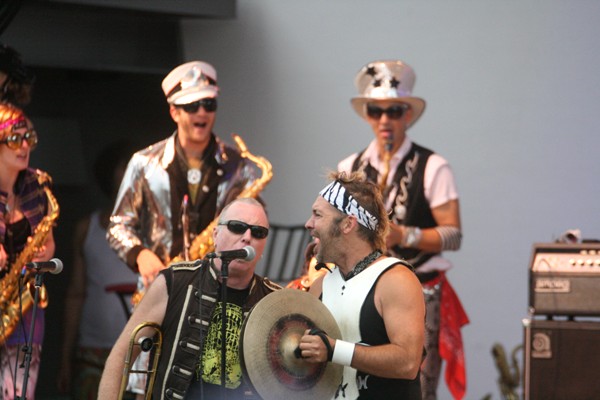 March Fourth Marching Band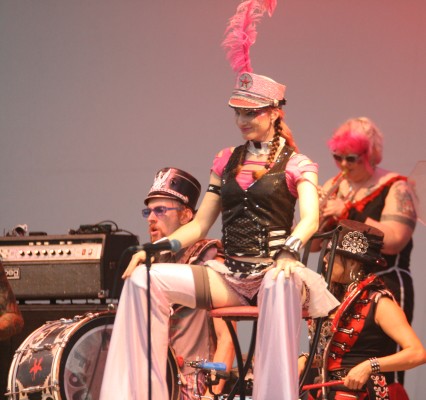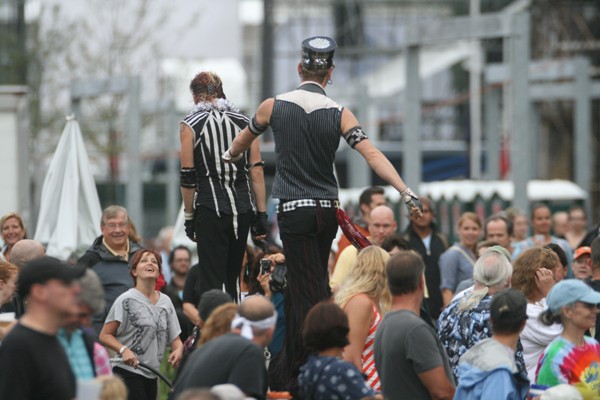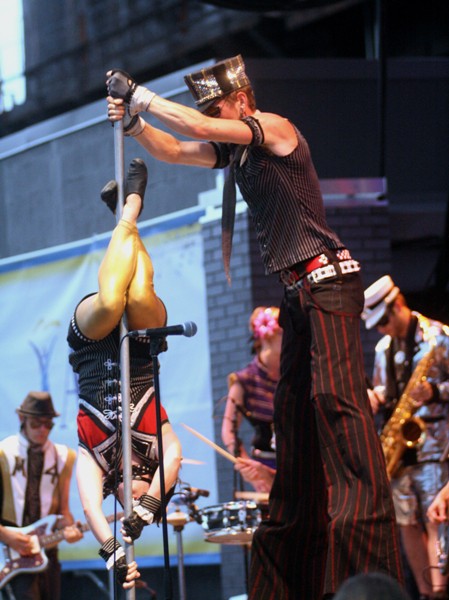 It even included a faux strip routine.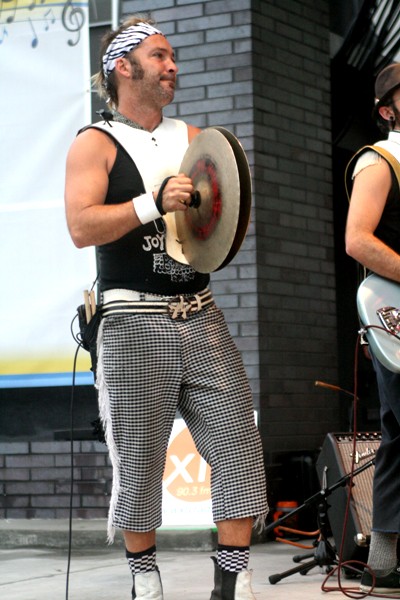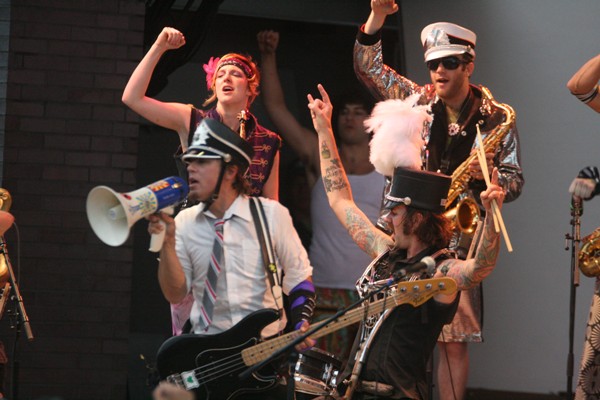 Deep fried Koolaid