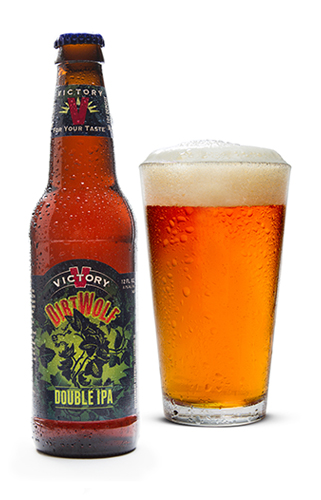 TheMint Gastropub is hosting a release of PA-based Victory Brewing Company's new DirtWolf Double IPA tonight with a tap-takeover starting at 5pm.
Victory recently retired their long-time staple IPA, Hop Wallop, in lieu of a bigger, stronger, tastier double IPA.  The 8.7% ABV brew incorporates Citra, Chinook, Simcoe, and Mosaic hops. 
The Mint's tap takeover starts at 5pm and will feature the new DirtWolf Double IPA, the now-retired Hop Wallop IPA, an experimental 4-Hop Bock, Baltic Thunder, Yakima Glory, and Victory Lager.
We got a sneak peek at the beer last week and it has a dank, earthy, pine-needle flavor and aroma.  The beer should be out in places like Abe's and Wegmans soon in four-packs.