Hidden in a shadowy alley in Bethlehem is a spot dubbed the Secret Art Space.  Secret, indeed.  I walked around for quite a while in monsoon-like rain until I found it which only occurred due to seeing other people coming out and going in the space.  I first heard about it from LV Transplant and decided to hit it up on a Friday night.  I had an idea of what it looked like and what it'd be like drawn up in my head but was surprised when I entered.
The Secret Art Space is mainly host to a rag-tag band of teens and 20-somethings that host a variety of shoegaze/punk/etc. underground shows.  Upon entering I expected to find a basement full of people and pretty serious show going on but I found pretty much the opposite.  After finally finding the fabled green door on Vine Street I ducked through a black curtain and down into what seems to be an unfinished basement of someone's house.  About 30-40 people were down there, either standing around watching the blisteringly ear-piercing bands or sitting on couches that were most likely procured curbside.
It was very subdued…Christmas lights provided luminence around the area and tables were set up with some DIY merch for the bands that were playing.  How they pull this place off I have no idea, considering it is extremely loud and the neighbors must get testy.  In fact, they cancelled all shows in November and are only doing weekend shows from now on.  It's also an all-ages sober space, so if you want to drink you've gotta do so before heading to the show.  Check out some pics below to get a feel for it and I also included the latest email from the show peeps for the upcoming shows/art/whatever.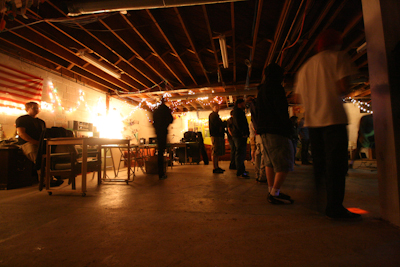 Secret Art Space Newsletter Update
MOVIE MANIA!!!!!!!!!!!!! hosted by Handsome Scott Jones, we're kicking off our monthly movie night, starting nov 14th. sunday matinee!!!! more info coming soon.
THE FIRST 1ST… FINALLY! monthly art openings the first friday of the month in conjunction with southside bethlehem's  monthly first friday event, beginning nov 5th.
*****all shows are at the secret artspace, doors 7:00 bands 7:30. $6-8 donation. SAS is an all ages sober space.*******
– – – – – – – – – – – – – – – – – – – – – – – – – – – – – – – – –
friday, nov 5th
1ST FIRST: THE DEBUT OF SAS' FIRST FRIDAY ART SHOW SERIES!!!!!!!!!!!!!!!!!!!!!!!
featured artist: eric de jesus – projection, bigfoots, whimsy and hex farm punk apocalypse. check out his work at:
http://www.easysubculture.com/
music by we have heaven
– – – – – – – – – – – – – – – – – – – – – — – – – – – – – – – –
saturday, nov 6th
eric gillmeyer says it will be "grind related"- more details soon….
– – – – – – — – – – –  – – –  – – — – – – – – – – – – – – – –
saturday, nov 13th
**this show  is  an $8 donation**
kayo dot (ny)
http://www.myspace.com/kayodot
newspeak
http://www.myspace.com/newspeakensemble
more tba
– – – – – – – – – – – – – – — – – – – – – – – – – – – – – – –
sunday, nov 14th
MOVIE NIGHT!!!!!!
– – – – – – – – – – – – – – – – – – – – – – – – – – – – – – – –
friday, nov 19th
Relapse Records Showcase Invades Bethlehem With:
HERO DESTROYED – Relapse Records, Heavy Like Coalesece/Human Remains/Burnt By The Sun.
www.myspace.com/herodestroyed
IRON THRONES – (ex-members of Veil Of Maya) Winner of the Scion "No Label Needed" contest. AKA Scion gave them a bunch of money to record their own record.
www.myspace.com/ironthrone
FIGHT AMP – Best Heavy Band Of Philadelphia Area, on tour with Helmet right now!
www.myspace.com/fightamp
MOSE GIGANTICUS – Relapse Records, this band is like your head being in a Federico Fellini film at full volume. Zombi/Goblin/Dario Argento.
www.myspace.com/mosegiganticus
– – – — – – – – – – – – – – – – – – – – – – – – – – – – – – – – – – – – – – – –
saturday, nov 20th
mcrad (philly)
ninjessa (LV)
sex.rock.nightmare (nyc)
slums (LV)
+ 1tba