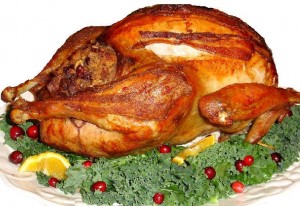 Despite already having our first snow and Christmas commercials making their rounds on TV, Thanksgiving is just now around the corner.  If you don't quite have a family, place to go, want a locally-raised turkey, or are just plain too damn lazy to cook we've rounded up a few options for you.  If anyone has any other turkey day dinners or turkey purveyors we missed please leave them in the comments and we'll add them on the post.
Balasia/The Honey Underground – If you're not quite feeling the meat thing or just want to try something dinner, local vegan chef extraordinaire Wendy Landiak is cooking up a hell of a feast at her Honey Underground spot in banquet hall of the Hereford Fire Dept.  For $45 you get homemade whole grain bread stuffing with rosemary and garlic, butternut squash soup with ginger, homemade cranberry sauce with orange zest, roasted sweet potatoes with carmelized walnuts, roasted veggies with garlic/soy butter/herbs, and a choice of homemade seitan with baby bella mushroom gravy, coriander mustard-baked tofu, or a seasonal veggie-stuffed pumpkin.  Dessert will be a choice of pumpkin pie, pumpkin cake, or pumpkin cheesecake.  She also has gluten-free options available and party trays. 
Glasbern – The Glasbern Inn will be serving a special Thanksgiving menu on Thanksgiving from 1p-6p for $60 per person.  Reservations are required.  On the menu?  Lots of choices featuring many, many of their farm-grown ingredients:
First Course
Glasbern Salad
maytag bleu cheese, candied walnuts, dried cherries
 Squash Soup
smoked maple, walnut, pressed apple
"Oyster Stuffing"
cornbread, celery + onion confit, egg yolk Garden Mizuna pickled mushroom, white balsamic, shaved radish
Warm Butter Chard
house bacon, shallot confit, crouton
Second Course
This Morning's Egg
pork belly, root vegetable pearls, espresso
Dayboat Scallops
malted parsnip, brussel sprouts, smoked caviar
Pumpkin Gnocchi
 sage, brown butter, house braesola
Chestnut Tagliatelle
gremolata, celery + root, poached pear
Chicken Pate
pickled turnip + sauternes , house brioche, crimson beet
Third Course
Free RangeTurkey
breast + leg farce
brioche pudding, cranberry + yuzu, butternut squash
Berkshire "Ham"
house smoked loin, cured belly
pearled barley,Tokyo turnip + savoy cabbage, dijonnaise
Glasbern Lamb
loin, tenderloin, fried neck
beluga lentils, sunchoke + goats cheese, juniper 
Wild Bass butter poached
spaghetti squash + cippolini, pumpkin seed, le chouffe
 Creamy Risotto a la minute
wild mushroom, sugar pumpkin, chestnut agrodulce
Beef Tenderloin
grass fed creamed spinach + salsify, potato dauphine, ginger caramel
Fourth Course
Chocolate Cake
maple ice cream 
Pumpkin Crème Brulee
juniper puffs
Brown Butter Financier
earl gray 
Ice Cream Trio
Let's Talk Turkey – We first reported on this spot quite a while ago and it was sitting stagnant.  Well, they're finally open and they're deep frying turkeys for you.  There's no web presence here but if you're looking to grab a fried bird without the work and without potentially burning your house down, this might be a good stop for you.  You can find them at 2140 Stefko Boulevard in Bethlehem.
Jaindl – Easily the biggest turkey purveyor around, Jaindl Farms has sent turkeys to the White House for the past 40 years or so, even garnering a shout-out from President Barack Obama in 2009.  This is local, but big farming, so most likely the least "ethical" of your choices listed here if you care about that.  They offer a wide range of products from smoked, ready-to-eat turkeys to organic options.  You can snag these at your local Wegmans.  Also, watch out for those heads.
Koch's – this turkey farm up in Tamaqua produces free range turkeys fed on an entirely vegetarian diet of soy and corn on their 60 acre farm.  Their feed mills and slaughter facilities are all close by so the turkeys live their entire lives on the same farm.  Easiest place we've seen to grab these is heading to the closest Whole Foods (Plymouth Meeting) or heading up to their farm and picking one up at their store in Tamaqua.
Valley View – This 65 acre farm in Northampton produces their turkeys in a natural environment with roving, open pens across their farm.  They use feed that has no growth hormones, antibiotics, grain, or animal byproducts.  At $3.95 a pound your bird won't be cheap, but it'll probably be way, way more delicious than your regular Butterball laced with additives, hormones, and treated like hell.  You can order over the phone and pick these guys up right at the farm.
Vintage – The Vintage Restaurant at Morgan Hill is hosting a Thanksgiving dinner from 12-6pm on Thanksgiving.  Reservations are required and it's $36.50 for adults, $13.75 for children (4-12).  Gratuity and sales tax not included.  Even cooler?  They'll box up your leftovers so you can rock that turkey/stuffing/cranberry sandwich for the next day's lunch.  Menu is as follows:
First Course
Sweet Potato Bisque
crème fraiche, pumpkin seeds
Family Style Dinner
Field Green Salad
roasted walnuts, goat cheese, poached pear, cranberry vinaigrette
Herb Roasted Turkey
pan gravy
Brown Sugar Glazed Ham
Traditional Bread Stuffing
Corn Bread and Sausage Stuffing
Roasted Shallot & Gruyere Mashed Potatoes
Individual Corn & Lobster Pudding
tarragon
Roasted Butternut & Pumpkin Squash
brussel sprouts
Green Beans
Cranberry/Orange Chutney
Dessert
(choice)
Pumpkin Pie
vanilla ice cream, whipped cream
Apple Pie
vanilla ice cream, whipped cream
Stock image by David Lat used with proper licensing via sxc.hu.