A few weekends ago Bethlehem held a curious new event:  Loopapalooza.  What the hell is that, you ask?  I wondered the same.  Well, the Loop is a bus that runs around Northside and Southside Bethlehem and picks people up and drops them off to and from the Sands Casino.  Good in theory, but I rarely see it being used.  The parking garage at the casino is such that there's no real need to park anywhere else with the exception of special events where the casino gets jammed (usually car giveaway night). 
Next year Musikfest is making some huge changes.  Those changes include adding a significant new venue at the Artsquest Center at the Sands Casino, replacing their old Riverplace venue.  Musikfest as everyone knew it is dead, and the new concert venue won't be the only thing heading down to the new Southside area.  Talks of shutting down the legendarily crowded Main Street are abound, and moving venues to the Southside is an easy way to do that.  I highly doubt Americaplatz will be making a return in the future.  What would be a good way to study the effects of crowds on LANTA's mass transit system?  Hold an event beforehand to see!  I don't know if this was the main drive behind Loopapalooza, but it's a good test regardless.
LANTA's metro system costs $3 for an all day pass.  That means you can get anywhere in the valley on their bus system for a whole day on $3.  That includes the Loop bus.  Loopapalooza was an event designed as kind of a pub crawl across the entirety of Bethlehem with a bus to take you from stop to stop.  Again, great in theory, absolutely horrendous in execution resulting in an organizational mess and a ripoff.  The event cost $15 to participate in.  They were touting early tickets for $10.  So I decided to purchase tickets early online and was slapped with a $2 service fee per ticket.  Still, $3 off.  The confirmation email provided no instructions on how to check in or get a wristband.  I was told by a Twitter buddy that you could check in at any of the "towns" they had set up through Bethlehem.  So upon arriving in the Southside I went up to one of the tables and asked to check in.  I was instructed that I needed something to show that I purchased a ticket.  So much for an easy check-in process.  Luckily I had an iPhone where I could just pull up the email I was sent, otherwise I would've been right screwed.
Next, to make things even worse, people who bought $15 tickets the day of the event were given free beer mugs that you could get refilled for a special price at participating restaurants.  People that bought tickets beforehand had to pay $3 for that mug.  So I paid $10 for an advance ticket, paid $2 in fees, and now had to pay $3 for my mug, resulting in spending $15 anyways. 
So what do you get for all of this $15?  Pretty much nothing.  A few bucks off here and there at different venues (which there wasn't a complete list of anywhere.)  I think the only thing that I got taken off anything I purchased was $1.50 off of a burrito at Hello Burrito.  I would've rather had the $1.50 go to them than the Downtown Bethlehem Association.  It seemed there was a big ploy to get college kids to participate, as there was Lehigh and Moravian "towns"  From what I saw there wasn't many college kids participating.  Actually, there wasn't many people participating in general.  I saw a few wristbands here and there, but nothing compared to what should've been big bus-fulls of people being shuffled around.  Instead it seemed like a giant flop.
Next year it needs to be cheaper, offer more to participants, and be advertised better.  I saw signage everywhere for the event, but the signs stuck along the road were so small they were unreadable.  The map on the website sucks.  The website in general sucks.  A list of participating businesses and discounts needs to be available.  Perhaps they need to hire an outside consultant to run this thing.  They need to do something, because I certainly don't see myself participating in anything like this again.  It was an overpriced atrocity.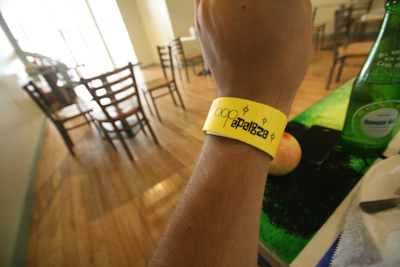 For more infortmation check out myloopapalooza.com