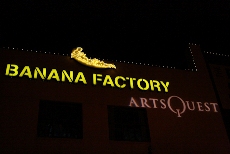 Tomorrow night Artsquest is hosting a fundraiser for their B-Smart Program.  Perhaps borrowing the idea for the fundraiser from a popular Southside bar and riding on the hot new series Boardwalk Empire, they'll feature Musikfest favorites The Gashouse Gorillas as well as Ben Mauger's Vintage Jazz Band providing music.  According to Artquest's email, there will be table games, mug shots, and silent movies. 
Pair that with prohibition-era cocktails, 1920's-inspired food from Karen Hunter, and desserts, it sounds like it'll be a pretty neat event.  There will also be a silent auction which features tickets and passes to many of the upcoming Artsquest events.  Tickets are $75 per person (which sadly means The El Vee won't be stopping by) and goes to help Artsquest's after-school program.
Check out more information over at the Southside Speakeasy page.