We took the time to watch some ziplining from the Hill-to-Hill bridge on the way over to the North Side.  May have to try it this weekend.

Our first stop of a short night was at Cha Wa, a funk band with two 'Mardi Gras Indians'.  These Indians are rooted in the cultural melting pot of New Orleans, and the pair were quick to note that they are not costumes, they are 'Indian suits' meant to honor the heritage and culture of a tradition that goes back to the 1700s.  Their show started off with the band, consisting of a lead guitar, drummer, and a sousaphonist, doing a few instrumental songs, probably while the singers dressed up in their gear. Their set was funky and fun, including their cover of "Hey Baby."  Even though it was earlier on in the evening and the crowd was small, there was a good amount of people in front of the stage dancing like crazy.  Good news?  They're playing again tonight.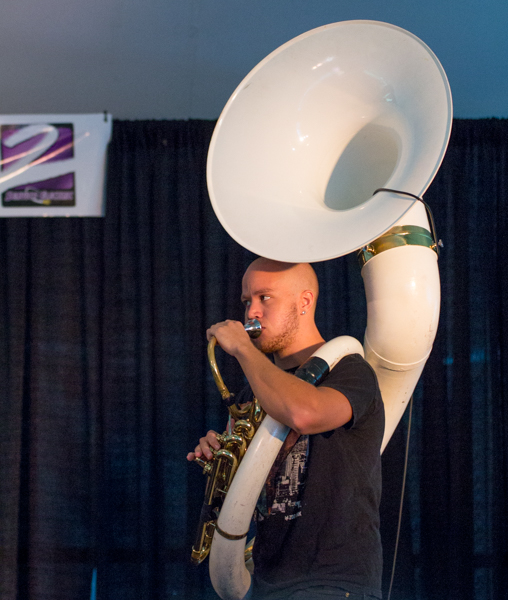 After Cha Wa we popped by Handwerkplatz to check out the silent disco.  There were a few people trying it, but it'll be really fun to see what it's like on Friday and Saturday later at night when the crowds are packed and people will be in a party mood.

 
We popped by the set of Start Making Sense, the Lehigh Valley's premiere (only) Talking Heads cover band and saw what we expected: a huge crowd.  It seems that every time we see these guys their stage show gets more impressive, more coordinated, and just all around better.  Frontman Jon Braun is always one of the most energetic people on stage at Musikfest and last night was no exception.  Even if you can't catch them at Musikfest, it's well worth your time to see them in the area.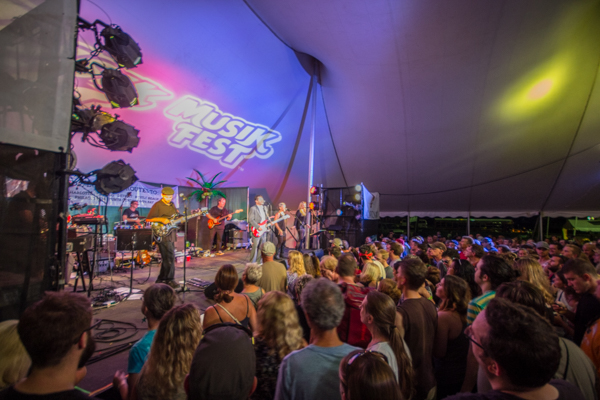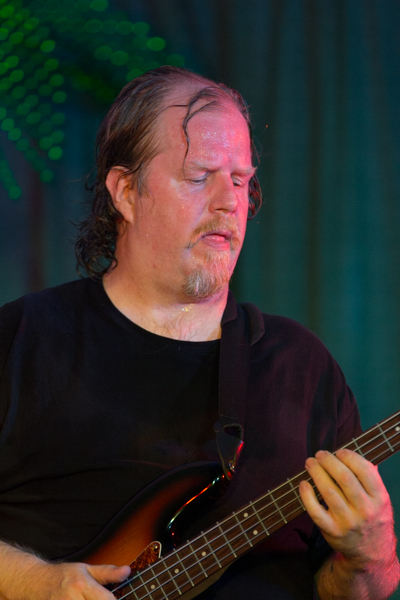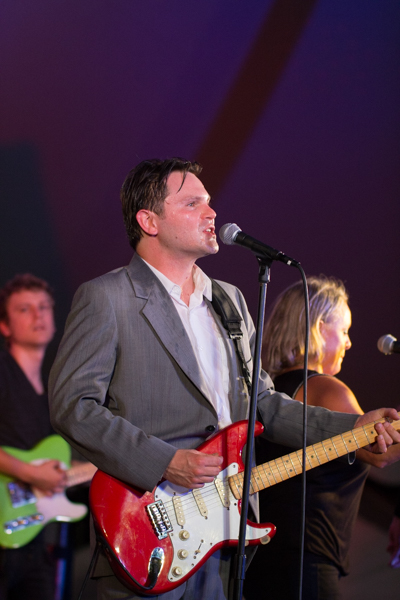 Towards the end of the evening, for the last mug fill at The Wooden Match, we checked out resident reggae experts Trouble City All-Stars for part of their set. Drummer/vocalist Todd Juknevic was suffering some voice issues so they had a female vocalist, whose name we didn't catch (Ben wrote in below in the comments that her name is Danielle Keitha Schmidt) filling in for some of the songs.  We headed home relatively early in the evening to catch some ZZs before tonight.  There's also two food-related items we forgot to mention on previous days.  The pretzels from Pretzel Revolution are pretty damn great.  After scarfing down the deep fried butter the other day we had a few bites of the steak & cheese one and we'll probably be heading back for another this weekend.  Also in our 2015 Musikfest Guide we mentioned that the Colony Meadery was doing mead slushies and mug fills.  We stopped up over the weekend a slushie and damn, it went down nicely on a hot day.  The slushies ($9 for a cup, $12 for a mug) and draft mead mug fills (can't recall what a cup was, but mugs are $15) aren't as cheap as the beer options around the area, but honey is expensive, making mead costly to make.  So as the temperatures climb this weekend, grab a pretzel and a mead slushie for a tasty lunch.