Day 6 of our Musikfest excursions saw us starting out with a Brazilian band called The Moondogs who play a mashup of 50s, 60s, and 70s inspired rock.  There was one problem: they were missing.  After starting out about 20 minutes late, they explained later in their set that they had never played a gig outside of their home country, and as a result, hadn't realized that none of their pedal boards would plug in properly.  They scrambled to CVS to get a converter but it still wasn't working.  Despite the lack of their entire setup, they started off awesome and full of energy, even cracking some Donald Trump jokes.  That wasn't to last too long, however. Soon the energetic lead singer and guitarist switched with the drummer, which was impressive.  Unfortunately this also had the side effect of pretty much killing the mood.  Their drummer is a less charismatic frontman, and by the time they switched back, to perform an acoustic song, all of the electricity of the atmosphere had dissipated, and they never really gained it back until the very end of their set.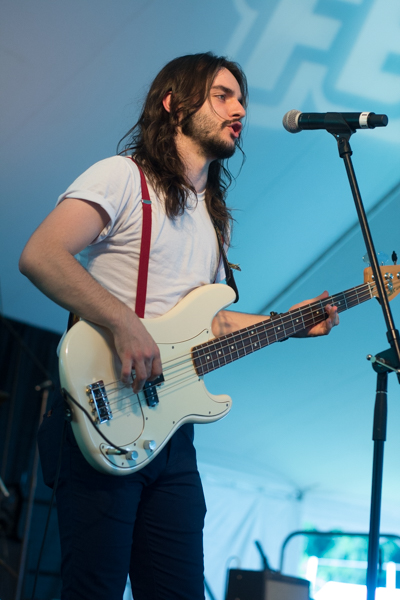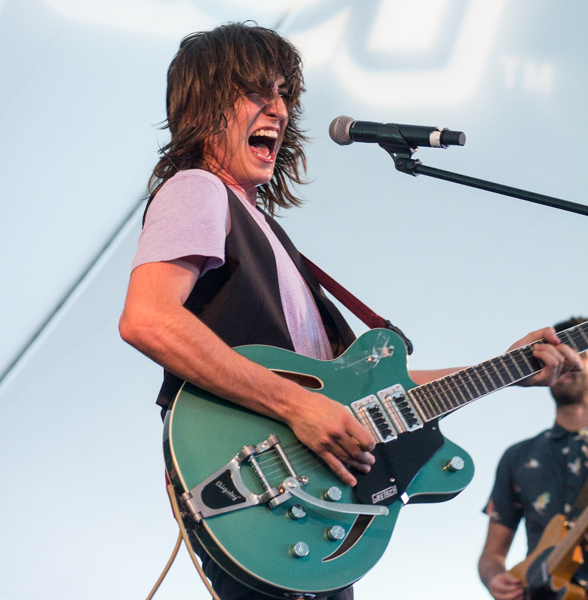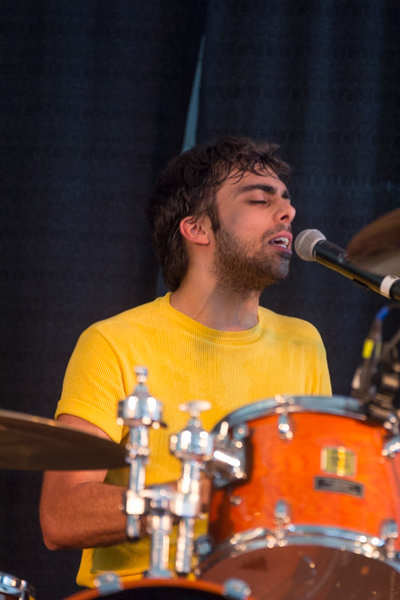 Next up was our favorites over at March Fourth Marching Band.  The last time we saw these guys they seemed a little sloppy, less musically solid and visually uninteresting.  Their third show in a row at Musikfest represented a bit of a return to form.  Musically the band was perhaps tighter than we've ever heard.  A few personnel changes since we last saw them seemed to do them well.  Everything from the horns to the interspersed vocals to the drumming was flat out better.  What is still lacking, though, is the visual aspect of the show.
What initially wowed us about the band was their stilt-walking cohorts, who would both perform wild acrobatics onstage as well as wander about the crowd.  The last time we saw them those antics were sparse, and at this show they were nearly non-existent.  In their place are LED hula hoop routines as well as a new gymnastic duo, who, are impressive in their strength and agility, still don't have the jaw-dropping factor of the stilt crew.  It was only during the last song that two of the performers came out on stilts, giving a much less entertaining performance than anything previously.
Perhaps they just can't find any more stilt walkers to travel the country with them.  Maybe something bad happened at a show and they limit the amount they use the stilts.  Whatever the case, the band, and its associated performers, are still amazing, impressive, and pull on a hell of a fun show.  But after the past two performances, it makes us wonder if we'll ever see the same caliber show from the band again.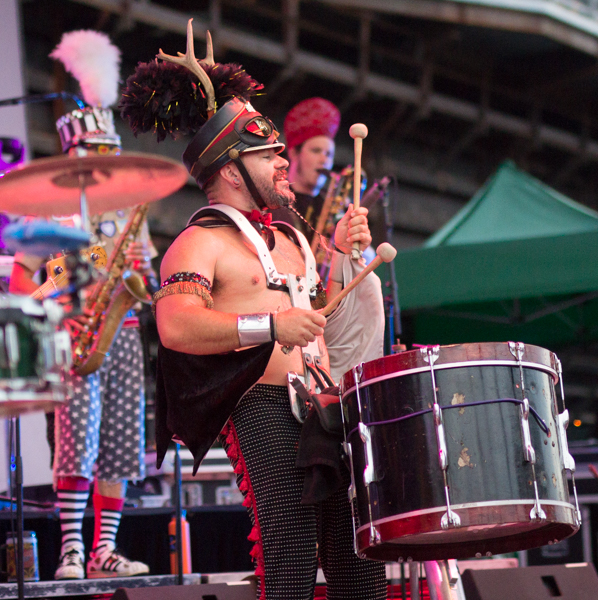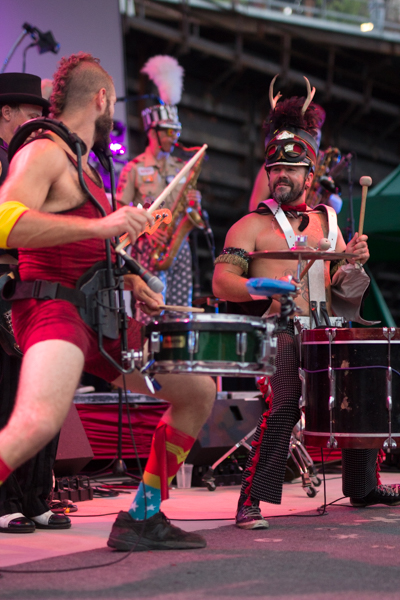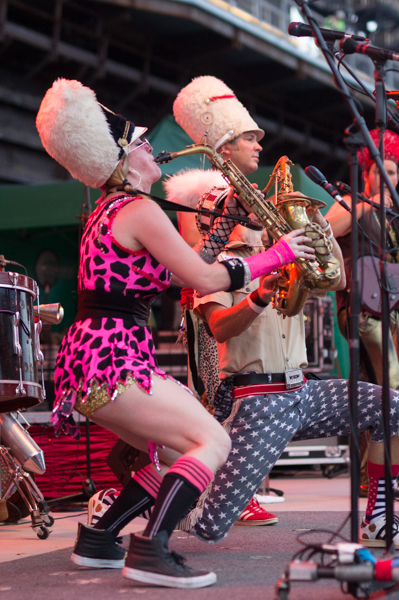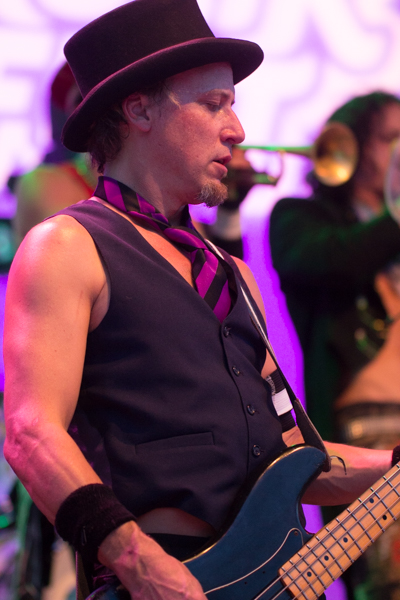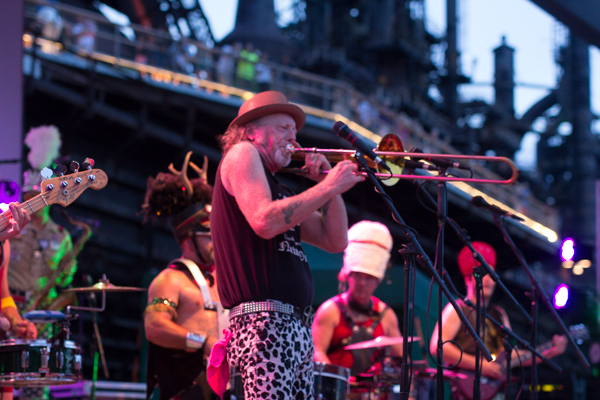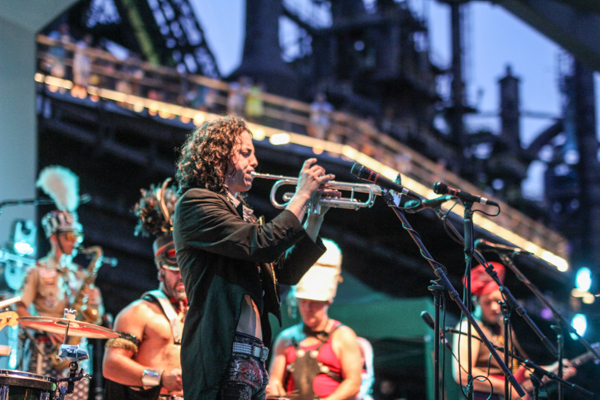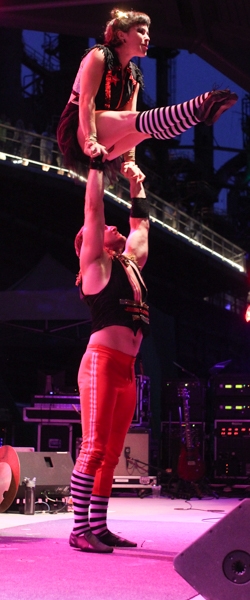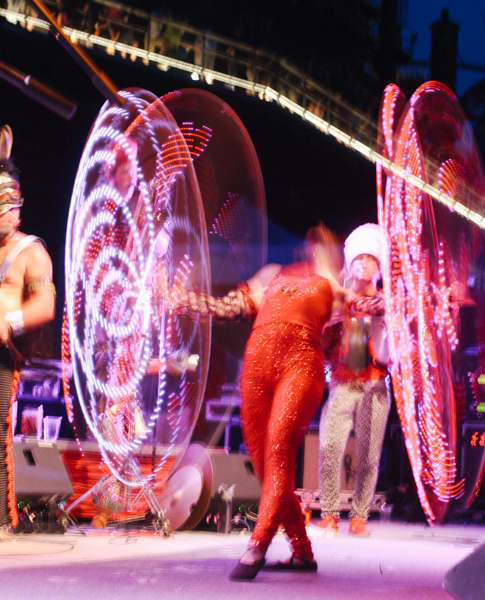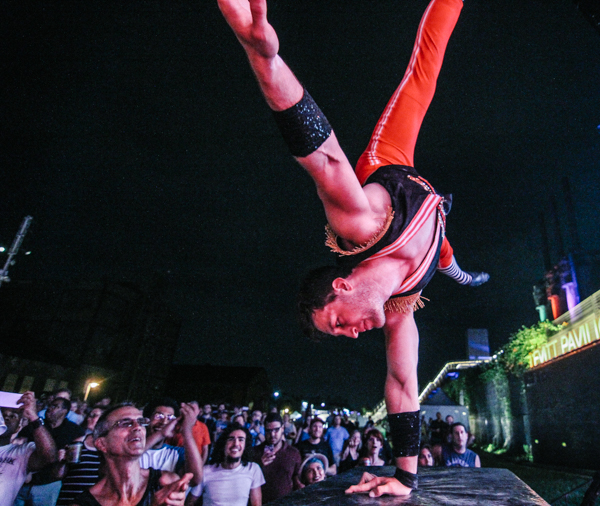 Continuing the glut of amazing show on a Wednesday night, Artsquest ingeniously booked two of their most popular bands one after the other.  And the second band was none other than Here Come the Mummies, the crazy horn-infused, and horny, funk band from the crypts of Egypt.
And yet again we suffered from a delayed set.  The Mummies had some sort of trouble getting to the facility and the show was delayed by about 25 minutes, however ostensibly due to their popularity, they were able to play mostly their entire set, ending at a late hour on a weeknight around 11:25.
This big group of musicians play dirty and suggestive songs that are guaranteed to make you laugh – and dance.  They were as musically solid as ever, but unfortunately they suffer from the same fate of March Fourth – they lost a critical part of their act.  Last year, the defacto "lead mummy" Java left the band, and with him, a large part of the comedic relief of their shows.  Don't get me wrong, if you listen closely, the lyrics to their songs will still provide you with hilarity.  It's the ridiculous banter between songs and wild charisma of Java that is sorely missing.  But as with March Fourth, they're still so good it almost seems silly to complain about it.  Still, it leaves us longing for the magic of before.  Those who saw them for the first time were almost assuredly delighted – we've just been spoiled by years of over-the-top shows.  The audience responded in kind, going crazy for their most familiar tunes, and ensuring that the Mummies will yet again be back in Bethlehem at some point.