Never even knew it was there, with all of its wooden glory.  It was the Great Room at McCarthy's in Bethlehem, mostly known for its tea and Irish cuisine, where tonight the crowd was being served dishes decidedly not Irish.   
The space is almost a secret, sitting above the McCarthy's restaurant and Donegal Square shop on Main Street.  According to McCarthy's owner Neville Gardner, the space is usually used for things like rehearsal dinners and private parties.  This was the first pop-up dinner they were hosting, with Chef Jason Hook at the helm.  We've written about Chef Hook before so we'll skip his backstory, but if you're interested you can check out our other pieces on his cooking.

 Although we said the dinner was decidedly not Irish, it started out on that note.  The first thing served was McCarthy's house Irish oat bread.  The moist and dense bread came with two pungent spreads made of goat's milk and cow milk.  Salty and funky and creamy respectively, the cheese spreads were so good it made you want to eat piece after piece (and we did).
 Next up was a clearly Thomas Keller-inspired bite.  At Keller's famed French Laundry one particular dish has delighted scores of people.  It is a salmon cornet, or more simply a salmon tartare in an ice cream cone.  Keller has said he drew the inspiration for this savory treat from a down-trodden visit to a Baskin-Robbins prior to his prolific culinary career.  Hook's version delivered a spicy beef tartare and Asian pear scoops with a chocolate cone filled with cauliflower crème fraiche. 

 
Next up was a preserved tomato confit topped with a shaving of gruyere.  What better way to celebrate the outgoing summer than with a tart and vinegary tomato that was almost sushi-like in texture?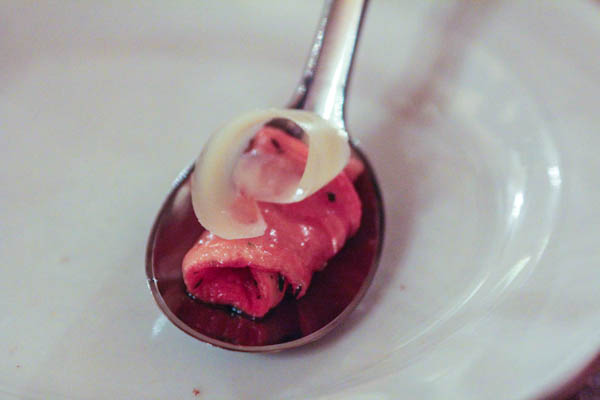 Following that was a trio of cauliflower presentations, the main piece being a cauliflower panna cotta topped with caviar (another Keller classic) and a chicken chicharron, with side flavors of house raisins and honey cider gel.  This was easily the best course of the evening, presenting a slew of flavors and textures.  All at once it was smooth, salty, poppy, crunchy, and sweet. 

 In comes a foie gras torchon topped with butternut squash and medjool dates and huckleberry on the side.  The foie is stellar in appearance and the same in taste.  The other flavors take a backseat here, letting the intense richness of the liver take its course.
 
Up next is another foie course, which was probably overkill, but what a first world problem to have.  A foie gras soup with butternut squash, parsnips chicken confit, sesame puree, and kale proved to be almost overly decadent.  The ingredients were served in a bowl and shortly after the soup was poured over, immersing them in hot steamy awesomeness (this is starting to sound a little pornographic.  Just wait 'til we get to the moneyshot of truffle oil….kidding).
 

The next plate was almost hilariously simple.  A carrot on top of cured lardo and a side drizzle of passion fruit gel.  It didn't look like much.  It wasn't.  But for what it wasn't, it was damn good.  Someone at the table proclaimed it to be "the best carrot I've had in my life."  We wouldn't disagree.

 
For the next course a favorite of ours from Chef Hook was on deck.  Wild mushroom risotto with mascarpone, black truffle, pecorino romano, and lemon zest was the dish and made us wish we had big bowls of this in reserve for frigid winter days to eat with a glass of good scotch.  
 

We had a modified version of the next dish which originally included shellfish.  A menagerie of leeks and speck ham were topped with apple slices in what would be our least favorite dish of the evening.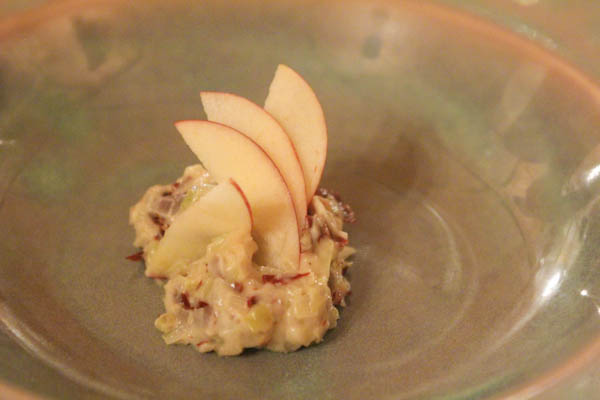 At this point in time we were feeling fairly full.  It was a bad time to be in such a state as the next course was a towering helping of beef three ways.  Ribeye, oxtail, and deckle were all cooked medium-rare and cut like butter.  Under them lay a helping of seasonal veggies and fruit including potatoes, Brussels sprouts, and cranberries. 

 
The evening finished off with a white truffle flan doused in blackberry sauce.  The earthy panna cotta paired surprisingly well with the jammy sauce and a crumble of scone on the side added a welcome texture.
 

Chef Hook is currently working as a private chef, catering haute cuisine dinners in the comfort of patrons' own homes.