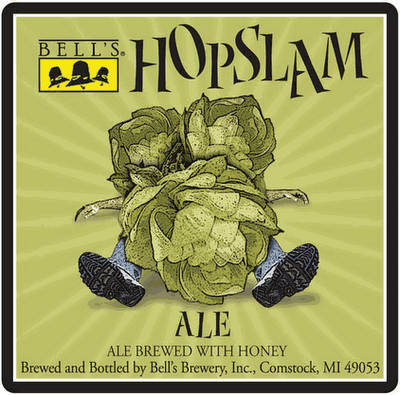 A heads up on some great craft beer that's going to start appearing in the area shortly:  two highly-sought-after and one extremely tasty seasonal beer will be available within the next two weeks.  The first one is Bell's Hopslam, a double IPA brewed with honey that is hoppy and unbelievably delicious will be arriving in the valley on January 17th.  Shangy's is the only known location releasing the beer on this date and typically they only allow one case per person or car (which I don't agree with, but that's another story for another day).  Last year the beer was also seen at the local watering hole The Bookstore and bottle shop Abe's.  This year also marks the first year that Bell's Brewery is doing minikegs of Hopslam in 5L barrels which are sure to be awesome.  Don't be doing keg stands though, this stuff clocks in at 10% alcohol and be sure not to let it sit around because it loses the floral hop character that makes it so unique if it sits around.  Definitely a brew best enjoyed fresh.
The second highly-sought-after beer is Nugget Nectar, brewerd right here in PA by Troegs.  People across the country go bananas for the stuff with kegs blowing in a matter of hours rather than days.  Although technically an imperial red/amber ale, don't be fooled.  This nails your palate with resounding hops and citrus and doesn't let up.  A lower ABV (7.5%) than Hopslam, you'll be able to drink more of this without getting as slammed.  This is another one of those you'll want to pound down instead of letting it dwell:  the citrus and hop character fade fairly quickly so you'll want to keep on top of draining this into your gullet.  You'll be able to snag this in cases at Shangy's, 6 packs and 22ozers at Wegmans and Abe's.
The last beer, which isn't that hard to find, is Noble Pils from Sam Adams.  Although the is most certainly a spring beer, for some reason they release it from January to March.  This is a light, yet flavorful beer that strikes a fantastic balance between hops and malt coming in at an easy 4.9% and is easy on the mind and palate.  You'll be able to pick this up nearly anywhere and it was even on tap at local chain restaurants like Applebees last year.