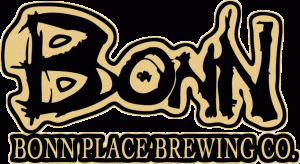 Bonn Place, a new brewery, is set to open on Bethlehem's southside, featuring a 1400 sq. ft. brewpub and dining space at 310 Taylor Street.
As first reported by Morning Call, Sam and Gina Masotto are actors who toured with a production of "Tony and Tina's Wedding" which stopped at the Musikfest Café at Artsquest.  Their love of the area, and their love for beer, made them want to open a brewpub in the area. 
Sam Masotto, who grew up in the Hudson River Valley, said the area reminds him of his home, as well as Milwaukee, a city he's also fond of.  "It maintains this working class, post-industrial, rust belt resurgence with amazing people, amazing architecture, and most important to us, amazing independently-owned industries.  We just feel at home there," Masotto said of the Lehigh Valley.
Although they considered Easton and Allentown, they said Bethlehem has been very supportive after meeting with local groups like the Lehigh University Small Business Development Center and Bethlehem's Community and Economic Development team.  Masotto said that Bethlehem's "trails, the river, the surrounding environs all represent exactly where I want to be in my life.  The Lehigh Valley in general is an amazing area that is thriving and inspires me to do what I love doing best: enjoying life."
Bonn Place is named after a street in Weehawken, NJ where the Masottos spent time in while working in NYC bartending, waiting tables, and acting.  "Bonn Place was always that little slice of heaven, tucked away, where we could clear our minds.  Bonn is a community, and we would really like to keep that vibe.  I want people to be comfortable when they drink their beer or buy their growler," Masotto explained of their naming choice.
Sam Masotto said he fell in love with craft beer at an early age, visiting brewpubs even before he could drink legally.  When living in New Jersey, a roommate offered him a homebrewing kit and coinciding with a job at the Pony Bar in NYC, his love for craft beer began to develop even further.  Through his connections in New York, Masotto began to intern at Chelsea Brewing Company in Manhattan and moved on to  New Jersey Beer Company.  Eventually he ended up at Newburgh Brewing Company in NY where he served as the assistant brewer and spent two years until he moved on to pursue Bonn Place.
Bonn Place will feature a 8 barrel brewing system, with potentially two 8 barrel stainless tanks, an 8 barrel oak fermenting vessel, a 16 barrel stainless tank, and a 16 barrel bright tank.  Masotto said he plans to brew a variety of different styles, including wild sours, ambers, cask-conditioned ales, and kolsch, among others.  The brewery plans to have 31 seats, serving locally-sourced food.  He also plans to self-distribute to bars around the area from the beginning, and would eventually like to can and put out small-batch bottle releases. 
While Bonn Place is hoping for an October opening, they still need to receive approvals and permits, as well as order their equipment.  We'll keep you updated as Bonn Place works towards opening in Bethlehem.