Apparently it's a farmer's market kind of day.  Releases came out today detailing the Bethlehem Farmer's Market's expanded vendor list as well as the new Historic District Farmer's Market. These two markets round out Bethlehem's total of four farmer's markets.  The other two are the Westgate Mall Farmer's Market (every Wednesday from noon to 7pm) and the SteelStacks Farmer's Market (spring/summer session will from May 10-July 26 from 3pm to 7pm).
May 10th will mark the first day of the Bethlehem Farmer's Market at Campus Square at Lehigh University.  This is the 10th anniversary of the Bethlehem Farmer's Market.  The outdoor market will from Thursday from May 10th to October 25th from 11am to 3pm.  This year's market has expanded to feature 18 vendors: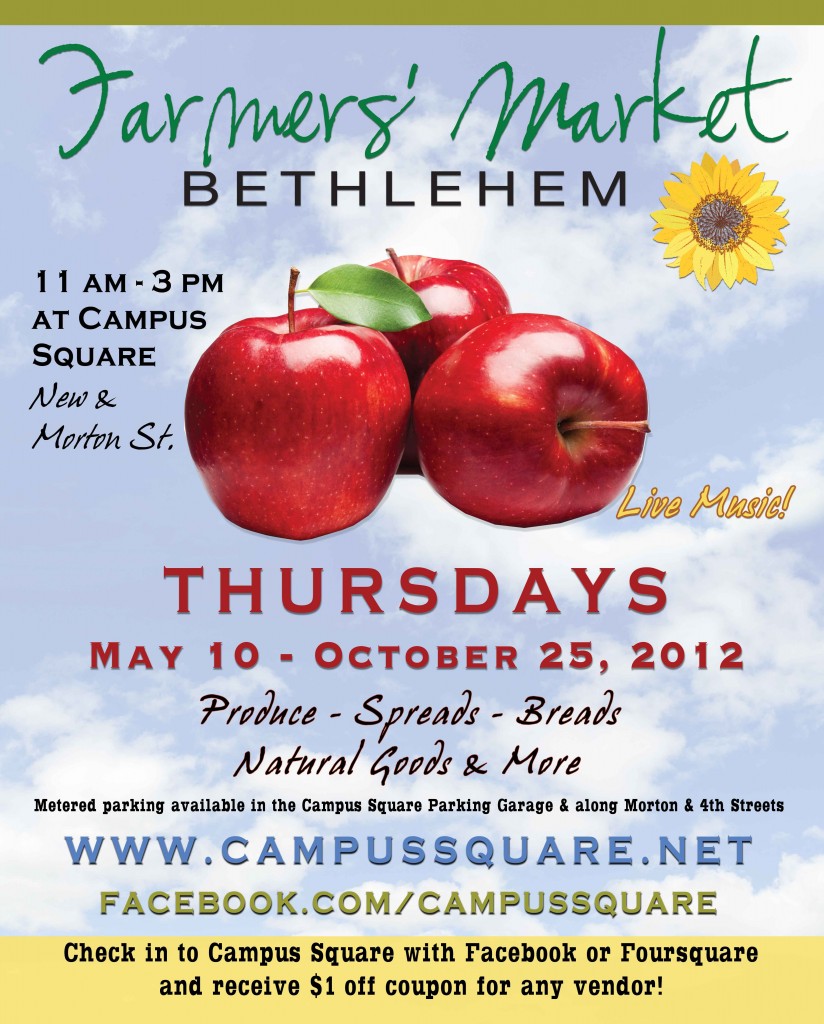 Apple Ridge Farm (sourdough bakery, pizza shells)
 Hereford Country Store (lunch tarts)
 M&B Fairview Farm (meat)
 Cuddles' Cupcake Bar
 Joe Paws Bakery (dog treats)
 Wrap'd Tight (wraps & salads)
 Earth's Phocas (flowers)
 Easton Salsa Co.
 The Popcorn Pit
 A Natural Alternative
 Back Door Bakeshop
 Humdinger Alpacas (wool products)
 Tasty Pastry, Lettuce Alone Farm (produce)
 Bechdolt Orchards (produce)
 Quetzal Bakery
 Island Taste (Caribbean lunch food)
 York Moor Farm (eggs).  
Local musicians will also be on hand during the market hours including Dave Fry, Dina Hall, Billy Bauer, Ellyot H Ray, Zoo Zoo and the Capsized, and Lehigh University's Peeled Labels.  For more information head over to http://campussquare.net
The new Historic District Farmer's Market will take place Tuesdays from 11am to 3pm from May 8th to October 22nd.  The vendors for the market include: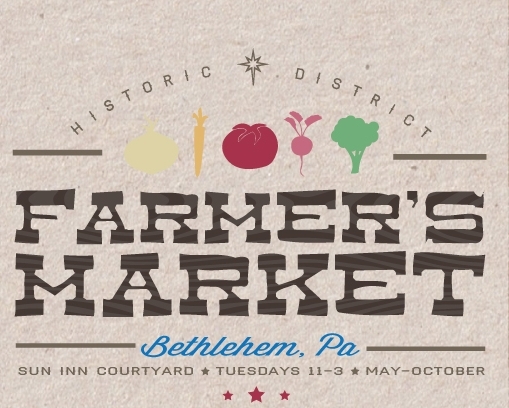 Apple Ridge Farms
 Back Door Bake Shop
 Bechdolt Orchards
 Cranberry Creek Farm
 Frecon Farms
 Hereford Country Store
 Heritage Farm CSA
 One Brew Kombucha
 Stryker Farm
 True Blue Farm
For more information head over to http://BethlehemIsFresh.com