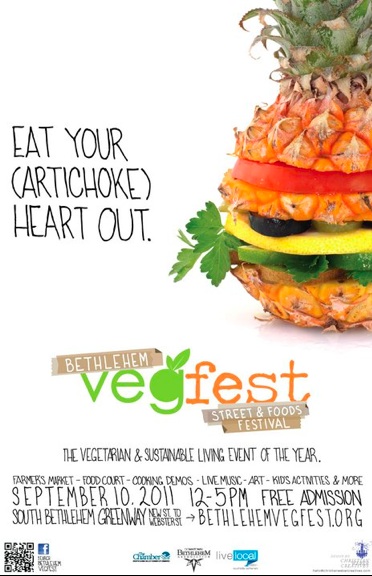 For all of the planning and marketing that went in to the first annual Bethlehem VegFest, it sure was a resounding success.  Although we unfortunately don't have any pictures due to the ol' camera battery dying (forgot to recharge after SteelJam), we perused, ate, took notes, and generally enjoyed the festival.
The first thing noted was the huge amount of people at the event.  On the Save the Kales Facebook page they state that 4,000 was the expected attendance and they got around 10,000.  Not surprising considering the event was swarming with people from end to end.  A huge amount of vendors showed up, more than is reasonable to list here.  If you're interested go check out the sponsor/exhibitor page.  There was something for everyone there.  A kids zone, music, cooking demos, notable speakers, exercise vendors, restaurant booths, and a farmer's market.
For those of you new to the site, it is by no means vegetarian or vegan.  Far, far from it.  That doesn't mean we won't dip our toes in the water from time to time and actually enjoy it.  So here's a rundown of what was being made at VegFest:
Molly's had thai peanut noodles, which they ran out of early on, and a gazpacho.  Soup chain Zoup! was serving up veggie waves of grain soup, tomato basil soup, a Cali Veg sandwich, and a really tasty mozzarella, tomato, basil sandwich.  Alando's was there but there was no sign and no indication of what they were cooking, but it looked tasty.  Emeril's Chop House was doing up two dishes: one with a smoked corn and tomato salad, a red oak leaf (interesting), lemon verbena, purple potato "croutons", and sherry vinaigrette.  The other was a Lancaster Company peach & baby beet salad with caramelized onions, arugula, peppercress, toasted pecans, and orange oil peppercorn dressing.  I tried the latter and it was OK, but nothing too great.  Stations was serving up some fresh squeezed lemonade at their cart. I saw quite a few people walking around with dishes from Yianni's Taverna who was dishing out grape leaves, fava beans, spinach pie, and eggplant.  Thai Kitchen had tofu masaman, tofu meegahtee, and silver noodle salad with tofu & veggies.  Wrap'd Tight, which appears to a tiny wrap shop on Broadway in Bethlehem (previously unbeknownst to a us and many friends), had really tasty looking veggie kebabs, a veggie wrap, BBQ chicken (what?), pasta, herbed rice, and salad.  The Hellertown Deli/Pita House had a huge line, one of the longest there.  They also had quite an extensive list of offerings with grape leaves, falafel, spinach pies, hummus, bulgur wheat & lentils, potato chips, baba ganoush, tabouleh, fava bean salad, pita chips, baklava, sesame cakes, wheat salad, pita bread, and a Middle Eastern-style potato salad.  Crazyness.  Looper's was rocking watermelon salsa and a tri-tomato salad with goat cheese.  What's great about some of these places was the food was free in sample form.  Others were selling it, all at completely reasonable prices.
The best though was, not surprisingly, Balasia.  Although they were out of Buddha Bowls, which explains the non-existent line, a red curry salad was purchased.  Oh boy was it damn good.  $5 with a health portion of real spicy curry slathered over fresh greens topped with Indian crackers and sunflower seeds?  Delicious.  I don't know if crack is vegan, but that's what must be in their food.  Honestly, it wouldn't be that hard going vegan if you had food like that to eat everyday.  Alas, the burgers and cheese are just too tempting.
And what Bethlehem festival wouldn't be complete without the booze?  They were rocking Lancaster Black, Red, Blonde, and Amber ales.  The also had Redhook, Redbridge, Michelob Ultra (agh), Shocktop Pumpkin, and a specially brewed Brew Works Herbivore Pale Ale (aka Green Monsta').  The Lancaster bottles were in hefty 500ml bottles.  I had to laugh, though…the Blonde ale was the only one labeled as vegan and cost $3 more than the other Lancasters.  They also had local wine from Franklin Hill with their Vidal Blanc, Catawba, and Chambourcin.  There were also mixed drinks in the form of heirloom tomato water bloody Marys, cucumber mojitos, cilatro and carrot gin fizzes, and gazpacho martinis at $9 a pop.  The only wish I have for next year is instead of getting beer from, oh, England…better use the breweries we have here.  There was only one local beer, the Brew Works one.  We've also got Weyerbacher, Hijinx, the LV Homebrewers, the Keystone Homebrew Supply, and the soon-to-be Two Rivers Brewery around here.  Surely we can do better than that next time.
The absolute successfulness of this event is undeniable.  The sheer amount of people that came, ate so much food that vendors had to shut down hours before the festival closed, listened to speakers, and bought bought bought until their hearts were content was not only awesome but slightly surprising.  Although we expected there to be a lot of people, it was crazy packed.  The only couple points to be made on this end are:  please, more trash/recycling/solar compactors/whatever.  One was overflowing so high it was ridiculous.  More seating, spread it out a little more, maybe some biodegradable napkins, forks/spoons/knives, cups, etc to keep with the green-ness of the event?  Definitely would like to see vendors with more food.  There was a lot that was missed out on due to vendors being closed halfway through.  Note for next year: get there damn early.  Overall though, there isn't much to complain about.  The festival went off awesomely and next year we expect to see it bigger, better, and veggier.