Following on the trend of beer dinners that have been taking over the valley (first at the Farmhouse in the 80s, and now at Tap and Table [same owners as Bookstore], Spinnerstown Hotel, and even Starter's), the Bookstore Speakeasy decided to attempt to pair liquor with entrees.  How did it go?
For this dinner the Bookstore imported Damon Dyer, a world-renouned bartender who won Benedictine's Alchemists of our Age contest and is as charming as he is talented.  Dyer bartended at the Flatiron Lounge and Jack the Horse Tavern in NYC before leaving to become a consultant.  And consult he did, completely developing the Bookstore's cocktail menu from scratch.  Incorporating classic cocktails like the Aviation and newer concoctions, the updated menu at the Bookstore is truly a masterpiece.  Anyways, onto the actual dinner portion.
The first course was a vegetable terrine, which is a sort of pate served with coarse chopped vegetables.  It was sided with dried tomato oil, cured olives, and white anchovies.  The anchovies were absolutely delicious and some of the best I've had to date.  The cocktail pairing was a Dutch 75, a play on the classic French 75 cocktail that subbed out the gin for geneaver, a traditional Dutch liquer that is darker and is considered the forerunner to gin.  An excellent pairing, the champagne complimented the vegetables while the genevear tamed the intense taste of the anchovies.
The second course, toro (fatty tuna belly), was prepared with tatsoi and balsamic glaze (I had to opt out of the shrimp chips and calamari due to allergies).  Tatsoi is an Asian herb that added a great depth to the rare toro and topped off with the balsamic glaze made for a fantastic place.  It was paired with an Este Gabacho, utilizing pisco (a Peruvian liqour distilled from grapes, dry vermouth, bitters, and St Germain (and elderflower liquer).  Giving off a strong but floral perfume, the light drink paired delightfully with the tuna, creating a culinary duet that spanned continents to deliver.
Next up would've been one of my favorite dishes if it was executed differently.  A masterfully seared pork tenderloin was drizzled in carrot ginger puree and place atop a warm, wilted dandelion salad.  Everything was fantastic until the dandelion, which displayed its characteristically bitter gastonomy and really didn't work well for me.  The pork tenderloin by itself was probably the best I've had in my life, and the carrot ginger only accented the taste.  I'm not sure what the intentions here were but it didn't really work for me.  Paired with it was a Jacques Rose, a play on the traditional Jack Rose, which in Dyer's formula combined Laird's Applejack, pomegranate grenadine, and lemon juice to produce a seriously hefty drink that went well against the pork and puree, but sadly couldn't help those dandelions.
Next up was hands down my favorite dish, and possibly the most ballsy and inventive.  There's not a places in the area that will throw down some carpaccio (raw) beef on someone's plate, but I'm always delighted when I see it happen.  A true culinary delight, eating steak tartare or carpaccio is really an experience in sublime textures and tastes, one that you can only find on the menu at high-end places in the area like Bolete or Emeril's Chophouse (Emeril's beef carpaccio is excellent by the way).  Anyways, I digress from my foodie geeking…. This plate was American Wagyu done three ways: carpaccio with sweet soy tempura mushrooms, au gratin au poivre, and with pearl onion jam.  The carpaccio, as expected, was absolutely amazing.  Perfect temperature with a most magnificent cut, the tempura mushrooms adding a rich, hearty taste to the other-worldly texture.  The au gratin (potato preparation) au poivre (coated with black peppercorns and seared to rare) was also exceptional in the fact that it delivered such an intense dose of peppercorn but still remained a structured and balanced dish with steak flavors serving as a compliment rather than a backdrop.  The pearl onion preparation, my least favorite of the three, was still just beautiful.  This dish alone should be added to the menu full-time.  The cocktail to stand up to all of this culinary magnificence?  Vieux Carre, a cocktail hailing from the 30s in the French Quarter.  Absinthe.  Rye whiskey.  Cognac.  Benedictine, vemouth, and two types of bitters.  It's huge, in your face, and perfect for this dish.  I could live off of this.
Ahem, moving on.  Lastly?  Dessert.  In the form of an intriguing cheese soufflé topped off with aztec chocolate bitters, sweet blackberry compote, and sided with a bitter chocolate wafer.  To accompany?  A glass of averna and a glass of champagne.  The cheese souflee went with the champagne and the averna went with the bitter chocolate.  What compadres.  I think the averna may have been too much for some people there because it's extremely bitter, pungent, and not what most people are used to.  For me it was a welcome surprise and a real kick in the ass for the end of the meal.
Afterwards I pestered Damon to make me a few drinks from competitions past, including an Averna competition that he was in and the cocktail that he used to win the Benedictine Alchemist of our Age distinction.  He happily made both (a Mole and a Monte Cassino, respectively) , including stories about David Wondrich (famous cocktilian that writes for Esquire) and the juries for such competitions.  Absolutely compelling, especially when you're pretty in the bag.  All-in-all, for $65 you're getting way more than your money's worth.  There were 6 cocktails (5 plus a bonus Corpse Reviver #2), which would equal $66 on a regular night at the bar, so you're basically getting dinner for free.  And what a wonderful dinner it was.
I'd HIGHLY suggest you sign up for the next cocktail dinner ASAP.  It's on May 4th at 7pm, hosted by guest bartender Abraham Hawkins from the excellent Dutch Kills bar in NYC.  Be there.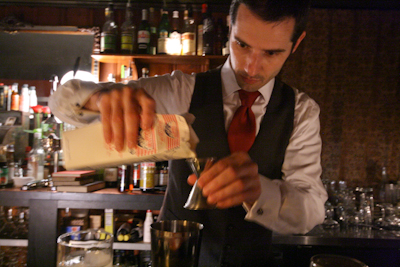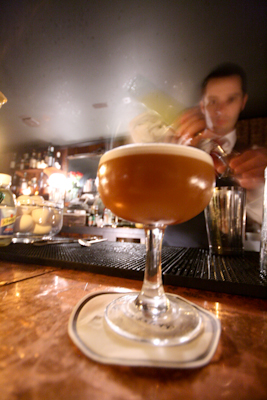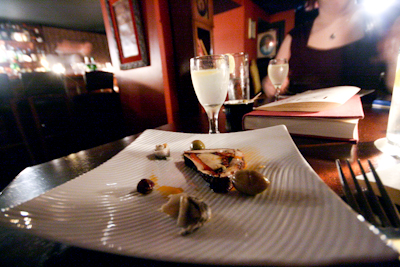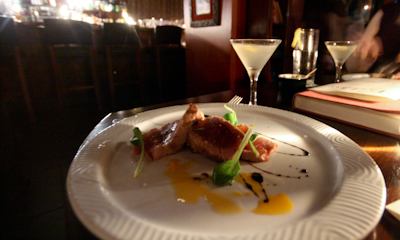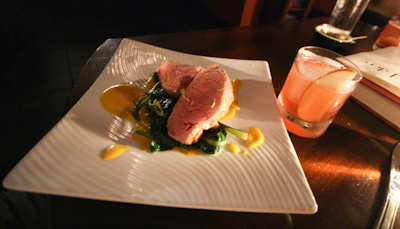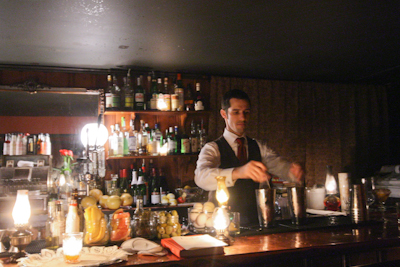 The Bookstore
336 Adams St, Bethlehem, PA
http://www.thebookstorespeakeasy.com