Two weekends ago was Taste of the Valley, a fantastic idea organized by the Lehigh Valley Chapter of Buy Fresh, Buy Local dedicated to, well…buying fresh and local foods.  The event took place at Melt in the Promenade shops and featured the hottest restaurants around sampling some of their finest cuisine.  Around 400 people (a sold out crowd, or close to it) jammed into all three floors of Melt to sample the best dishes around.  There were about 15 restaurants, plus Weyerbacher brewery, Vynecrest Winery, and a few other businesses around.   The line to even sign in and get your utensils/check off sheet was pretty intense.
The first area I went to was the Level 3 lounge on the top floor of Melt to try to get away from the swarm of people that were congregating downstairs.  The first place I tried was the venerable Bolete:
Above: The chefs at the Bolete table prepare their delicious Tuna tartare mixed with chopped watermelon, red onion, and burnet topped with black sesame seeds and sitting in a watermelon broth. This dish easily won me over right away and absolutely defined what a summer dish should taste like. Bolete, since opening in the past year, has garnered accolades from top magazines such as Conde Nast and Gourmet, and has even been featured on the Food Network.
The next station I checked out was Weyerbacher Brewing Company, however I will save their items for another time.  Two of them are fall beers which I will be reviewing shortly in my Pumpkin Beerapalooza Post (I know you're excited for this.)  The next restaurant showcasing on the 3rd floor was none other than Melt themselves.  Unfortunately, this was one of the weakest showings of the entire event.  I couldn't eat their roasted corn and shrimp salad with heirloom tomato vinaigrette because I am allergic to shellfish so I will just comment on their goat cheese mouse with corn-meal encrusted okra.
Goat cheese mouse with corn-meal encrusted okra from Melt
The plate was circled with thinly sliced cucumbers and in the middle was a mound of delicious goat cheese.  The okra was where this dish went wrong.  It was hard to chew, hard to cut apart, and didn't go with the rest of the ingredients at all.  It was hands down one of the most disappointing things I've had from a gourmet establishment in a while.  The next round was a chicken torchon with tomato marmalade and mushrooms from Emeril's Chophouse at the Sands casino in Bethlehem.
Chicken torchon with tomato marmalade and mushrooms from Emeril's Chophouse
The last stop on the top level was at the Dolce Patisserie station.  Now I'm familiar with the works of this fine establishment as they're very close to my home.  I visited them a few times shortly after they opened and was wowed by their amazing desserts.  The pastry chef is formerly of the Hotel Hershey and the highly esteemed Le Bec Fin in Philadelphia, so he knows his stuff.  On the serving plate for today was an almond pene de genes with honey yogurt creme and sauteed peaches.  This easily was one of the most outstanding dishes of the entire day.  The almond pene de genes, a shortcake-style dessert piece, was topped with the cool yogurt creme.  The peaches were served on the side, coming straight off of the boiling pan.  The mixmatch of hot and cold, creamy and soft on a warm summer day was sublime.  Major tip of the hat for this wonderful plate.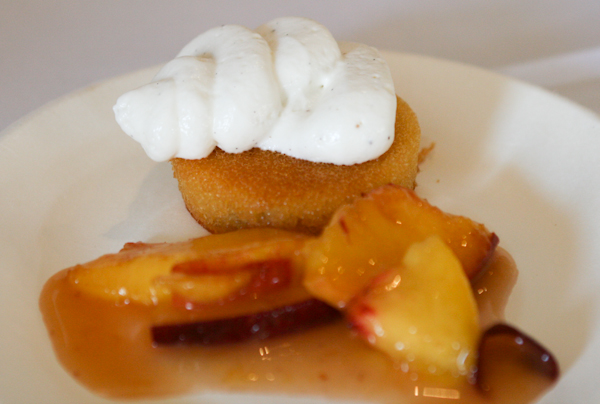 Dolce Patisserie's almond pene de genes with honey yogurt creme and sauteed peaches
A side note here:  I went to the bar for a drink and asked for a Gin Rickey.  The bartender looked at me like I had two heads and asked what it was.  Instead of trying to walk him through making a simple and well-known cocktail on an extremely busy afternoon I just got a gin and tonic instead.  Seriously, if you're the type of bar that is serving Macallan 25 you should really, REALLY know what a gin rickey is…just sayin'.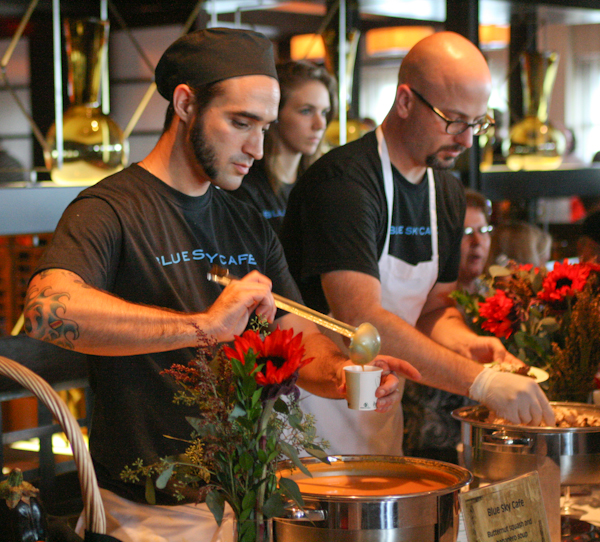 Serving Blue Sky Cake's butternut squash and habanero soup
Okay, so on to the second floor, which was where most of the vendors and most of the crowd was.  The place I stopped at was Vynecrest winery, however if you want to read more about them you can check out my previous post about the Lehigh Valley Wine Trail's Harvest Weekend.  Right after them was a table set up by the Blue Sky Cafe located on 4th St. in Bethlehem.  I've heard of the place previously in passing by a few people, however I always assumed it was just another coffee shop.  How wrong I was.  One of their plates was a "rockin'" (their word, not mine) chicken salad with walnuts and grapes which was slightly underwhelming, but the side to go along with it absolutely blew me out of the water.  Now, I'm not a squash kind of guy, however their butternut squash and habanero soup was amazing.  Butternut on the forefront, a nice, spicy habanero kick on the aftertaste.  This soup is what a fall dish should be.  It uses local, seasonal ingredients and has a fall spice flavor that will punch you right in the face and make you ask where summer went.  Beautiful.
Curious Goods at the Bake Oven Inn was serving summer mac n' cheese, smoked pork and corn salsa with microgreens and a side of bacon peanut brittle.  Yes, the bacon peanut brittle was weird, and yes it was delicious.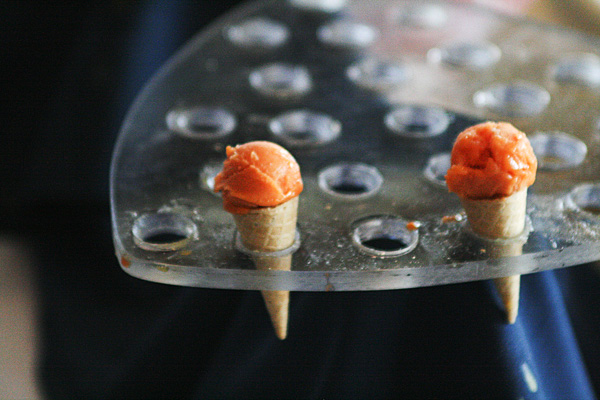 Tomato sorbet
Next up the Weaversville Inn was serving up a cheese mouse with smoked corn relish in a small crust with a side of tomato sorbet in a tiny cone.  Yeah, tomato sorbet.  It also was weird, but oddly delicious.  This would also go awesome on a sunny Sunday afternoon on a warm patio after your eggs and bacon.
Sette Luna of Easton (a place that I've been meaning to visit for quite a while) was serving up both a beverage and food.  The beverage was extremely interesting…a heirloom watermelon cooler with coriander, pink peppercorn, tequila, and red wine.  Let me just get this out of the way…the cocktail scene in the Lehigh Valley sucks.  Most bars tend to cater to the "cosmo" crowd and don't do much in the way of innovative drinks that don't taste like an orgy of sugar in your mouth.  Of course there are a few exceptions, like the bar at Emeril's which features things like melon-infused Maker's Mark or pear-infused Sake, or the bar at Bolete that is a cocktail geek's dream playground, but most of the places are seriously lackluster.  This drink gave me some saving grace for the day after my gin rickey incident.  The drink was dark red at first and I was definitely expecting the wine to be on the heavy in this drink but it turned out mainly tasting of watermelon juice with the tequila adding a vegetal taste and the red wine adding just a hint of dark grapeyness.  They were also serving a heirloom tomato and sweet pepper gazpacho to compliment it, however I must say it was a little too spicy on it's own, and when paired with the drink it attempted to compliment it, but ended up just overpowering.
Frecon Farms was giving out pear and apple slices and glasses of their apple cider.  Let me just make this short:  freshest, most delicious apple cider I've ever tasted, and I've tasted a lot.  Find this and buy it.
Blue Orchid was handing out cups of their heirloom tomato bisque with capanata.  I was not a fan of this and it's the only other thing I threw out besides the okra from the Melt dish.  It just lacked any flavor and was very watery.
Defranco Daughters and Catering was the last stop on the second floor and they were handing out slices of fresh heirloom tomato pizza rosetan with a side of homemade sausage with peppers and onions.  Both of them were very tasty, but nothing groundbreaking.
The Glasbern Inn, which I've heard people rave about, was sadly a disappointment.  Their house-cured bresaola with microgreens and shaved local vegetables with potato chip and egg ravigote sauce was just overpowered with salt.  Any subtlety in flavors was lost in this.
Flow's potato gnocchis with house-made cured pork belly, lacinato kale, and brown butter emulsion
Potato gnocchis with house-made cured pork belly, lacinato kale, and brown butter emulsion with beet and bean salad were served by Flow Bar and Restaurant.
Pearly Baker Alehouse's delicious pork BBQ
The last serving was pulled BBQ pork on jalapeno corn bread with coq aux pommes de terre from Pearly Baker's Alehouse in Easton.  The pulled BBQ was among the best I've ever had.  A sweet forefront as soon as you pop it in your mouth with a spicy kick on the way out.  Precisely how it should be done.
And that about wraps it up for the Taste of the Lehigh Valley event!  Hope to see you there next year!