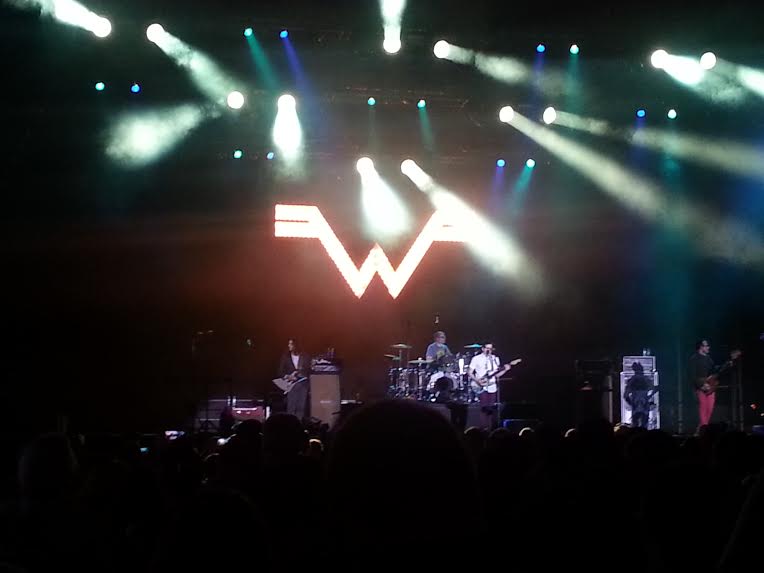 Review by Justin Burkhardt
"Thanks for sticking with us all these years. Your faithfulness will be rewarded," said Weezer's lead singer Rivers Cuomo on Saturday night at Musikfest 2014. Cuomo was speaking of Weezer's forthcoming album "Everything Will Be Alright in the End", which is due to be released on September 30th. Rivers Cuomo could have very well been talking about the concert, though, as Weezer put on a show that should have satisfied all in attendance. From hardcore fans to casual listeners, their show in front of a near-capacity crowd had something for everyone and was one of the best I've seen from them. (Full disclosure: in 2009 I worked and toured with a band who had the privilege of opening some shows that Weezer was a part of.)
Weezer started the show off on a high note with one of their biggest hits, "My Name is Jonas". The band continued to perform their big hits all night long which included "Hash Pipe", "Perfect Situation", "Say It Ain't So", "Island in the Sun", & "Beverly Hills", just to name a few. The big standout of a Weezer concert is when you really get to see just how talented the members of the band are musically. Bassist Scott Shriner took lead vocals on a great rendition of their song "Dope Nose", which was originally sung by Rivers. Shriner isn't just a bassist that can shred, but he also has the pipes to take lead. Guitarist Brian Bell took over River's lead part when he sang "Keep Fishin" showcasing his talents as well. Even drummer Pat Wilson was allowed to show off his prowess when he played guitar and sang lead vocals on "Photograph" and an awesome little cover of Blur's "Song 2" with Rivers moving over to play drums. I don't think Weezer gets nearly enough credit for rocking out as loud & awesome as they do. The decision to also allowing all the band members to showcase their musical multi-talent makes for an even better concert experience. I hope in the future the band continues the trend of letting everyone have their lead song and also having a kick-ass cover song or two.
The second big standout of this concert was "Back to the Shack" from their upcoming album. Weezer has taken some (sometimes too harsh) criticism from music fans recently in regards to the sound and direction of their most recent albums. The good news for those who criticized them is that "Back to the Shack" does sound like a "classic" Weezer song and if this is any indication of what the new album will sound like, older fans will be very happy. We must remember that this is still a band that put out two all-time classic rock albums and is still filled with incredibly talented musicians. Hearing "Back to the Shack" live in person truthfully should show people that Weezer is still capable of making great music. In the future that will quiet the critics that have said things like the band can't make classic material anymore or that they've "lost it".
Weezer ended the show with an encore that featured the hits "Undone- The Sweater Song" and "Buddy Holly". The guys also performed an outro before taking a final bow where all four of them gathered around the drum set and drummed together to end the show. This current Weezer lineup has been playing together since 2001 and the band gels so well together it's really just second nature for them to be performing with each other. A Weezer show is usually a really good time and even though the guys are starting to get a little bit older, they continue to show they can put on one hell of a concert.
Public Access T.V, a band from Brooklyn, New York, opened the show. NME called them "New York's Hottest Band" and that was before they ever played a live show. Public Access T.V. was a good fit as an opening act for Weezer since they are a talented new wave/punk infused pop-rock band. There's already a lot of buzz in the music world about these guys (especially overseas) and it's no surprise why as they were a talented and solid opening act that I look forward to hearing more material from.