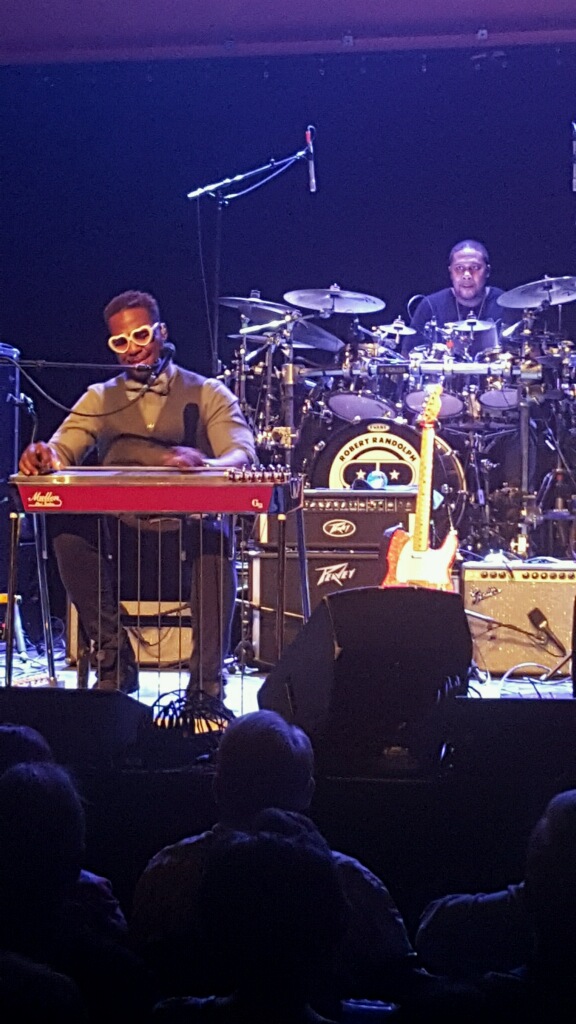 Review by Justin Burkhardt
Robert Randolph and the Family Band headlined the 5th annual ArtsQuest Blast Furnace Blues Festival on Saturday and his set was full of high energy and fun. Randolph's 90 minute set was in front of a standing room only crowd and capped off a great night for the festival and ArtsQuest. Randolph started the set with an instrumental jam session that led right into an awesome instrumental-only cover of Jimi Hendrix's "Voodoo Child (Slight Return). Randolph then brought his talented sister on stage to help sing a cover of Stevie Ray Vaughan's "The Sky is Crying", which had Randolph playing his pedal steel guitar from the floor.
Randolph, ranked by Rolling Stone as one of the top 100 greatest guitarists of all-time (He not only lives up to, but exceeds this ranking), is known for his lively stage performances, and tonight was no exception. One of the highlights was when he brought out the Royal Southern Brotherhood for two song jam session that lasted nearly 20 minutes. They performed "I Don't Know What You Came To Do" and a cover of Sly and the Family Stone's "Thank You (Falettinme Be Mice Elf Agin). Thank you is one of my favorite songs of all-time and I've heard many version of it throughout the years. I have to say that this version ranks right up there with the Dave Matthews Band's as my favorite ever!
The band also performed a solid version of Curtis Mayfield's "People Get Ready" and "Shake Your Hips", which saw many women from the audience dancing on stage.  The show's encore was essentially an energetic and extended version of Robert's hit "Ain't Nothing Wrong With That" which at one point had Robert on his back kicking his feet together. The show ended with Robert introducing each band member before they left the stage leaving Robert to solo before he exited as well.
Before Robert Randolph and the Family band I was able to see the Royal Southern Brotherhood's set. The Brotherhood, a blues rock super group, is led by singer/percussionist Cyril Neville (Neville Brothers). It also features Yonrico Scott (Derek Trucks Band) on drums, Tyrone Vaughan (Son of Jimmie/nephew of Stevie Ray) and Bart Walker on guitar, and Darrell Phillips on bass.  The Royal Southern Brotherhood played a funky 70 minute set that many in the crowd dancing. My two favorites were "Poor Boy" which featured Vaughan on vocals, and "Mona Lisa" which had Neville channeling his inner James Brown.
Previously scheduled work obligations had me miss most of the earlier music at the Saturday session, but I caught the end of Coco Montoya's set. Montoya left me with the impression that he is a talented and diverse blues guitar player and the crowd seemed to enjoy him as well.
If I had one issue with Robert's performance, it was the band's song choices. I know Robert Randolph and the Family Band are a jam band known for their amazing live shows and covers, but I wanted to hear more original songs. I was an early fan of Robert's (In fact I saw Robert in 2004 at Crocodile Rock opening up for Ziggy Marley, which I believe may be his only other previous Lehigh Valley performance?) and his first 3 albums are some of my favorite albums. There are so many good original songs that I love on those albums ("I Need More Love", "Going in the Right Direction", "Diane", "Love Is The Only Way", "Deliver Me", etc) and I wish I heard more of them tonight. The band in my opinion also misses founding member Danyel Morgan's unique falsetto singing. None of these "complaints" should dissuade you from seeing Robert Randolph and the Family Band, as they are one of the best live acts out there today. Robert Randolph is a truly unique talent and any music lover needs to experience his soul-stirring pedal steel guitar playing a few times in their life.
It should be no surprise that this Saturday session was the biggest day attendance wise in the five year history of the Blast Furnace Blues Festival and the bar was set pretty high after this one. I left the show thinking to myself, "I can't wait to see who they (ArtsQuest) bring in next year, but this will be hard to top."  This event continues to be one of the best bang for your buck concerts in the Lehigh Valley.