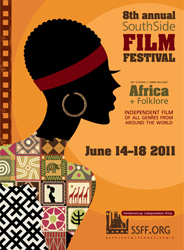 Here's our picks of what to see at this week's SouthSide Film Festival, along with some descriptions and thoughts about each film:
American:  The Bill Hicks Story
If you're interested in comedy at all, go see this film.  I wasn't familiar with Hicks' material before viewing this well-done documentary but I was sure to look up more afterwards.  Featuring rare and home footage of Hicks when he was a teen up until his untimely death, this is witty, vulgar, and excellent.
Cigarette Candy
A very timely film about a soldier coming home from war and attending his welcome home party.  Unsettling and disturbing, this gives you a shocking look into PTSD.
Hello Caller
One of the most hilarious films of the festival, this short features a woman calling a suicide helpline and gets a devilishly funny smartass on the other end.
Hesher
I haven't seen this one personally but it screened at Sundance last year and is dark, sadistic, and has great casting.
The Last Mountain
This was screened at this year's Sundance and is a documentary about coal mining and the destruction of land surrounding the practices.  What will surely go down as this year's Inconvenient Truth or Gasland, see this before it starts being plastered all over the news.
Pumzi
This film about a future dystopian society where water is all but gone is beautifully shot, gripping, and should be made into a feature-length.
Tucker and Dale vs Evil
Last year this filmed was screened at the SSFF to a sold-out crowd and for good reason.  It's a hilarious take on your typical slasher/horror movie.  It finally got picked up for distribution recently but come out to see this funny work before it hits Netflix.
Der Sandman
My favorite of the year, an odd film where a man starts shedding sand for some unknown reason.  After he discovers he turns to sand when he lies, it gets all the weirder and more interesting.  Definitely a sleeper of the festival, check this one out.
Enrique Wrecks the World
A great little animated film that showcases how much destruction and hilarity can be packed into a few minutes.
For more info on screening times, venues, tickets, etc head on over to the SouthSide Film Fest's website.