Now that (I hope) everyone's Musikfest hangovers have been cured, the horses are back in their stables, and downtown is back to normal I figured I'd reflect on this year's festivities, share some photos, and a few concert reviews.  I attended every day except for the first Sunday, only due to the fact that I already had concert tickets for a show in Philadelphia.  I'll blame the lack of non-concert Musikfest pics on the fact that it was usually night time after work when I went to Musikfest, but I digress. 
This year's fest ended on a lower note with downpours drenching the crowds, but that didn't stop the grounds from being packed during the beginning of the festival, as well as the lastFriday and Saturday.  The year wasn't without drama though, with BeerGate taking hold of the news.  My opinions on this all?  I don't know who called the PLCB, and as I found out with previous Freedom of Information Act requests they don't release who filed the complaint, but it's a shitty move all around.  The bars have been doing this forever.  Bethlehem lifts the open container law and it should be freedom of the masses and businesses to buy beer wherever the hell they please.  PA's liquor laws are antiquated, draconian, and stupid.  Shame on them for stepping into this and shame on whoever complained.  That's all I have to say about that nonsense.
Now then, the food.  I absolutely ate my face off this year at Musikfest, largely in part to the $70 in tickets that I was handed as people were leaving Musikfest, never to return.  This year I only consumed about 5 Hogar Crea shish kabobs this year, down from my record nine last year.  Each one was ridiculously delicious.  I wish I could get a paycheck in shish kabobs instead of money.  I didn't do deep fried anything this year, as I usually reserve that for something more hickfest-ish….the Allentown Fair.
There was much more jerk chicken this year than I remembered in the past, however none of it I found was spicy enough and dousing it in hotsauce just isn't the same as good spices from the get-go.  The Bethlehem Dairy Store, which had three locations throughout the fest this year rocked out some pretty delicious (and monstrous) sundaes.  I was pretty excited to try Mr. Bill's lime fizz but was fairly disappointed when it tastes little more than slightly-flavored seltzer.  Aw Schucks was serving up their usual delicious corn, which is always a standby if there's nothing else new or interesting.  Kind of a downer, but Alando's Kitchen's food didn't look entirely appetizing when I stopped by so I skipped on that.  Ostrowski's Polish Sausage served up an absolutely delightful spicy kielbasa with sweet peppers and onions strewn atop.  There was a bunch that I didn't get to hit up this year and I've made a resolve to eat more and document it better next year.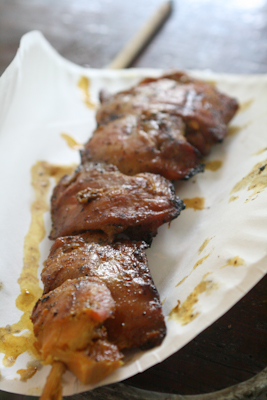 Now onto the real reason the festival exists, music (this is just what they tell me, I think it exists for beer, food, and camaraderie)!  I saw a few shows while wandering around Musikfest, but I'll detail the best three I saw here.  Two of them were headlining shows at Riverplace and the other a little jazz/funk/rock band I had never heard of until Musikfest.
I'll start off with opening night at the Counting Crows.  I had media tickets thanks to Discover Lehigh Valley, who I covered the event and wrote an article for.  You can chalk me up to the "not a huge Counting Crows fan but know their hit singles" crowd, so I wasn't sure what to expect.  The whole concert was a bit of a head-scratcher, with bands coming on and going off stage and a grating mix of music.  Counting Crows would be on stage with Augustana, all of a sudden Augustana would be alone playing one of their songs, then out of nowhere an untalented rapper shows up, and it's back to just the Counting Crows.  Rinse and repeat for a while.  Skip out on the Counting Crow's biggest hit, Mr. Jones, and a sprawling 10 minute rendition of Long December and you've got yourself one of the weirdest, possibly worst Riverplace shows I've seen.  I heard a lot of the diehard Counting Crows fans loved it, but how many of them are there these days?  The only saving grace?  My friend over at VineyardRoad.com hooked it up with VIP Garden Tent tickets and there was free drinks flowing allllll night and they were not for the faint of heart.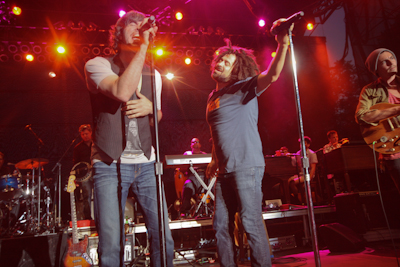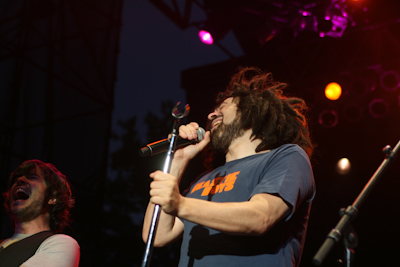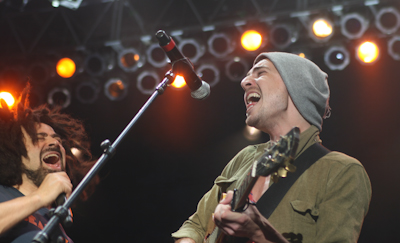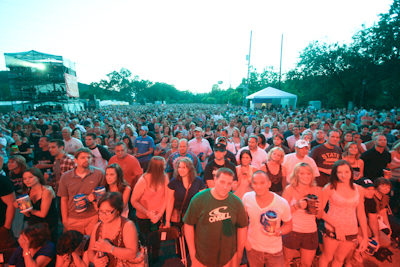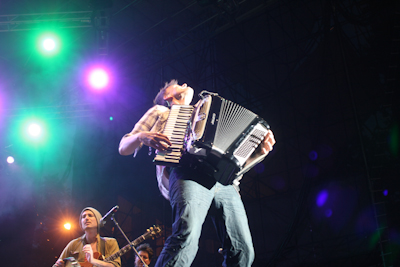 The second show I'm going to talk about I actually caught twice, once at Volksplatz (the best venue at Musikfest) and the second at Americaplatz (one of the worst venues at Musikfest, due to it being so far removed from everything else).  The band?  Trombone Shorty from Louisiana, and holy hell can they kill a set.  Trombone Shorty, the nickname of the frontman, has been playing since he was barely big enough to carry a trombone (seriously, check this), and it shows.  What looks like a bunch of young 20-somethings in a ska band turned out to be some of the best musicians I've seen in a while.  At Volksplatz the crowd was super, super into the band, while Americaplatz was a lot more mellow (this location is usually less intense, and it was raining out as well).  Regardless of the crowd, Trombone Shorty tore it up by playing various originals as well as some older Sinatra and even music that was written by Short's grandfather.  I have a video of the closing of the Americaplatz show but my phone isn't cooperating and I can't upload it.  You can check out some of their recorded music but let me just say that their recorded stuff doesn't hold a candle to seeing these guys live.
And just like I saw the opening headliner, it was only fit to see the closing headliner as well.  For full-discolure purposes which are now required by law (but I practice regardless), I do have to tell you that I got in to take photos for free, however I purchased a ticket for the show.  Little did I know Artsquest had a ticket set aside for me until after the show, but that's my fair warning of any potential bias here. 
Anywho, the closing show was Sublime.  Yes, the Sublime that hasn't played since 1996 when their lead singer died due to a heroin overdose.  The same Sublime you hear non-stop on the radio during the summer and blaring from the cars of stoners year round.  They replaced their singer with a guy that was actually born the same year Sublime started named Rome Ramirez.  He came onto the scene earlier this year with the Dirty Heads and their single "Lay Me Down" which garnered a lot of play on Philly's Radio 104.5  Fittingly enough, the Dirty Heads were the second opener for the show and played a great show (their latest, and only, album is perfect summer material.)  Ramirez came out to accompany the Dirty Heads for Lay Me Down and shortly thereafter Sublime took the stage. 
The band come out with a bang and sounded absolutely great.  Rome doesn't look like Brad at all but is a dead ringer for his voice.  After powering through the first couple songs, however, everything seemed to peter out.  There were a lot of hardcore fans up front that were smoking through loads of weed and singing every lyric, but even as a pretty dedicated listener the middle of the show was lost on me.  Rome either sounded muddled or wasn't singing well and the lyrics became hard to distinguish, which was a shame because some of my favorite songs were in the middle of the set.  Towards the end it picked up again, however, and the band closed with a bang playing What I Got and Santeria to close out the night.  This show was the first time I've ever seen crowd surfing at Riverplace which I thought was hilarious considering the chair inbetween everyone and just the logistics of it all.  All told it was a very fun show and definitely one of the better ones I've seen at Riverplace.  The party atmosphere was lively, young, and fun.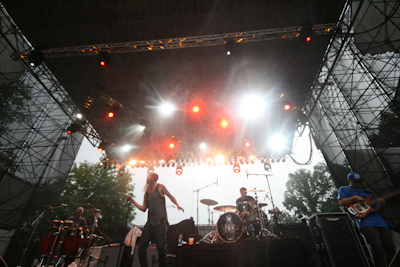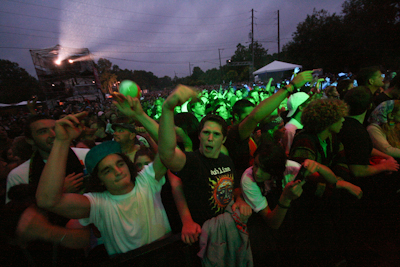 Looking towards next year's Musikfest?  It'll be an interesting one, that's for sure.  Musikfest as the residents have known it for years is dead.  Gone.  No more.  I heard words from a few business owners during the festival about Main Street moving to West Lehigh, near the train depot.  Not long after I heard these rumors the Morning Call dropped the bomb that Americaplatz, Main Street, and Liederplatz could be forever moving to the South Side, following in the footsteps of Riverplace which is moving over to the SteelStacks.
Depending on what happens depends on how I feel about all of this.  I've forever lamented that Americaplatz is too far out of the way of everything, however Main Street has been a staple of Musikfest ever since I can remember going there as a kid.  Even though the police hate it and dub it "pubertyplatz" and most of the arrests are there, it's just been an accepted thing and a tradition.  Effectively splitting Musikfest in two would be downright weird and, for festival-goers, logistically terrible.  The only way I could see splitting up the festival between north and southside is providing a direct link to walk between the two, such as the Fahy Bridge being shut down.  Shuttles-only would not do.  I'll be interested to see what happens and I'll provide a bit more personal analysis once more details leak out.  One thing is certain though:  anything is better than the current Riverplace stage, as evidenced by the ~20 mosquito bites that are still healing around my ankles.
I do want to thank all of the police officers, Artsquest staff, volunteers, and other people involved with Musikfest.  As much as some residents bitch about Musikfest, it really is an awesome event with tons of great, free things to do that really makes the community shine.