Jolly Joe Timmer – performing at 6pm at Festplatz
Jolly Joe was a Polka Hall of Fame inductee and Bethlehem resident who recently passed away.  Involved with Musikfest from the beginning, he could always be heard at the 'polka tent' at Musikfest, bringing his lively music to new generations as parents brought their kids to the dance floor.  Come say goodbye one last time with everyone as Musikfest pays tribute to a local legend.

 Cliff Hillis – performing at 6pm at Lyrikplatz
Cliff Hillis, a singer/songwriter from Phoenixville, uses pop melodies to create songs that range from soothing to anthemic to catchy.
 
ANTS – performing at Handwerkplatz at 7:30pm
The ants are here to terrorize your children and eat your fried butter crumbs.  Or something.  These really, really strange creatures roam around and interact with the crowd, trying to get people to perform tasks.  If you miss them tonight they'll be around for a few days.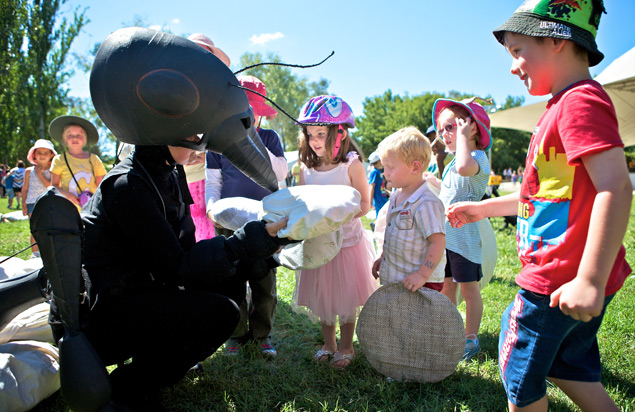 Blair Crimmins and the Hookers – performing at 8pm at the Jazz Cabaret Stage (inside the Artsquest Center theatre)
This booze-soaked ragtime and Dixie group is massively talented and will make you wish you had a pair of beads around your neck and a Sazerac in your mug.  Crimmins has toured with such acts as the Mumford & Sons the acclaimed Preservation Hall Jazz Band.  Check these guys out for a rowdy time that will undoubtedly fill up the small theatre.

Aaron Lopez-Barrantes – performing at 8pm at Lyrikplatz (inside the Artsquest Center theatre)
Lopez-Barrantes sounds like an acoustic, folky John Mayer, delivering soothing vocals over guitar riffs that sound like they might have been cut from the Inside Llewyn Davis soundtrack.

Black Horse Motel – performing at 8:30pm at Main Street
These Philly-based Americana infuse banjo, mandolin, guitar, strings, and vocals into rootsy music that runs the gamut from subdued and bluesy to loud and rocking.

Skunkmello – performing at 9pm at Liederplatz
These NYC blues-rockers sound like they should hail from Nashville.  They've got the sound of the Black Keys and a twinge of ZZ Top without the beards.  Hell, one of their songs is called "Whiskey & Oatmeal" which sounds like something they came up with as a Musikfest hangover cure. 

Pine Barons – performing at 11pm at the TD Community Stage at the Air Products Town Square 
True to previous years, Musikfest seems to be packing the late night TD Community Stage with some killer indie acts.  The Pine Barons, hailing from  Jersey, sound like The Shins and without beautiful lyrics like "All my love was dwindling/to all the empty songs we sing/and still the sentiment was clinging/to the walls of distant ending," how can you go wrong?