Lehigh Valley Hospital Network throws a grand gala every year where everyone who is anyone in the valley attends.  Top-grossing companies drop $35,000 for advertising and 10 seats, politicians and CEOs are aplenty, and everyone is done up in their best black tie garb.  All of the proceeds for the event go to benefit LVHN in some way, whether it be buying new medical equipment or helping to expand their facilities.
Every year the planning committee tries to one-up themselves with interesting themes.  A few years ago it was Louisiana-themed, last year was the Wizard of Oz/Somewhere Over the Rainbow (which we covered), and this year it was a "Go Hog Wild" theme, appropriate for the venue at Coca Cola Park, home of the Iron Pigs baseball team.  Departing from the normal venue of tents set up in the parking lot of the hospital's Muhlenberg campus puzzled me at first and made me think it wasn't going to work well, I was pleasantly surprised to find just the opposite.
Arriving at the stadium you're first greeted with the main dining tent and a fun attraction, a ferris wheel, sitting just outside the main gates to the stadium.  After checking in, it was time to hit the main concourse inside the stadium for butlered hors d'oeuvres, the silent auction, and the rest of the fun on the field.  Attendees had the chance to have their photo taken with baseball legends Pete Rose and Mike Schmidt.  Plenty of drinks were abound with the open bars strewn across the concourse and ball field.
For the hors d'oeuvres various different "baseball themed" appetizers were passed around including "better up" pretzel-battered chicken fingers, "all-star" pork bruschetta, "back door slider" mini kobe cheeseburgers, "fly ball" peppadew and goat cheese poppers, mini franks, "wild pitch" mushroom tartlets, and sinker pitch ahi tuna capanes.  Some were rather pedestrian, such as the cheeseburgers and the chicken fingers, but the ahi tuna canapes and mushroom tartets were definitely well done.  After the always-cheesy greeting from LVHN's President and CEO Dr. Elliot Sussman and the national anthem sung by Lauren Hart, it was time to get to the main tent for dinner.
Served with your choice of red (merlot) or white (chard) Fetzer wine, the main meal included a salad with a baked pear stuffed with seasoned goat cheese on top of a bed of baby greens.  Surrounding it were baby tomatoes, a carmelized pearl onion, all topped off with an extremely tasty aged balsamic.  Instead of giving you a choice you just get both entrees, which this year were beef tenderloin with a brioche crouton and bing cherry cola demi-glace, topped off with bing cherried and carmelized shallots.  This dish wasn't that satisfying, especially since the beef was so well done and the demi-glace was overbearingly sweet to be on top of a piece of meat.  The other dish was fresh farm-raised tilapia with popcorn and panko bread crumbs, pan seared and sided with a citrus butter sauce.  And holy hell, was it done absolutely perfectly.  There's been rare times when I've had a fish done so well and this tilapia took the cake for the evening.  There was also julienne root vegetables wrapped and grilled, but they weren't very good at all and tasted quite like the dirt they were grown in.  But that tilapia, man…
Next up everyone wandered back over to the park where different desserts were served either butlered or through stands.  Easily the best was the chocolate-covered cheesecake lollipops.  The mini apple pie that I dried tasted like a lump of dried out dough, so that wasn't too great.  There were various different flavors of popcorn, including smores and one that had white chocolate, but the popcorn was so soggy and saturated it was too messy to eat in a tux.  They were also serving cinnamon candied nuts, italian ice, and cotton candy, but I didn't see those around in my travels.
To finish off the night the requisite fireworks were fired and annual musical guests the L.A. Starz ushered in midnight with their renditions of hits from the 70s il now.  Nite Lites is always a fun event to attend and the ideas for themes are always interesting to see.  The food was extremely hit-or-miss this year and the whole flow of the event seemed interrupted by shuffling from inside the stadium back to the main tent back to the stadium.  I think much of this had to do with the event running late in the beginning, topped off by auctions for Pete Rose and Mike Schmidt jerseys that didn't seem to want to end. Overall though I can't complain, as I was a guest to the event and who doesn't love dressing up in a tux and eating, drinking, and dancing the night away?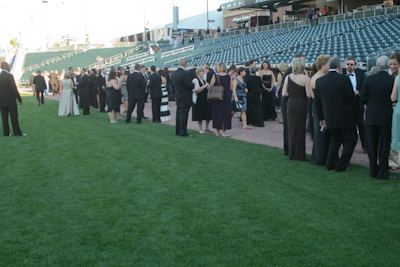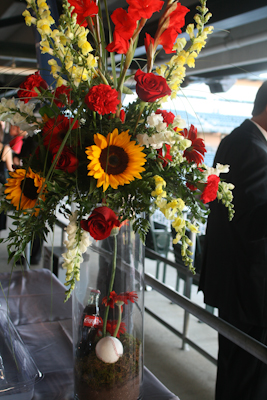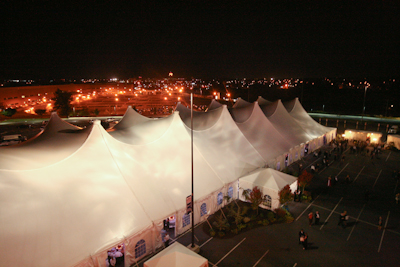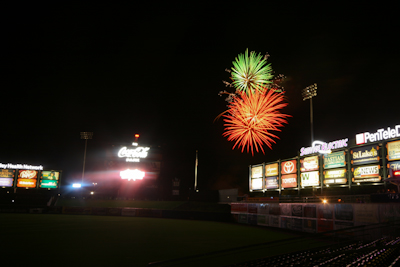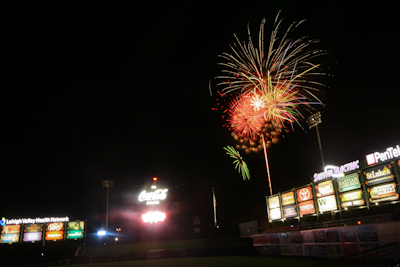 Full disclosure: I received a free pass for myself and a guest for this event (not from LVHN).