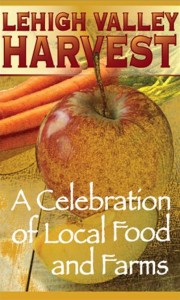 Taste of the Valley is no more.  The event, formerly held at Melt in Center Valley, is taking on a new form as Lehigh Valley Harvest: A Celebration of Local Food and Farms and will be hosted at Lutron Electronics in Coopersburg.
The event will feature new aspects this year, including separate tasting areas dedicated to apples, vegetables, and cheeses.  Participants will be able to sample bites from a variety of local restaurants and farms as well as participate in a silent auction.  VIP tickets are available and include early admission (12pm-1pm), an exclusive raffle, a cocktail with Subarashii Kudamono's pear liqueur, a 2012 farm funds coupon booklet, a Buy Fresh Buy Local sticker, and a tote bag.
Tickets for the event are $25 in advance and $30 at the door, or $20 for students/seniors.  VIP tickets are $50.  Tickets are currently for purchase at the Buy Fresh Buy Local online store. 
The participants for the event so far include:
1741 on the Terrace (Hotel Bethlehem)
Apple Ridge Farm
Balasia
Bechdolt Orchards
Blair Vineyards
Bolete
Cab Frye's Historic Inn
Café Santosha
Curious Goods at the Bake Oven Inn
Easton Salsa Company
Fegley's Brew Works
Flint Hill Farm
Flow Bar & Restaurant
Frecon Farms
Glasbern Country Inn
Gottschell Farm
Heritage Farm
Keepsake Farm
Klein Farms Dairy
*Leaf Restaurant
Maxim's 22
Molinari's
Pappy's Orchard & Lisa's Kitchen
Pearly Baker's Alehouse
Pure Sprouts Organic Delivery
Rainbow Farm
REAL Gardens
Red Cat Farm
Scholl Orchards
Seed Farm
Sette Luna
Stryker Farm
Subarashii Kudamono
Sunrise Sunflower Farm
Suyundalla Farms
Valley View Farm
Verba Farm @ Williams Point
Vynecrest Vineyards & Winery
Weaversville Inn
Weyerbacher Brewing Company
Y Knot Alpacas