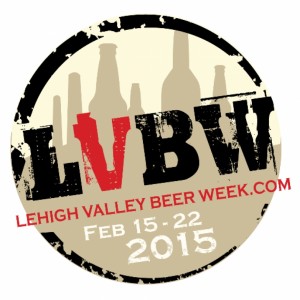 It's the most wonderful drinking week of the year – Lehigh Valley Beer Week kicks off tomorrow.  As always, we've scoured the bar websites, Facebook pages, and every one of the 175+ events on the Beer Week website to give you a list of the best events going down.  Please note in general we only seek out the events with the best beer lists, with the best and rarest beers.  There's still a TON of other events, from cornhole to beer can derbies to tap takeovers, all across Allentown, Bethlehem, Easton, and beyond.
As always, follow us on Twitter, Instagram, and Facebook for scenes from the events throughout the week.
February 20th
LVBW Ribbon Cutting at Allentown Brew Works – 1pm
The Brew Works is hosting its annual ribbon cutting at 1pm and will be tapping this year's official beer week beer, LVBW4.  A collaboration brew work homebrewer Dave Bennett, who won this year's "Brewer for a Day" competition, the beer is a matcha green tea-infused pale ale.  Free samples will be handed out and there's always a ton of beer lovers to hang out with.
Saturday of Saisons with Tired Hands
Tavern on Liberty
Tired Hands, one of the best breweries in the country and without a doubt at the top of the list for Pennsylvania, is sending up some special kegs from Ardmore for Beer Week.  Tavern on Liberty will be tapping a variety of saisons and a pale ale for the event.  Beers include SaisonHands, Still Trace, Lemonade, and Honey, I Love You.
February 21st:
Hair of the Dog Brunch and Brews with Neshaminy Creek
Volpe's Emmaus
Neshaminy Creek is sending up a special firkin of their stellar JAWN pale ale dry hopped with Calypso hops and conditioned on Mangos.  Sounds like a great way to beat a Sunday hangover.  Pint glasses will be given out with firkin pours.
February 22nd:
Beer Label Coloring Contest
Bethlehem Brew Works
While we don't usually include the 'fun' events on our lists, this one capitalizes on the recent 'adult coloring' craze and is judged by one of our friends, Alex Clare.  Coloring pages featuring Brew Works beer labels will be given out for drinkers to color in throughout the day.  After that, the best label will be picked by Mr. Clare, who designs the Brew Works labels and chalkboard art for the brewery.  The winner will take home a $50 gift certificate and will be announced at 5pm on Friday.
Local Monday with Funk Brewing
Trapp Door – 5pm-9pm
Kyle Funk, from Funk Brewing, will be hanging out at The Trapp Door chatting with people and serving up Funk'd Out Sole, their collaboration with Sole Ales, as well as 365 pale ale, Velvet, and a special firkin of their South Mountain Stout with coffee. 
February 23rd:
Hop Head Heaven
Strange Brew
Easily one of the best events of beer week, if you like hops, you need to be here.  Every year Scotty lines up a stellar selection of the best IPAs, pale ales, and double IPAs, including stuff that typically doesn't even make it to the Lehigh Valley.  There's about another nine beers not on this list that won't be announced until this Saturday.  Beers being tapped include: Alpine Nelson, Ballast Point Grapefruit Sculpin, Ballast Point Habanero Sculpin, Ballast Point Pineapple Sculpin, Bell's Hopslam, De Ranke XX Bitter, DC Brau Alpha Domina Mellis, Dogfish Head 120 Minute, Green Flash Tangerine Soul Style, Green Flash/Alpine Handshake IPA, Mikkeller 1000 IBU, Pizza Boy Arck Angel, Pizza Boy Murren River, Sole Juicebox, St. Boniface Libation
The Brewery at Hershey
Curious Goods at the Bake Oven Inn – 5:30pm to 8:30pm
In case you're not an IPA fan, Curious Goods is hosting an event with The Brewery at Hershey, who up to this point hasn't been distributing to the Lehigh Valley.  Take this chance to pop in and try some of their brews, as well as a peanut butter caramel cider.  They will be offering growler fills during this event.
A la Carte Beer Pairing Dinner Menu with Wetten Importers
Black and Blue
Black and Blue always pull out a great event like this during beer week, and 2016 is no exception.  They're having a bunch of strange and rare brews from Belgium including: Oud Beersel Raw Lambic, Straffe Hendrik Heritage 2013 Oak aged quadruple, and Gouden Carolus Cuvee Van De Keizer Blau 2014.
February 24th
Sours/Stouts/Saisons
Spinnerstown Hotel
Spinnerstown Hotel, while technically not really in the Lehigh Valley, always throws down some awesome events during beer week.  Here we have a crazy awesome selection of three different beer types, with lots of rare brews in each style.
Sours: Russian River Consecration, Allagash Confluence, Free Will Pomegranate Sour, Bull Frog Jong Brian Kriek, Avery Raspberry Sour
Stouts: Dogfish Head World Wide Stout (2014), Founders Imperial Stout, Ninkasi Noir Milk Stout with Coffee, Great Lakes Black Out Stout, Captain Lawrence Frost Monster Imperial Stout
Saisons: Almanac Saison Delorus, Bruery Tonnellerie Rue, Saison Dupont, Allagash Saison
February 25th:
Off to Japan
Trapp Door
This awesome Hitachino event is pairing some very tasty, and sometimes hard to obtain, Japanese beers with some delectable Asian cuisine.  Beers include Hitachino Saison, Dai Dai, Nipponia, Commemorative Ale drafts with Hitachino XH, Hitachino XH Sour, and Hitachino Anbai bottles.  Japanese fare to pair including mushroom ramen, smoked tuna roll, and oxtail ramen.
February 26th:
Hops, Hops, and More Hops
Spinnerstown Hotel – 11:30am
This is the only IPA list that comes close to touching Strange Brew on Tuesday.  The list includes the revered Pliny the Elder, the new-to-PA Head Hunter, and many others.  The whole list: Ninkasi Total Domination IPA, Dogfish Head 120 (2014), Founders Azzacca, Half Acre Gone Away IPA, Alpine Duet, New Belgium Citradelic, Fat Heads Head Hunter, Dark Horse Double Crooked Tree, Bull Frog Hopsphyxciatoin with Oranges, AleSmith 2X Red IPA, DC Brau Alpha Domina Mellis Double IPA, Firestone Walker Union Jack, Ballast Point Sculpin, Pliny the Elder
Open the Trapp Door
Trapp Door
Always a great event, every year the Trapp Door busts out all of the rare and delicious beer they've been aging and squirreling away for beer week.  Bottles for sale and drafts include :
Draft: 2014 Bourbon County Coffee, Scotty Karate, Haandbryggeriet Haandbakk, Pizza Boy Honeycrisp
Bottles: Almanac Barbary Coast, Almanac Peach Brettaville, Almanac Paris of the West, Almanac Truthful Statement, Brooklyn Quintaceratops, Briery Oude Tart, Briery Cuivre, Mikkeller Nelson Sauvin Brut, De Proef Zoetzuur Flemish Ale 2011, Vanberg et Famille LamickX, De Proef on of the Tooth, Goose Island Madame Rose, De Molen Heaven and Hell, Birrifico Del Ducato Matina, North Coast Old Stock Reserve 2013.
February 27th
Stouturday v2.0
Strange Brew
Probably our favorite event of the week, Strange Brew absolutely throws down the gauntlet with this one.  Rare kegs, aged brews, and an entire lineup of dark deliciousness awaits.  Check out this list: AleSmith Hawaiian Speedway Stout, Almanac Barbary Coast, Dieu Du Ciel Peche Mortel, Evil Twin Even More Jesus, Evil Twin Imperial Biscotti Break 2014, Goose Island Bourbon County Stout 2014, Goose Island Bourbon County Stout 2015, Green Flash Dia De Los Serranos, Hardywood Gingerbread Stout 2014, Mikkeller Beer Geek Breakfast, New Holland Dragon's Milk w/ Chiles, Pizza Boy Sunny Side Up 2014, Speakeasy Barrel Aged Scarface, St. Boniface Black Currant Stout, Terrapin Cinnamon Wake n Bake, Terrapin Tiramisu-Hoo, Weyerbacher Sunday Morning Stout.
Barrel Aged Day
Spinnerstown Hotel – 11:30am
In case Strange Brew's Stouturday wasn't enough, Spinnerstown is also throwing on a whole bunch of bourbon barrel beers and sours for good measure.  Take a look at this list: Allagash Confluence, Allagash Interlude, Russian River Consecration, Founders back Woods Bastard, Hardywood Bourbon Barrel Cru, Avery Raspberry Sour, Bruery Tonnellerie Rue, Weyerbacher Insanity, Stone Bourbon Barrel Arrogant bastard, Lost Abbey Agave Marie, Free Will Old Wit, Yard's Washington's Reserve, Shawnee Craft Bourbon Barrel Porter on NITRO, Bear Republic Barrel Aged TarTare, Stone HiFi LoFi