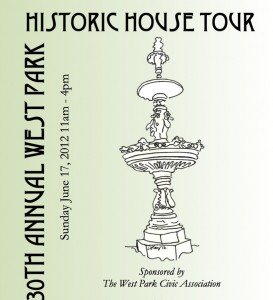 The West Park Civic Association is hosting a historic house tour this Sunday, June 17th from 11am to 4pm. 
"This year's tour of 13 properties certainly offers something for everyone, from grand mansions filled with exotic carved woods, marble mosaic floors, and crystal chandeliers, to 21st century interiors tucked behind beautifully restored facades.  Open concept floor plans, gourmet kitchens, luxurious bathrooms with glass and onyx tiles, and 17th century antiques juxtaposed with contemporary works of arts round out the wonderful assortment of homes."
Tickets for the tour are $12 in advance or $15 the day of the tour and can be purchased at Albright's Hardware, Boutique to Go, Phoebe Floral Shop, C Leslie Smith, Art in the Park (on Saturday), Walter's Pharmacy, or at the Episcopal Church of the Mediator.  For more information head over to the WPCA website.