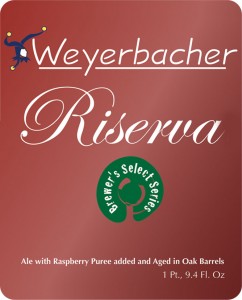 Weyerbacher has finally announced the release of their 2011 Riserva beer.  After facing lots and lots of delays, mainly due to the installation of a new bottling line, the local brewery sent out a release today indicating they'll be having a tasting/party on February 10th from 4:30pm to 8pm. 
Riserva is a sour beer, one innoculated with wild yeasts that give it a tart flavor.  The base beer is an amber beer brewed with loads of raspberries and aged in barrels for a minimum of a year to achieve its 11.7% ABV and tart flavor.  Last year's beer suffered from some issues that left the beer extremely sour, vinegary, and nearly flat.  The brewery reports that this year's is "perfectly carbonated, more full-bodied than any in the past, and nicely tart…"
They'll also have leftover Rapture (3 per person limit) from 2011.  This will be the absolute last time you'll see this beer for sale at regular retail so you'd be wise to get it at the release if you're looking to get some.  Also available will be the 2012 Insanity, their bourbon barrel-aged barleywine.  Samples of all will be available.
In other exciting news, the brewery will be showcasing their new logo in public for the first time.  Following a year and a half of production, Weyerbacher's rebranding efforts will be rolling out shortly.  From the way it sounds they'll be carrying over their jester theme into the overhauled look. 
They also mentioned that they have a beer logitical system in place after their Idiot's Drool release was crowded and a bit sloppy.