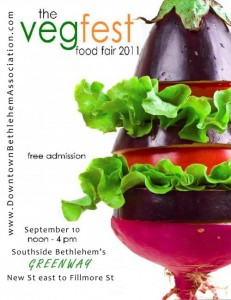 The coming months will see the return of a beer festival and two wine festivals as well as the inception of one beer festival and a VeFest.
The Cask Ale Festival returns to Allentown Brew Works this Saturday, March 24th. For those unfamiliar, cask ale is unfiltered beer served from a wooden cask.  It imparts a smoother mouthfeel with a slightly warmer temperature to give the beer a completely different old world feel. The Brew Works is already planning their formidable lineup with cask ESB and Oatmeal stout, an ice brewed Hopsolutely with another dry hopping session (damn!), cask boubon barrel aged Insidious, and cask bourbon barrel Insidious with vanilla, among others (and other breweries).  Tickets are $30-35 and you can get more information here.
Next up are two wine festivals that The El Vee covered last year. The first is the RiversideWine Festival on May 21/22 that we critically panned last year. It looks like it will be more of the same this year so we advise you to avoid it. And on the complete opposite side of the fence we have the Lehigh Valley Food and Wine Festival, hosted by the Sands Casino. This was the be-all-end-all of foodie events last year with more wine and food than we care to recollect. It's a bit pricey at $75 but you're getting wines from all around the world as well as food from every major culinary institution in the valley. A steal. The Lehigh Valley Food and Wine Festival will be held Sunday, June 5th.
There seems to be a new beer festival in the works, set to be held at the Iron Pigs stadium on Saturday, June 4th, the day before the Lehigh Valley Food and Wine Festival.  They're doing VIP and regular sessions and will have over 50 breweries.  This looks like it's going to be awesome.  More info over here: http://brewfest.wlvt.org/
And last but not least we have VegFest, which seems to be shaping up into quite the affair. The event will take place on September 10th.  You can read more details over at their site:  http://bethlehemvegfest.org/