Following in its promise for sustainable food, particularly seafood, Starfish Brasserie partnered with the Lehigh Valley chapter of Buy Fresh Buy Local, as well as Keepsake Farms and Pure Sprouts to host a farm to table dinner.  The dinner was $40 and offered optional $20 beer or $25 wine pairings.  Since Starfish was reviewed on the site before, this will just be an overview and critique of the dinner rather than a full restaurant review. The first dish brought out was an amuse bouche of oyster mushrooms and onions.  I'm not a big mushroom guy, especially straight up, so I wasn't a big fan of these, however mileage may have varied. 
 The first dish was a dual plate of chicken pate and veal sausage over mesculin greens and shaved radish.  The chicken pate was easily eclipsed by the rich, tender bite coated with a bit of sea salt that just melted in my mouth.  The mesculin greens, topped thoughtfully with sea salt only added to it.  
 The second course was an interesting dish in its simplicity.  Barebones, it seemed to be a play on a dish out of necessity, similar to how things like haggis and scrapple permeated culinary landscapes: they were made of scraps that no one else wanted.  However, looking at the ingredients, historically this would've been a very decadent, yet utterly simplistic soup that seemed like one born of need.  Cockscomb and veal tail were the ingredients here.  Take something else, like oxtail, and stick it in a soup and it becomes the soup of necessity born during the Reign of Terror.  But veal, such a decadent and luxurious prize meat, used even in tail form offers a considerable difference both in taste and historical significance.  Cockscomb, something we in the US traditionally think of throwing away, has been used in gourmet sauces with the finest of mushrooms, morels and truffles, for hundreds of years.  So combine these two seemingly insignificant offal ingredients and you have a soup that is tasty, simple, and leaves you ready for the next course. 
 Moving along to a course that included a little molecular gastronomy we have braised chicken, flanked by delicious, dark red beets and supported by wheatberries.  On the side rests a mound of bleu cheese foam that was great in its own right.  Not a moving dish, but a well planned, executed, and tasty one.  The fouth course, the grilled NY strip steak with swiss chard and rissole potatoes, topped with a demi-glaze was a breath of fresh air after a rash of lame steaks I've had lately.  
 And to top it all off, a lump of havarti cheese lay next to a yogurt tart with a cotton candy garnish on top.  A whimsical, thick and hearty finish to a great 5 course meal.  The wine pairing faired for me much better than the beer pairing did, so props to finding wines that go with foods, something that nearly every restaurant in the area seems lost on these days.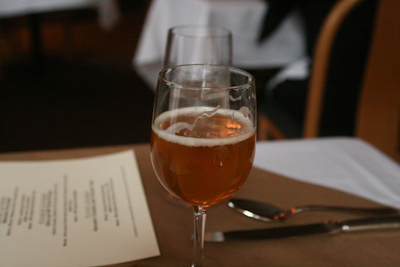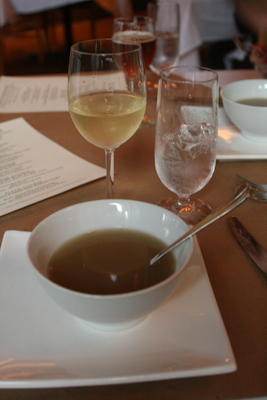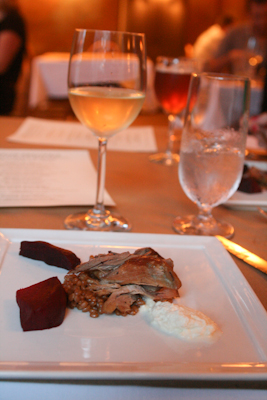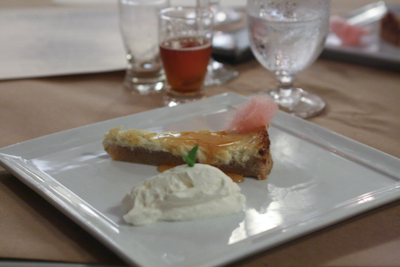 Starfish Brasserie
51 W Broad St
Bethlehem, PA 18018
(610) 332-8888
http://www.twitter.com/starfish_pa
http://www.starfishbrasserie.com