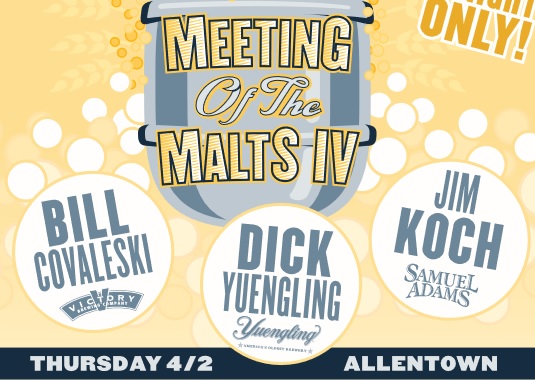 Some of the biggest and brightest minds of the beer world are coming to Allentown this Thursday for the 4th annual Meeting of the Malts, sponsored by the Brewers of Pennsylvania association.  Last year the Meeting of the Malts took over Bethlehem's Hotel Bethlehem and Bethlehem Brew Works (check out our coverage here).  This year Dick Yuengling of Yuengling Brewery, Jim Koch of Sam Adams, Steve Hindy of Brooklyn Brewery, and Bill Covaleski of Victory Brewing will be headlining a panel at the Allentown Brew Works.
To kick off the event light apps and beers will be pouring from 2nd Story Brewing, Doylestown Brewing, Brew Works, Golden Avalanche, Hijinx Brewing, Millbock Brewing, Red Castle Brewery, Snitz Creek Brewery, Vault Brewing, and Zero Day Brewing.  The PA brewpub showcase will take place from 5:30pm to 6:45pm and tickets are $35 per person.
Following the brewpub showcase is the main event, a panel discussion with Mr. Yuengling, Mr. Koch, and Mr. Covalesky, moderated by Mr. Hindy from 7pm to 9pm.  The panel will feature a five course dinner as well as beer pairings from Yuengling, Sam Adams, and Victory.  The menu is as follows:
Smoked Chicken Caesar salad in a parm cheese cup – pulled mesquite smoked chicken, tossed caesar salad, parm cheese formed into a cup – edible bowl
Salmon Rosette over arugula w/ diced tomatoes, roasted red pepper sauce, and balsamic reduction
Smoked Beef Brisket Taco – Honey lager BBQ, hot slaw, shredded lettuce, diced tomato
Breaded Boneless Pork Chop – breaded pan fried pork tenderloin, on top of smoked mozzarella mashed potatoes, drizzled with a white country gravy, topped with asian pear fan, and dried cranberries
Stout Ice Cream Martini – stout chocolate ice cream, porter chocolate sauce, deep fried churro, Andes mint pieces as garnish
The first brew before dinner is a collaboration beer between Victory Brewing and Brew Works.  Tickets for the discussion panel and dinner are $85 per person.
After the discussion PA Prohibition private party will be held at Dime at the Renaissance Hotel from 9:30pm to 11pm and will feature apps, dessert, and discounted PA brews.  Tickets for the afterparty are $35 per person.
VIP tickets can be had for $125 per person and include all three events.  For ticket information check out the Brew Works page and for more information about the Brewers of PA head here.