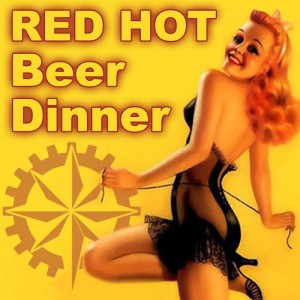 Bethlehem Brew Works is hosting a spicy and beer-laden dinner next Thursday, November 10th.  They're preparing a five course meal featuring peppers with two beers per course.  One beer per course will be a Brew Works beer, and the other will be an import from B. United, one of the premiere importers of interesting and rare brews.  To pair with all of the jalapeños and habaneros they have some very interesting and downright fantastic beers.  The three that immediately caught my attention were Schelnkerla Helles, an ultra-smoky beer that some refer to as "bacon beer", Saison D'erpe Mere, an amazing Belgian saison that is dry, nuanced, and complex, and Verdi Imperial Stout, an Italian stout that is rich, roasty, and finishes with just a slight tinge of pepper mouthfeel.  The meal is $75.60, which includes tax and gratuity.  You can snag your ticket here.
Take a look at the full menu below:
Appetizer
Proscuitto & spiced cream cheese stuffed Jalapeños with a chocolate cayenne sauce.
Beer pairings:
Fegley's Brew Works Pumpkin Ale – made with real pumpkins, cloves, ginger, all-spice, nutmeg and cinnamon. Brewed with Nugget, Cascade, and Hallertau hops for a crisp finish.
Schlenkerla Helles -brewed with fine Bavarian aroma hops from the area around the city of Nürnberg. It's lagered in century old caves underneath the historic Schlenkerla brewery and maltings. Schlenkerla Helles is boiled in the same copper kettles and bottom fermented by the same yeast as the historic Schlenkerla Smokebeer. This adds a residual pleasant smokiness.
Soup
Hungarian Chicken Paprikash (made with Hungarian wax peppers, paprika and cayenne) over haluski.
Beer pairings:
Fegley's Brew Works Oktoberfest – German Noble hops balance the toasted bread flavors of this medium bodied fall favorite.
Schneider Weisse – amber-mahogany wheat beer that's pleasantly fruity with an aroma of clove and nutmeg apple. It's  fresh, clean, full-bodied, and well-balanced.
Salad
Pepper dusted & blackened shrimp with pepper greens (featuring thai chilis and Jamaican peppers)
Beer pairings:
Fegley's Brew Works Rude Elf's Reserve – the holiday Belgian Strong Dark Ale brings an aroma of winter spices mixed with brown sugar and graham cracker. Full flavors of crusty dark bread, plums and Belgian yeast compliment the spice profile and linger with faint boozy notes at the finish.
Saison D'erpe Mere – an enchanting beer that offers a rich palate of flavors including cooked peaches and apricots, cloves, seasoned cedar wood and black pepper. A very lively mouthfeel with a dry champagne finish.
Intermezzo
Brew Works lemon sorbet to cleanse and refresh.
Entree
Lightly fried chicken breast served over ancho red beans and rice. Accompanied with a sauce sampler of Five Levels of Heat. From Ancho to Bhut Jolokia…
Beer pairings:
Fegley's Brew Works Bagpiper's Scotch Ale – a slick bodied, dark mahogany beer invokes touches of nut, smoke and cocoa that lead on to slightly worty caramel and figs. Complex back flavors of toast and dried grass come with a warm alcohol creaminess at the end.
Ichtegems Grand Cru – a fantastic example of a Flanders Red Ale: prominent tart plum notes with oak, tannins and bitters bringing up the back end with band-aid and nougat.
Dessert
Habanero Pumpkin cheese cake with cayenne dusted truffles.
Beer pairings:
Fegley's Brew Works Weizenbock – pleasant fruitiness with an overture of dulled orange, solid banana, some muted mango and pineapple, and just a touch of clove and spice. The smooth and creamy wheat finish also carries a whisper of vanilla.
Verdi Imperial Stout –  an Imperial Russian Stout with hot peppers! Winner of the best beer at BRAU Beviale 2008, a quaffable Imperial Stout with a medium body and a good lingering finish. Liquorice and nutty in character, the dark malt profile is shown also by the cappuccino like foam. The warmth is pleasant throughout.