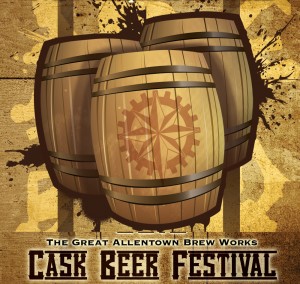 This weekend our favorite beer festival in the Lehigh Valley kicks off at Allentown Brew Works.  Their 5th annual Cask Beer Festival on Saturday starts at 3pm with a VIP hour and the general admission goes from 4pm to 7pm.  Attendees will be able to sample over 32 cask and draft beers and meads.  One of the greatest things that we love about the cask fest is that brewers bring special recipes, one-offs, and other limited release stuff that attendees usually can't find anywhere else.  Just some of the special offerings coming to the festival include:
Allentown Brew Works – Dry-Hopped Urban Achiever IPA dry hopped with simcoe, citra, Chinook, and centennial hops.
Bethlehem Brew Works – 17th Anniversary Preview: a Chinook dry-hopped barleywine that will be released on April 15th for the Bethlehem Brew Works' 17th anniversary
Bethlehem Brew Works – Top O' the Morning Coffee Stout: Fegley's flagship Steelworker's Oatmeal Stout infused with rye barrel-aged coffee beans
Funk Brewing – Hefeweizen:  this will be a new seasonal for Funk come springtime, and this will probably be one of the first places to taste it before it hits the taps across the area
Stoudts – Bourbon Oak Belgian Triple: this is a unique beer from Stoudts, a brewery where the only place to usually get their one-offs is at the brewery itself.
The $35 admission ($40 at the door) includes unlimited samples as well as a Celtic-themed buffet of food.  Always on-hand are the O'Grady-Quinlan Academy Irish Step Dancers to entertain the crowd.  Tickets can be purchased here.