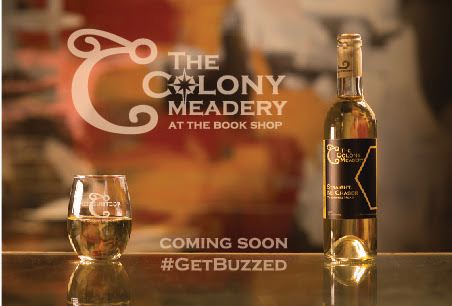 The Colony Meadery announced today that they'll be opening a satellite location at the Moravian Book Shop in Bethlehem later this year.  The meadery, whose production and tasting room is located in the Allentown Economic Development Corporation's Bridgeworks Enterprise Center, opened in late 2013 and recently expanded their tasting room and production facility. 
Dubbed "The Colony Meadery at the Book Shop," the tasting room will feature mead on draft, tasting flights, and bottle sales to-go and for on-premise consumption.  Limited wineries, which Colony is licensed as under the Pennsylvania Liquor Control Board, can open up to five satellite locations, such as the Franklin Hill Vineyards satellite store at the Main Street Commons in Bethlehem.  Mead, which is a type of wine made from honey, is widely considered the world's oldest fermented beverage and has seen a growing resurgence in recent years thanks to artisans like Colony.  Richard Santee, the President of the Board of Directors at the Moravian Book Shop, said, "…this new partnership with The Colony Meadery has an exciting and historically appropriate complement to the Book Shop, located, as it is, in the heart of 'Historic Moravian Bethlehem,' a National Historic Landmark District.  Mead was very likely produced and served in many home of Colonial Bethlehem…during the 18th and 19th centuries." 
Greg Heller-LaBelle, the meadery's CEO and co-founder, said, "being able to locate in the world's oldest book store, with all of the Main Street Bethlehem attractions and customers, is going to be an incredible opportunity for us."  As for an opening date?  Colony is looking to be up and running by next month to be able to serve at Musikfest.  "Let's be honest: it's time for mead in a mug," Heller-LaBelle said.