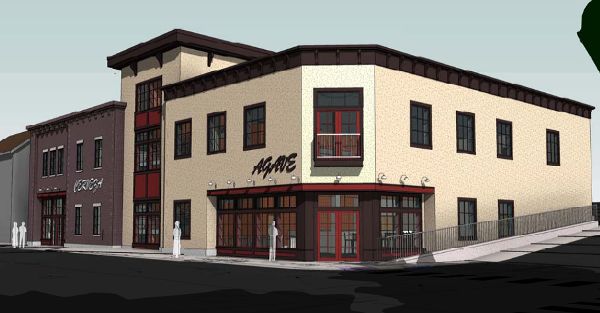 Bethlehem 21st Century and Ashley Development Corporation are looking to create a restaurant and brewery complex on Bethlehem's Southside, as first reported by The Morning Call.  In documents submitted to the city, the development proposal states that the complex will be located at 404 E. 3rd St, currently a parking lot next to Molinari's, on a .38 acre plot of land.  The application notes that the city is planning on building a large parking garage across the street, "rending this site obsolete as a parking lot."
The two story, 20,000 square foot building will house two restaurants, Agave and Cerveza.  In addition to second floor dining space overlooking 3rd Street, both restaurants will feature roof decks. 
The restaurants will be operated by El Sarape Restaurants, a Washington company, who say they chose Bethlehem due to "nearby universities, local demographics, and the revitalization that CRIZ will bring to the Southside area."  They also note that they hope to open a North side restaurant and add 5 to 8 more restaurants throughout the Lehigh Valley. 
Agave will be an upscale restaurant with "signature cocktails" and "Mexican fine dining" while Cerveza will feature a casual atmosphere and on-site brewing of traditional Mexican beers.  The restaurants are projected to bring 40 full-time and 50 part-time jobs to the Southside.