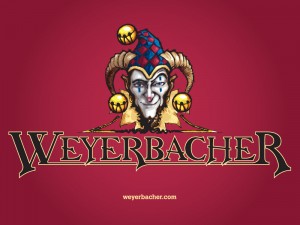 Weyerbacher Brewery in Easton has announced that they're releasing their Sour Black Ale on Friday, June 29th.  The event will run 4:30pm to 7:30pm.  The Sour Black beer is a 5% black ale aged in Pinot Noir barrels (the same ones that were used to age their fantastic Rapture sour beer).  The brewers added a yeast that creates a pleasantly tart, sour flavor to the beer.  The beer comes in 750ml bottles and will be available only at the brewery while supplies last (most likely not much longer than that weekend, if that.)  Bottles will be $17 each and customers are limited to two full cases (twelve 750ml bottles in each case) per person.
The great thing about this release is that customers don't have to buy an entire case if they don't want to, something that was required by law during previous releases.  You may also mix and match different bottles for a case as well as buy singles of any of the beers available.  The brewery will also be sampling Merry Monks, their Seventeen anniversary beer, Sixteen (last year's anniversary beer), and their brand new Last Chance IPA. 
Weyerbacher also has also release their Whiskey Barrel Aged Ale, part of their brewer's select series.  This beer is available in bottles only at the brewery and clocks in at 9%.  A few places in the Lehigh Valley will see this beer in kegs (one being the Trapp Door Gastropub).  Grab it while you can because once it's gone there will be no more.  Also, for a nice lesson in the ridiculous federal TTB label approving process for beer labels, check out Weyerbacher employee Bill Bragg's post over here.