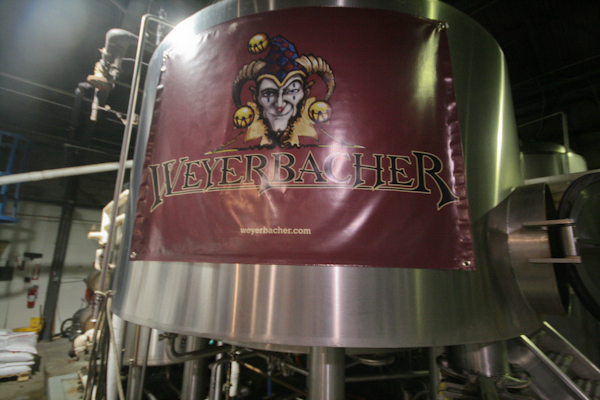 It's a project we've been aware of for months, but unable to squeeze any information out of Weyerbacher owner Dan Weirback, hadn't had much information on.  Both LehighValleyLive and The Beeryard were able to get some information before the official press release later today.
Weyerbacher announced they'll be tripling their capacity to 30,000 barrels.  This follows recent additions of new grain silos and a new German 750ml bottling line.  Sales last year were up 34% for the brewery and are already up 51% this year.  This expansion will cost $1.1 million and add 7500 square feet to their brewery.
The most exciting part of this addition is the pub.  At Weyerbacher you can only sample small portions of their beer and then buy them in cases.  Due to the current laws you're unable to get them in singles or six packs.  This will change after the expansion, when the brewery will apply for a license that allows them to sell not only singles and six packs to go, but also pints of their beer at the brewery in a pub space. 
Although there won't be a full restaurant, they will have some sort of small snack to comply with local laws.  Pennsylvania brewery Troegs instituted a similar program in their new Hershey brewery, allowing visitors to take tours and then grab a sandwich and pint in their tasting room.  The brewery hopes to have the tasting room open by next January.
This news follows the launch of their new logo (seen in the photo) and branding line, which will see all of their beers getting new, updated labels.  The brewery also announced the replacement to their Hops Infusion IPA, decided by voters during their IPA project.   Based on their Crimson experimental batch, the new beer will be a West Coast-style IPA with huge citrus and pine notes.