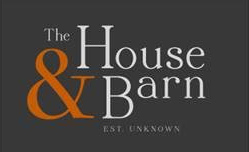 The once venerated Farmhouse restaurant in Emmaus is set to open once again next year under new ownership according to Carl Billera Jr, who will be heading up the operation now known as "The House & Barn".  
Billera, who was the originator and owner of Grille 3501 in Allentown from 2001 to 2005, also owned the Buckeye Tavern in the past and currently operates The Burgery Company with his wife.  Saying the old Farmhouse spot has "huge potential" and that he "loves the history part of things," Billera is revamping the inside of the restaurant while maintaining the well-known bar and lounge in the building's basement.  
In its heyday The Farmhouse was helmed by Chef Michael Adams (now at Hotel Bethlehem), who earned a James Beard nomination for his then-innovative farm-to-table concepts.  When it closed down in 2013 co-owner Michelle Quier of Granny Schmidt's Bakery backed out of the partnership leaving just the original owners, the Schmidt family, as owners.  They vowed to reopen a few months later after renovations, but that never materialized and the restaurant has sat vacant since.
Hoping to open in the first quarter of 2016, the original farmhouse building won't be the only thing to reopen.  Billera is working on revamping the property's barn, which briefly served as the restaurant "The Hayloft" before the entire property shuttered.  The barn will have TVs and a slightly more fun and laid back feel, and has space to host events.  Billera is also bringing in Chef Nate Weida, currently a chef at Savory Grille and formerly of Glasbern Inn, will be heading up the culinary program.
We're glad to see a beautiful property back in use, especially by someone who has a background in owning and operating restaurants.  We'll keep you updated on The House & Barn as they get closer to opening.