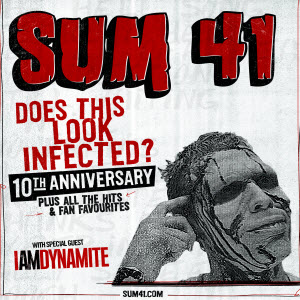 Chart topping pop-punkers Sum 41 will be hitting the Allentown venue on a tour to celebrate their Does This Look Infected? 10th anniversary tour and Born of Osiris will be joined by Wolves At The Gate, Unearth, and Contortionist.
Sum 41 will be performing on November 23rd to celebrate the anniversary of their second full-length album Does This Look Infected?, released on November 26, 2002.  The album was the follow-up to their hugely successful All Killer, No Filler released the previous year.  DTLI? Includes singles Still Waiting, The Hell Song, and Over My Head.  Tickets for the show are $20 in advance or $22 at the door and are on sale now. 
Nov 3rd Chicago deathcore band Born of Osiris will be headlining the stage at Croc.  Formed in 2003, the band went through several name changes until settling on its current moniker on 2007.  Their 2009 release, A Higher Place, on Sumerian Records topped out at number 73 on the Billboard 200, their best performing release to date.  Joining them will be Unearth, The Contortionist, Wolves At The Date, Serenity, Seas of Wake, and more.  Tickets are $15.00 in advance and $18 at the door and are on sale now.