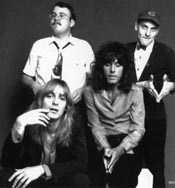 The Sands Bethlehem Event Center announced today that Cheap Trick will be performing at the venue on November 24th.
One of the most enduring and famous rock groups of all time, Cheap Trick has toured nearly non-stop for their entire career. Since 1977 the band has released fifteen studio albums with the last being in 2009. This tour marks their 35th anniversary together, during which they have performed over 5,000 times and sold over 20 million records. Tickets go on sale Friday, October 5th and range from $49.50 to $99.50.
Photo from Cheap Trick's website.