Tapas on Main on Main Street in Bethlehem, the former Tortilla Flat then Tika's location, is moving along quickly and looking at a June opening.  Former chef de cuisine at Vintage Restaurant and Bar in Easton, Chef Jeremy Bialker will be taking on the position of Executive Chef at the new venture owned by Chef Rafael Palomino.  Chef David Bates, a Shula's Steakhouse veteran, took over Bialker's place at Vintage.
Pacino's Cigar Bar on Main Street in Bethlehem is still slated to open, according to one of the managers.  They expect a June opening, but I personally don't see that happening with so much construction to do and their liquor license woes.
We just found some awesome info out…the former owner of Which Brew in Easton, Kelly Jo Ditze, has a new venture.  A former manager at the Weyerbacher Brew Pub, Ditze opened Which Brew when Weyerbacher decided to shutter its food operation and focus on brewing.  Which Brew shut down a few years ago, much to the dismay of the beer lovers and locals of the valley.  Her new spot is the former Blue Tone Cafe at 683 Walnut St in Easton.  It will now be called the Black and Blue and should be open in a few weeks.  As of right now the liquor license hasn't been transferred over but from what we hear the bar is completely done and ready.  Sounds awesome.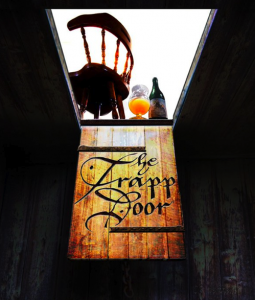 The Trapp Door, the restaurant taking over the former Tap and Table spot in Emmaus, gave us lots of information yesterday about their new operation.  First, they're set to open either May 16th or 17th.  Their grand opening party, which we reported earlier, will be May 26th.  Former Tap & Table bartender Jennifer Funk, and one of our favorite bartenders ever, will be heading up the drink operations with John Kerstetter, who is claimed to be a favorite by everyone by Kim (we'll see for ourselves soon enough!).  They're looking at still having the huge list of imports and domestic craft beer, but are also going to start stocking Miller/Coors/Guinness (update: O'Hara's and only a few other macros), etc. to open up accessibility to other crowds.  The former Tap & Table business shunned serving macro beer so that will be a departure from their former practices.  The draft list will still include rarer, unique craft beer, so don't fret.  They will continue doing the beer dinners, however the first one won't be until June at the earliest.  On the culinary side, their exec chef will be Roberto Lopez, who won Chef of the Year when the team was operating at Magnolia's Vineyard.  Their cuisine will be more pub fare-based with a lower price point than Tap & Table.  Some of their dishes they shared with us include: slow-braised pork shoulder, short ribs infused with homebrew, housemade perogies with Spanish chorizo, thai coconut mussels, and sandwiches (including a house Reuben).  They'll also be doing brunch and bringing their famous Magnolia's Bloody Mary bar with them.  They also plan to have some other events, such as pig roasts in the future.  One of the partners we spoke to, Kim Kerstetter, noted that they're looking to bright, liven, and lighten the atmosphere and make it more accessible.  And yes, that include getting actual lights, but still keeping the same feeling and color palate.  Good, maybe you'll be able to read a menu at night now.  We heartily look forward to the opening.
The Morning Call got a couple of good scoops in the past few days:
The old Heavenly Hedgehog ice cream shop on Main Street in Bethlehem that shut down in January is being replaced by a new spot called the "All Aboard Taste Station".  They will be serving up ice cream, pretzels, chocolate, and coffee as well as breakfast and lunch all with a railroad theme.
The Federal Grille on Hamilton in Allentown has been bought out, however by the sounds of the interview there won't be anything happening there for quite some time.  The Federal Grille, formerly owned by Iris Konia, met its demise after the smoking ban in Pennsylvania was enacted, effectively crippling business at the steak and cigar restaurant.
There's another Pott's Hot Dog shop coming.  Situated on Easton Ave and Stefko in Bethlehem, they'll be dishing out the same valley classics as all of the other locations.  In a perfect world all McDonalds in the area would be overrun by Yocco's and Pott's.  A man can dream, can't he?