The Glasbern Inn in Fogelsville isn't your typical bed and breakfast.  For one thing, it's nicer.  It's also got a rockstar chef that is ready to flip your tastebuds inside out and change how you think about food in the valley.  I was lucky enough to be invited by the fine folks at Glasbern to a chef's tasting with a few other foods writers to see what their new chef is up to.
Let's start with a little background here.  Chef Jason Hook, Glasbern's new exec chef, doesn't have an ordinary culinary background.  Most chefs don't study under Alain Ducasse and go on to work at places like Georges Le Cinq or Jean Georges.  And no one, certainly myself, would expect him to land smack dab in the Lehigh Valley, but my mouth is all the more grateful he has.  Then again, Glasbern isn't your run of the mill establishment.  They raise many of their own greens and animals right on their property and put them directly into their menu.  After working at 3-star Michelin rated and 4 star NYTimes rated establishments, Mr. Hook surely knows what to bring to the table.
After 14 courses I got to know his style a little bit better.  Considering the chef studied under one of the founding fathers of nouvelle cuisine it was interesting to see Mr. Hook's take on the simplicity and presentation aspects of the style and incorporating his own finesse (such as an asian flair added to a few dishes).  The dinner first started off with a platter of brioche, pig jowl bacon, house mustard and house pickles.  I heard one of the staff say that pig jowl is the new pork belly.  If all of it has such a delicate and enriching texture as Glasbern's, that's a movement I can get behind.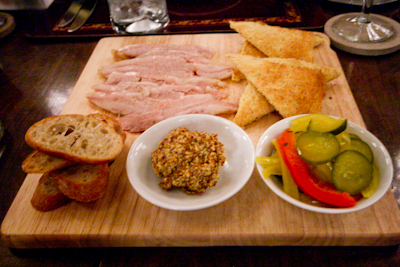 Next up was pig trotter, a mashup of pig's feet and horseradish.  While proving delectable, the pepper-head in me wished the horseradishes were a bit spicer, but that may push the balance over the edge.
Next up was a scallop sausage, which I couldn't partake in, but was substituted with a potato pavé paired with 2009 Vigilance Lake County Sauvignon Blanc.
Next up was button mushroom soup with black trumpet mushrooms raised at local farms with duck confit and walnuts thrown in for good measure.  Paired with a Londer Vineyards Mendocino County Pinot Noir 2007.  What a creamy, earthy delight this was.  The mushrooms evoked a yearning for fall, eating this dish by a fireplace.  The duck confit added heft, and balanced an already amazing soup perfectly.
Arugala, shaved fennel, parmesean, compressed pineapple, and a cider dressing served for the next course, a great palate cleanser between heavier dishs.  This salad alone would made for a great spring treat, especially when it was paired with a lively Dr. Fischer Ockfener Bockstein Spatlese. (I sadly somehow managed to miss taking a shot of this!)
Next up was a congee served with carrot puree and chestnuts in red wine.  To throw us for a loop, it was paired with milk.  Crazy, but crazy good.
Next up, one of my absolute favorite episodes of the meal.  Beef tartare with burnt toast ice cream.  Sounds absurd, ridiculous, and possibly a bit repulsive, but it was decadent.  The icing on the cake?  They used their own beef for the tartare.  Such a pairing may never be thought of in another kitchen ever, but I urge you to try this because it is quite the play on the senses.  It's almost molecular gastronomy without all of the smoke and mirrors.
Another delectable dish?  Foie gras.  There's foie gras, then there's foie gras done right.  And boy was this done right.  Seared on both sides delivering an amazing, buttery texture and a succulent flavor, it was accompanied with apple miso and an apple cider-gnutella vinaigrette.  Yes, I know.  Go ahead, read that again.  This was paired with a Canyon's Edge Sage Brush Red and may just have been the most over-the-top-delicious thing all evening.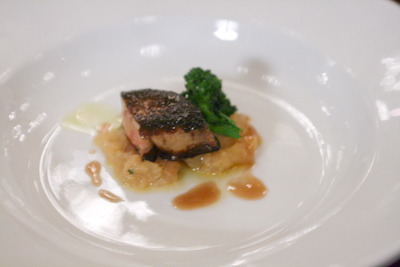 Moving on, we've got the requisite pork belly.  The pork was savory, utilizing a great marbled breed and paired with some sensational seasonal ingredients.  Meyer lemon curd was present here.  I personally love meyer lemons…sweeter than regular lemons and completely underutilized by everyone on the east coast.  Golden beet, date, and a tamarind paste rounded this out, pairing vegetal flavors to the salt and fat of the pork worked wonders.
Now for the pasta.  A bolognaise with lamb shoulder, diced veggies, parmigiano romano, and get this, a pullet egg over easy on top.  For those of you unfamiliar, a pullet egg is the first egg ever layed by a chick.  Using lamb shoulder instead of beef was a stroke of genius.  A beautiful light game flavor with the egg mixed in made for such a great pairing to the pasta, any Italian would gladly throw aside their traditions and give this a go.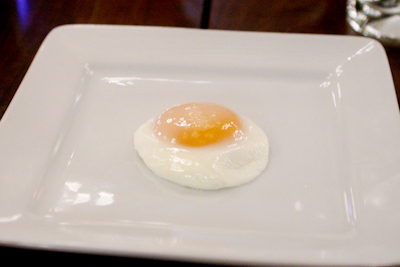 After such a rich — and heavy course it was time for lighter fare.  This came in the form of japanese mizuna greens with goat cheese, blackberries, and fresh black pepper.  Unfortunately I found the ground pepper to be extremely overpowering, however with less pepper could see myself munching on a lot of this for a light summer lunch.
On to the last big course of the evening, the filet.  Paired with fingerling potatoes, black trumpet mushrooms, parsnip puree, and a huckleberry sauce, this out-performed many steaks I've had.  Glasbern uses a type of cow known as the Scottish Highland which grazes on grass and has great fat distribution and no outside layer of fat because they keep warm using long hair.  A huckleberry sauce instead of a typical wine, balsamic, or butter sauce was a welcome step outside of the box.
Next up was the foray into the dessert field with Stony Field yogurt topped with yuzu and cava.  Delightfully simple but definitely on the top 5 courses of the evening.  This would be extremely easy to do at home and the effervescence of the cava mixed with the piney yuzu and fresh yogurt create a fresh tasting tickle in your mouth.
And finally, to round out the 14 courses, we have the last dessert in the form of a financier with yuzu, meyer lemon, earl grey ice cream, raspberry reduction, and topped with pure liquidated brown butter.  This was hugely rich and demanding, a serious gut-buster at the end of it all.  Earl Grey ice cream, as an aside, should become a regular thing served everywhere.  I'm looking at Chef Hook to start boxing this and selling it immediately.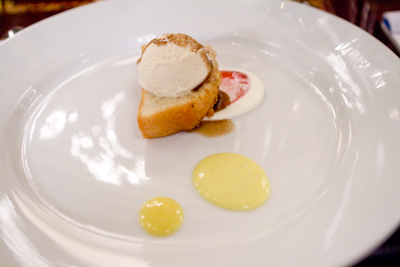 Seriously, that was a lot of fawning.  But there was a lot to gush over and very few perceptible variations I would make on any of these dishes.  Each was a masterpiece in its small self and gave me a true glimpse of the mastery that Chef Jason Hook is bringing and will bring to the Glasbern Inn.  Where did everything else fall?  Well, the decor is a little tacky, as noted by the staff.  They're working to change that in the coming months and class the place up.  Some of the servers could have been slightly more knowledgeable about what they were serving, but I do believe it was one server's first night and the rest may not be familiar with the chef's tasting specials.  We'll go over those items comprehensively when we visit to do a complete review of the restaurant.
After all was said and done I couldn't believe the tastes and combinations I had that evening.  I still contemplate the experience.  Bolete is the only other restaurant I can think of in the area doing anything this caliber and Glasbern just may give them a serious run for their money.  If Mr. Hook continues this foray into culinary madness and/or genius, his establishment will become a serious foodie destination and force within our community and region.  I look forward to Craig Laban's visit, should he venture to the valley again.  I heartily look forward to visiting the restaurant and giving it a full review in the future and hope that it can compare to this spectacular experience I had.
Disclosure:  All food, wine, and drinks were complementary of the Glasbern Inn.