Mama Nina's Foccaceria is a small setting tucked in a cozy space on Main Street in Bethlehem that, for outsiders looking in, always seems jammed with foodies.  Even outside in the summer the diners spill out onto the patio and chow down al fresco.  Why does the restaurant always seemed to be packed?
The answers is simple:  Mama Nina's isn't some typical Italian stereotype who talks with their hands; they talk with their food and their personal service.  Upon entering and sitting down you immediately notice the tight quarters the tables introduce.  Mama Nina's crams patrons into every available nook and cranny, somehow leaving room for servers to whisk past.
The first thing delivered is garlic bread, to the likes I haven't seen in the valley before.  Absolutely smothered with pressed garlic cloves, it's not for the garlic-wary.  The bread itself is doughy but savory, with the garlic and butter slapping you in the face with delight.  The service is face, the atmosphere loud and talkative.  Don't fret:  For how jammed packed and tight the space is, diners still (somehow) are able to carry on a normal conversation.  The volume levels nears towards a busy cafe, a little louder than usual for dinner but adds to the quaintness of the atmosphere.  It's also a wonder the waiters and waitresses don't collide into each other at alarming rates, but they flow through the (lack of) space with ease.
Mama Nina's menu shows that simplicity is key.  Peppers, garlic, chicken, olive oil, and pasta dominate the menu.  I opted for the filetto di pomodoro which had heaps of angel hair pasta, diced tomatoes, basil, and garlic.  Offering up absolute loads of pasta, the dish couldn't have been simpler or more beautiful.  Each ingredient was fresh and powerful, yet elegant and blended well.  True finesse.  The pasta is a heavy, nearly fork-bending affair.  There is so much of it that I wouldn't be surprised if Man vs. Food shows up one day to attempt a plate-cleaning.
Looking around, the atmosphere strikes you as sitting in Venice.  Faux balconies are perched around the room.  The decor is done quite well, edging just above tacky while retaining a certain flair.  It's a perfect BYOB spot.  A good Brunello would do well here and compliment most anything you choose. 
The desserts, unfortunately, aren't made on premises and are through Bindi USA.  Regardless, the exotic bomba I had combined three great sorbettos and topped them with a white chocolate coating for a great palate cleanser and finish to the meal.
The staff at Mama Nina's was polite and checked back frequently, but not to the point of annoyance.  Water was kept filled constantly and the garlic bread, entrees, and dessert were all delivered quickly.  I think with a little larger of a space and white table service the restaurant could shine even brighter, but that may ruin its charm.  The next time you're strolling past Mama Nina's and see the huge line or packed dining area: it's worth it.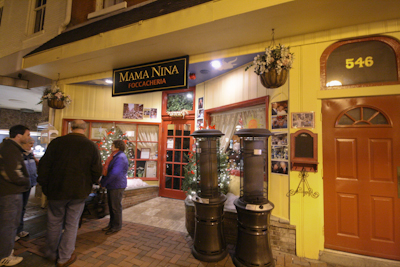 Mama Nina
546 Main Street
Bethlehem, PA 18018
610-867-9802
http://mamanina.com