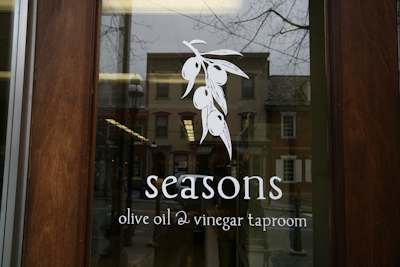 Seasons Olive Oil and Vinegar Taproom is conducting a series of cooking classes and 'lunch & learn' sessions around the Lehigh Valley.
A spring vegetable cooking demo and tasting will take place at the Hanover Township Community Center in Bethlehem on April 23rd at 6pm.  Four recipes, focusing on spring vegetables paired with balsamic vinegars and olive oils, will be covered.  Participants will be invited to sample each dish and will be given a 15% discount coupon for any in-store purchase at seasons.  The event is $15 to participate and you can sign up for the demo here.
Departing chef Michael Adams of the Sun Inn will be presenting a cooking class at the inn on May 21st at 6pm.  Participants will learn how to create small plates suitable for hosting parties.  Four small plates will be demonstrated and guests will receive a 15% discount coupon for Seasons.  The class is $15 and you can sign up here.
The last event Seasons is hosting is a series of 'Lunch & Learn' classes at the Hotel Bethlehem on April 29th, May 6th, and May 13th at 11am.  The session includes a three course lunch as well as an olive oil and vinegar presentation and a 15% discount coupon for Seasons.  The sessions are $15 per person and you can sign up here.