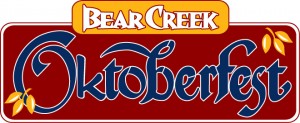 Bear Creek in Macungie is set to host a free Oktoberfest event – dubbed Bararia at Bear Creek/Munich on the Mountain, on Sunday, September 23rd from 12pm to 5pm.
One of the cool aspects of the festival is the 5k and 10k hikes.  The hikes wind through the woods, showcasing the leaves turning all sorts of fall colors.  Hikers will stop along festival tents (to fill up on beer, no doubt) and end at a beer tent featuring a sweeping panoramic mountain vista.
Mug fills will be filled featuring lots of German classics: Franziskaner Hefe-Weisse, Franziskaner Dunkel, Spaten Oktoberfest, Spaten Optimator, Spaten Pilsner, and Stoudts Oktoberfest.  Mugs are 24oz and include your first beer with purchase.  Subsequent refills are $5, or you can opt for $5 16oz beers sans-mug.  Food includes bratwurst, soft pretzels, goulash, and German chocolate cake. 
The festivities will include traditional German music, barrel rolling, races involving alcohol, and other awesomeness.  They also have a deal going on where you can get a hotel room, two mugs (with first beer included), and breakfast for two for $202.  More details can be found here.