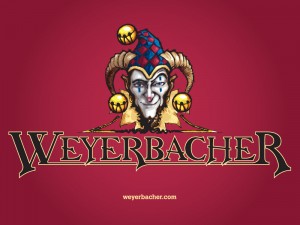 Weyerbacher Brewing Company in Easton announced recently that it will be releasing a few new beers, including a new sour, a special keg, and their latest anniversary brew.
The first up will be Viridis Lupulus, this year's version of their 'spring hop' brew.  This year's version is made with El Dorado, Centennial, and Bravo hops and packaged in 750ml bottles.  It should hit the shelves in just a week or two.
Next up in Weyerbacher's Brewers' Select Series is Canes Venatici, a 6.7% maibock, a traditional German spring lager.  This beer will be on draft only in bars around the area and in 12oz bottles at the brewery itself.  Their Blasphemy bourbon barrel aged Quad will also return later this month in 750ml bottles. 
One of the more exciting new releases is Weyerbacher's Tarte Noveau, a draft only Berliner Weiss.  This traditional German style is made from wheat and has a slightly tart taste to it, lending itself well for sunny spring days.  This beer comes in at a poundable 3.9% ABV and is based off of their former Brewers' Reserve series beer Zulu that was released last year.
Another exciting sour is coming from Weyerbacher, possibly as soon as next month.  Nineteen, created to celebrate Weyerbacher's 19th year in business, will be a 10%+ ABV mango wheat sour.  It comes from a blend of an 'imperial Berliner Weisse', which will be blended with a mango wheat beer.  The brewery said they expect this to be released some time in June.
Finally, to celebrate the brewery's expanded Visitor Center hours, they will be tapping both Tarte Noveau and their special bourbon barrel coffee stout Sunday Morning on Sunday, May 18th.  Sunday Morning will be available for extremely limited growler fills.  The brewery will also be taking a survey on Tarte Noveau to see if consumers would be interested in seeing it packaged as a regular offering (vote yes!).