Greetings all, it's time for another wonderful edition of "Your Guide to Musikfest"!  If you've been here before, some of the information has changed some of it has not.  If you haven't been here before, or been to Musikfest at all (seriously?), check out the below info for some no-nonsense advice on how to enjoy and get the most out of your festing activities.  Also remember to check back every morning for music suggestions and every afternoon/evening for photos and show reviews of the day before.  Without further ado:
Getting There
This is the worst part of Musikfest. If you're looking to park extremely close to the festival, good luck.  Most likely you'll end up wanting to killdozer something and that's not what you want to start off your experience.  There's two off-site lots (at Martin Tower and 240 Emery St off of  Route 412) that allow you to park and take a shuttle (for $4 to the festival.  Trying to park on the street is next to impossible and will most likely result in a parking ticket (the fines for which are conveniently raised for the week).  You can also park over at the Sands Casino lot or parking deck and head over to the Artsquest area or try your luck parking at an exorbitantly-priced private lot around the festival area.
Musikfest is divided into two sides, North and South. You'll either need to walk your drunk ass a good distance between the two or take the north/south shuttle bus (which is a $3).  All of your shuttle bus info including hours and such can be found here and some nice printable maps of the north and south side can be found here.
Drinking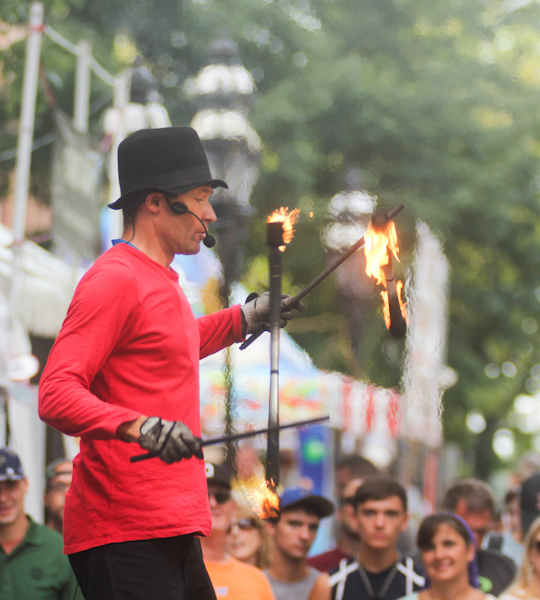 Drinking is one of the biggest parts of Musikfest for many, so we've got you covered on how and where to do it. First step: Buy a mug. Sure, you can buy individual beers, but they're smaller and if you plan on doing any real drinking at Musikfest you'll want a mug. If you like bells and whistles, get the mug that blinks for because when you're six mugs deep and dancing your ass off to the Boogie Wonder Band you'll be left wondering why you made such a poor life decision in not paying extra for it.
The Musikfest tents generally have sucky beer. It's unfortunately a fact of life, although with Yuengling now offering a Summer Wheat variety, the options are a *little* less shitty than in years past.  Many places also offer cheaper refills than the Musikfest tents. So, where to go? If you're intent on hitting up a Musikfest tent the best one to go to is Liederplatz (on the North side, off of Main Street). It always has the shortest lines and allows you to get in and out quickly. Below are a list of other, non-Musikfest venues to stop for a big variety in beer selections or cheaper refills:
Southside:
Southside 313 Bar & Grille: This used to be Looper's, and is currently undergoing renovations and an ownership change.  It's still up in the air whether or not they'll be open for business, but they've previously stated that they'd at least like to have the back patio open.  We stopped by a few nights ago and they were still cutting wood and doing renovations at 9pm so it's safe to say they're working hard at getting things up and running.
JP Macgrady's: No longer a smoky, smelly shithole and they've got a great craft beer selection (the best you'll find around the festing grounds). A little off the path between the north and south side, but certainly worth stopping for a refill.  Bonus: you can check out their beer menu online here.
The Bookstore Speakeasy: Get away from the madness for a cocktail or craft beer. Can't guarantee it's going to be completely relaxed (most likely will be a crowd and music) but it'll be a hell of a lot better than getting your beer knocked into every 3 seconds by a drunk teenager.
Steel Pub: They usually have some Victory and random stuff on draft inside.  They also will have a Saucony Creek Brewing Company pouring station outside during the fest offering five different Saucony Creek beers for $6 a fill.
Social Still – this is a great new spot for fest-goers to pop i nfor a cocktail and get away from the beer for a while.  They're a distillery, so they make all their own booze their, including gin, rum, vodka, and whiskey.  Mixed drinks, booze neat or on the rocks, they have it all.
Levitt Pavilion and Musikfest Café – right on site at Artsquest, the Musikfest Café usually has a bigger variety of beer than the tents do, including ciders and local beers. The Mack café at the Levitt Pavilion also has craft beer options, with Victory on draft.
North Side:
The Brew Works – by far the best place to get beer during Musikfest. They have a wide variety of beers at decent prices. It gets busy during Musikfest, but no worse than the beer tents.  You can also check out their selection of Bethlehem and Allentown-brewed beers online before you head there.
Colony Meadery – our friends over at The Colony Meadery, while they're working on opening their satellite location at the Moravian Book Shop, will be out front serving up mugs of mead slushies, mead on draft, mead by the bottle, baked goods, and iced coffee.  Definitely stop by for a refreshing, yet still boozy, change of pace.
The Brick – This year The Brick is offering $6 refills of Victory Summer Love, Brooklyn Lager and Brooklyn Summer Ale.
Wooden Match – The Wooden Match always has a great selection of craft brews on draft inside, and also have a variety of brews on tap outside for easy/quick purchasing.  If you've got some time, pop inside as the selection is usually a bit better.
Corked – Located on Main Street, they have some decent craft beers but charge around $7 for mug fills for some beers, and I believe more for others.  Pricier than most places, but if you want a good craft brew on Main St and you're not into the Brew Works fare, this is where you're heading.
Hotel Bethlehem: They serve generic beer and Guinness for mug refills, usually a dollar cheaper than the Musikfest tents.
Rosanna's: They're always doing cheap mug refills of the Miller/Coors variety at this Italian joint located a block away from the main action at Broad and New Streets.
Penn Pizza: Just down from Rosanna's on New Street is Penn Pizza who also does refills of Coors/Miller for a discounted price.
Joe's Tavern: One of the dirtiest dives in all of Bethlehem, if you're looking for cheap beer and weird company, this is the place to stop in. If not, get your cheap beer and get the hell out of there. Gets mobbed during fest.
Ripper's: A similarly disgusting bar with lots of pretty motorcycles parked outside to look at, Rippers does cheap mug refills of swill-ish beer.
McCarthy's – If Euro beers are your thing, this is where you want to be.  They'll have Guinness, Harp Lager, Smithwick's, Kilkenny Irish Cream Ale, Innis & Gunn Scotch Ale, and Magner's Pear Cider on draft, as well as a few other craft and domestic brews.
Other places on the North side that will be serving up brews with varying degrees of quality and price which we haven't yet obtain are Apollo Grill, Sun Inn, and Tapas on Main.  When we find out more about their offerings we'll update this post.
Eating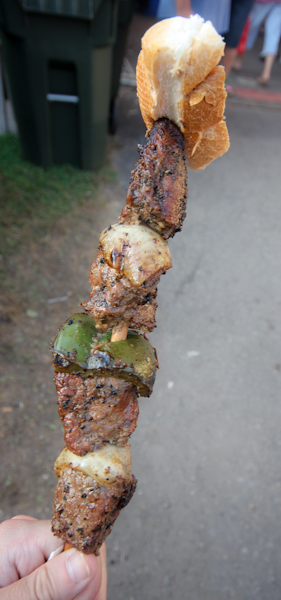 There's so much shit to eat at Musikfest it's almost a daunting task to decide what to have. Over the years we've spent an ungodly amount of money and time trying the best and the worst. Here's where and what you should shove down your gullet to soak up all that beer:
Aw Shucks: Easily the greatest corn-on-the-cob you'll ever have. They bathe it in butter, roll it in parmesan, and top it with some mild spice that makes it irresistible. This stuff is also easy to walk around with and eat at the same time. Grab it on the way to an act and be ready to sit and digest when you get there. Beware, it's addictive. Like crack. Located at Americaplatz, Handwerkplatz, and Plaza Tropical.
Cal's Concessions – Cal has got a lot of fuckin' balls.  Literally.  How can you go wrong with a menu of buffalo chicken cheese balls, bacon cheeseburger balls, pulled pork balls, nutella balls, and caramel balls?  Really, the only thing missing is salted chocolate balls.  Located at Volksplatz.
D&J Concessions – because you're a dirty person and you know you want deep fried Oreos. Located at Volksplatz, Plaza Tropical, and Handwerkplatz.
FudTruck – Unfortunately every year the cool new place to eat never comes back.  First it was the Cow & Curd cheese curd truck, and now Bee's Knees, a grilled cheese stand, has decided not to come back.  Never fear, Lehigh's FudTruck is here.  Do you know what's better than drinking beer and eating a grilled cheese sandwich?  Drinking a beer and eating a grilled cheese sandwich MADE WITH BEER.  Cheesybeerception.  The FudTruck is serving up a cheese sandwich battered with Easton's own Weyerbacher Merry Monks, which sounds delightful.  If that wasn't enough, they've also got the following gems: Pork Belly Cubano, Roast Beef & Gouda, Turkey & Fontina, Cubano Topped Potato Chips, and Fresh Potato Chips.  Located at Volksplatz.
Hogar Crea – Oh dear shish kebabs.  They could stop wars.  They could end world hunger.  They could make Donald Trump be less of a raging lunatic asshole.  Yes, they're that magical.  By far our favorite Fest food, they feature big, delicious beef chunks that are cooked over huge, smoky pits that you can smell a whole platz away. Intermittently interrupting the giant stick of meat are onions and peppers cooked over those same pits. Just a tiny bit of char on the edges mixes oh so well with the sweet, tender veggies. If you eat nothing else at Musikfest, eat these shish-kebabs. Located at Handwerkplatz by the Aw Shucks tent.
MMG Concessions – Usually we extol the virtues of the animals at D&J Concessions who apparently deep fry anything that falls in their shopping cart, but these filthy bastards are bringing it up to a whole new level this year with, yes, deep fried butter.  Of course we're going to eat it and post all about it, just for you.  Located at Volksplatz, Main Street, Plaza Tropical, and Kinderplatz (note: the butter is only available at the Volksplatz location)
Take-A-Taco: Quite possibly the area's favorite festival food. They show up all over the place…Mayfair, MFest, Allentown Fair, etc. And their tacos are damn good. The taco bowls are great too. Just get anything and you'll be happier than an owl on a Musikfest poster. Located on Main Street and at Festplatz.
There are, of course, tons of other options available throughout Musikfest.  Check them all out here and by all means, tell us in the comments, on Facebook, or on Twitter what kind of good eats you've had throughout the festival.
Other Cool Stuff: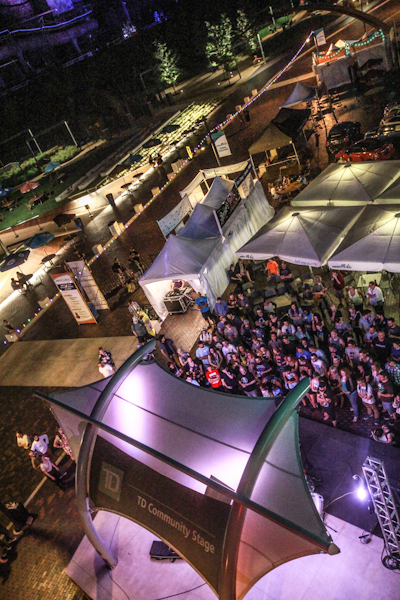 Ants – Apparently someone at Artsquest took Archer a little too seriously.  Last year they brought us insane roving dinosaurs that I was pretty sure were going to kill someone, and now they're bringing us giant ants that wander around.  Here's their description: "Faced with hundreds of giant bread crumbs and three big insects, the children are irresistibly drawn in and must figure out what the Ants want them to do. Gradually, a world of meaning unfolds, illustrating the human desire for order by transforming any public space with wavering lines and patterns."  So that sounds a little…out there….and should be great fun to watch after a few beers.  They'll be at the fest August 7th at 7:30pm, then August 8th, 9th, and 9th at 2p, 4p, 6p, and 8p at Handwerkplatz.
Headphone Disco – while this is about a decade after this was a 'thing,' that's about how far behind the LV is on most fads so I guess it'll still be interesting.  The concept is this: participants get headphones which hook up to a DJ whose sound is going through a transmitter to the headphones.  Theoretically, if people are into it, people passing by will just see a whole lot of people with headphones on dancing while they hear no music.  Happening at Handwerkplatz where the bell guy used to be on August 11th, 12th, 13th, 14th, 15th, and 16th from 5pm to 11pm.
Martin Guitar – all fest long Martin Guitar will be set up on the SouthSide with guitars to play and a ping pong table.  What's going to be greater than drunkenly playing ping pong whilethat guy tries to remember how to play
'Wonderwall'?
Olympus – here's a cool concept.  Olympus is giving out loaner cameras of their super popular mirrorless camera series.  You get to take it out for a spin around the festival grounds and submit the images you took for a chance to have your photos shown in the Olympus Photo Festival at Artsquest in November.
The Zip Line – This could be the greatest worst idea ever.  Like building an awesome hitchhiking robot and then leaving it in Philadelphia.  While we're not sure if they're going to let adults ride this, we stopped down to take a look at it last night and it looks awesome.  It's pretty short, only 200 feet, but just enough to make you shart your pants a bit when you've been hitting the mug all afternoon.  We'll have a full report on the zip line shenanigans after opening night.
Music:
Last but not least. We'll be updating every day throughout the week with our picks for each day, as well as our usual reviews and recaps throughout the festival. See something cool? Post it on our Facebook page or share it with us on Twitter.